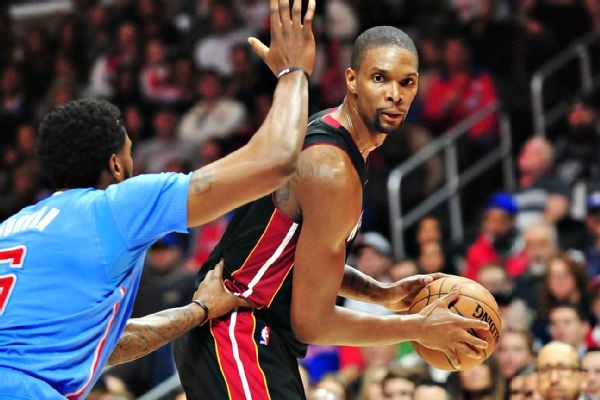 Chris Bosh pulled out of the 2016 NBA All-Star Game with a strained calf, but the situation is apparently more serious.
From the Associated Press' Tim Reynolds:
Chris Bosh of the Miami Heat is dealing with another blood-clot scare, making this the second consecutive year that he's spent the All-Star break facing a most uncertain future because of a health issue.

Bosh will spend "the next few days" reviewing options and no determination will be made about his playing status until he goes through more tests and evaluation, a person with knowledge of the situation told The Associated Press on Monday night. The person spoke on condition of anonymity because neither the All-Star forward nor the Heat have revealed the concerns publicly.

…

Bosh pulled out of the All-Star Game and the 3-point contest over the weekend because of what he and the Heat described as a calf strain. He was shut down at the All-Star break last season because a blood clot had found its way to one of his lungs, and that issue is something that Bosh believes started as a calf problem.
A similar issue sidelined Bosh post-All-Star break this season. It is perhaps encouraging that he remained in Toronto to take in the festivities, suggesting that this might just be a minor scare or something, anything pales in comparison to what he dealt with last year.
But blood clots are serious hindrances in sports. As Reynolds noted, athletes usually cannot play while taking blood thinners, and Bosh could miss extensive time if the situation gets worse or isn't resolved.
Bosh has been the Heat's most consistent player through and through this season. He is averaging 19.1 points, 7.4 rebounds and 2.4 assists while shooting better than 36 percent from long range. He has the second-highest net rating of any Miami Heat starter, according to NBA.com, and his outside stroke is one of the primary reasons why the team can function at all on offense with Hassan Whiteside in the game.