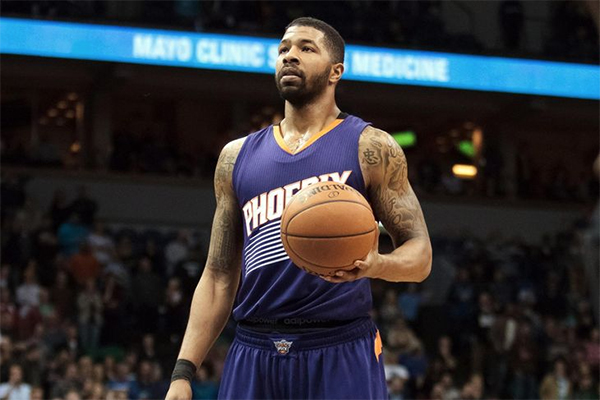 Are the Phoenix Suns content to keep the (presumably still) disgruntled Markieff Morris past the NBA's Feb. 18 trade deadline?
It sure seems that way.
Shoot, maybe they're hoping to keep him and don't want to move him at all. I mean, their asking price, according to Yahoo Sports' Adrian Wojnarowski, implies as much:
Multiple teams who have made pitches for Phoenix Suns forward Markieff Morris suggest a first-round pick hasn't been enough to engage the Suns in trade talks.

Suns general manager Ryan McDonough has been pursuing a package that includes a younger player and a first-round pick, league executives said. The Suns are motivated to honor Morris' desire for a trade – and have no intention of bringing him back next season – but teams are starting to think the Suns could hold onto Morris past the Thursday trade deadline without a deal that brings back a player of value with a first-round pick.
This is just absurd. Morris' value has never been lower. It's true that he won't earn more $8.6 million through a single season until his contract is up after 2018-19, making him doubly valuable once the salary cap rises. And it's also true that he put up fringe-star numbers last season.
But…seriously. Morris' shooting percentages are down across the board, his player efficiency rating has never been lower, he has one one of the worst box plus-minuses in the league, and the entire NBA knows by now that he wants out of Phoenix. The Suns have no leverage and are certainly in no position to demand a young player and a first-round pick in return for Morris' services.
The best Phoenix can hope for is that Morris uses the rest of this season to drum up his trade value and become a hot, post-free-agency commodity for teams that swing and miss on the biggest names. But that's a slippery slope, one the Suns perhaps shouldn't travel given the less-than-sterling reputation of their locker-room dynamics.