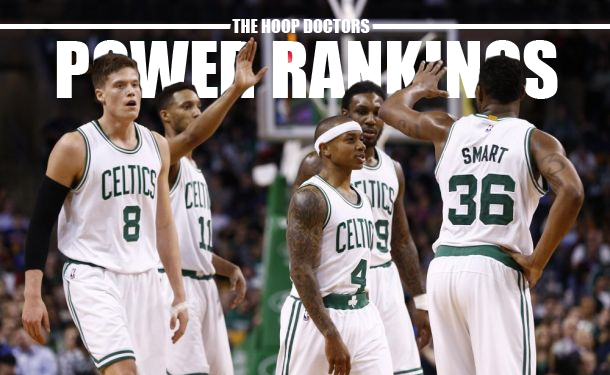 Here we come, NBA All-Star break.
Which means here comes the NBA playoffs!
More than half of the Association's 2015-16 season is in the books, and save for a cluster of steady teams at the top of our power rankings, the league's hierarchy knows no order. For every certainty like the Warriors, Spurs, Cavaliers and Thunder, there are two patented unknowns such as the Knicks, Grizzlies, Mavericks, Pacers, Heat, Bulls, Jazz and Hawks (see what I did???).
These rankings attempt to provide some context on what has, at times, been an unflatteringly crazy campaign. So if you're looking to see where your favorite team stands relative to the rest of the league, conference seeding be damned, you've come to the right place.
Let's power rank.
***For a week by week list of all our NBA Power Rankings this season, please visit this page.
NBA Power Rankings
| | |
| --- | --- |
| 1 | |

Golden State Warriors

The more you watch the Warriors, the more you can't help but think adding Kevin Durant would hurt them. Which is absurd.

Last Week (1)

| | |
| --- | --- |
| 2 | |

San Antonio Spurs

No Tim Duncan? No Manu Ginobili? No. Freaking. Problem.

Last Week (2)

| | |
| --- | --- |
| 3 | |

Oklahoma City Thunder

Cameron Payne for President.

Last Week (3)

| | |
| --- | --- |
| 4 | |

Cleveland Cavaliers

Ever since David Blatt was fired, the Cavaliers look…almost exactly the same.

| | |
| --- | --- |
| 5 | |

Toronto Raptors

Is it written somewhere that the Raptors have to inexplicably lose every once in a while just so we're reminded how far the gap between Cleveland and the rest of the Eastern Conference actually spans?

Last Week (5)

| | |
| --- | --- |
| 6 | |

Los Angeles Clippers

What the Clippers are doing without Blake Griffin is truly, totally, mesmerizing.

Last Week (6)

| | |
| --- | --- |
| 7 | |

Boston Celtics

Don't look now, but the Celtics, still devoid of a superstar, are the third best team in the Eastern Conference. Kudos to Danny Ainge, Brad Stevens and Isaiah Thomas.

And, you know, Jae Crowder.

Last Week (7)

| | |
| --- | --- |
| 8 | |

Utah Jazz

Rodney Hood is so gottdamn good.

Last Week (17)

| | |
| --- | --- |
| 9 | |

Atlanta Hawks

There's a chance the Hawks blow it up at the deadline. I'm already envisioning Horford in a Celtics jersey.

Last Week (8)

| | |
| --- | --- |
| 10 | |

Detroit Pistons

Detroit Pistons: Winning ugly since late October.

Last Week (10)

| | |
| --- | --- |
| 11 | |

Indiana Pacers

More Myles Turner at the 5 and Paul George at the 4 lineups please.

Last Week (12)

| | |
| --- | --- |
| 12 | |

Portland Trail Blazers

Major props to head coach Terry Stotts for finding creative ways to create space even when one or both of Ed Davis and Mason Plumlee is on the floor.

Last Week (13)

| | |
| --- | --- |
| 13 | |

Houston Rockets

Someone needs to help James Harden. It'd be nice if that someone was Ty Lawson.

Related: It probably won't be Ty Lawson.

Last Week (11)

| | |
| --- | --- |
| 14 | |

Dallas Mavericks

Chandler Parsons is getting hot, but the Mavericks' early season jubilation has cooled. Luckily for them, opportunity has presented itself in the form of an inconsistent Western Conference middle class.

Last Week (15)

| | |
| --- | --- |
| 15 | |

Memphis Grizzlies

Speaking of the inconsistent Western Conference middle class, the Grizzlies could very well be screwed now that Marc Gasol is out indefinitely. I'm not ready to have them tank just yet, however, because they've shown they can piece together a decent defense with Zach Randolph at center.

Last Week (9)

| | |
| --- | --- |
| 16 | |

Miami heat

T minus three seconds until the Heat completely implode.

Last Week (16)

| | |
| --- | --- |
| 17 | |

Charlotte Hornets

Charlotte has an on-again off-again relationship with winning. Chalk it up to them trying to sustain an offensive style with players who aren't fit to sustain said offensive style.

| | |
| --- | --- |
| 18 | |

Chicago Bulls

Unlike the Grizzlies without Marc Gasol, the Bulls are absolutely screwed without Jimmy Butler. They should be able to stave off lottery woes, but then again, who knows.

Last Week (14)

| | |
| --- | --- |
| 19 | |

Washington Wizards

Us: "Hey, John. How's your back?"

Wall: "What ever do you mean?"

Us: "Like, you know, does it hurt from single-handedly carrying your team?"

ZING.

Last Week (20)

| | |
| --- | --- |
| 20 | |

Denver Nuggets

Is Nikola Jokic having a better rookie season than Kristaps Porzingis?

*runs for cover*

Last Week (22)

| | |
| --- | --- |
| 21 | |

Milwaukee Bucks

Trade Greg Monroe already, Bucks. For the sake of how y'all used to play defense, trade him already.

Last Week (25)

| | |
| --- | --- |
| 22 | |

Sacramento Kings

To sum up the last week: George Karl was the Kings coaches, then he wasn't, but now he is again. This time for real, apparently.

Last Week (18)

| | |
| --- | --- |
| 23 | |

Orlando Magic

Orlando seems to be falling out of love with Victor Oladipo, which is the weirdest thing ever.

Last Week (24)

| | |
| --- | --- |
| 24 | |

Minnesota Timberwolves

The win column doesn't show it, and Sam Mitchell isn't doing the offense any favors, but the Timberwolves are fun. Plus, who needs wins when you have a chance to add Ben Simmons alongside Karl-Anthony Towns?

Last Week (28)

| | |
| --- | --- |
| 25 | |

New York Knicks

Allow me to explain the Knicks' decision to fire Derek Fisher:

Last Week (21)

| | |
| --- | --- |
| 26 | |

New Orleans Pelicans

Now that Tyreke Evans is officially—well, likely—out for the season, can the Pelicans finally start tanking?

Last Week (23)

| | |
| --- | --- |
| 27 | |

Philadelphia 76ers

Jahlil Okafor's defense < Your defense

Last Week (26)

| | |
| --- | --- |
| 28 | |

Brooklyn Nets

I miss Rondae Hollis-Jefferson.

Last Week (27)

| | |
| --- | --- |
| 29 | |

Los Angeles Lakers

When D'Angelo Russell goes off, he looks like a future Hall of Famer. When he doesn't, he looks like a borderline bust. There is no in-between.

Last Week (29)

| | |
| --- | --- |
| 30 | |

Phoenix Suns

Tyson Chandler is now expected to shoot, and make, jumpers. This is the Suns' season in a nutshell.

Last Week (30)