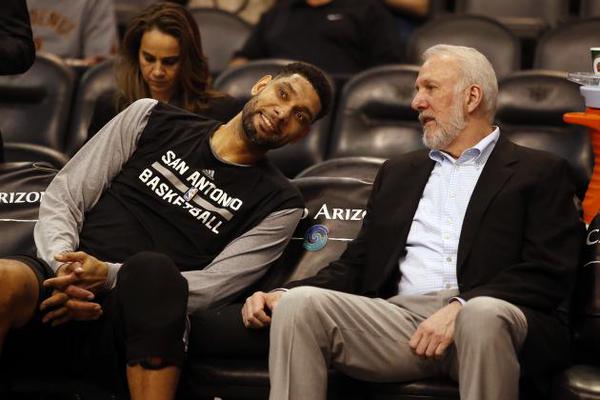 Are you super hyped for the Golden State Warriors' Monday night matchup against the San Antonio Spurs?
Are you positively stoked to see, perhaps, the two best teams in NBA history compete for bragging rights and all-time standing?
Have you been waiting for this game, for this moment, since it became clear the only competition for the Spurs and Warriors was each other?
Well, Spurs head honcho Gregg Popovich doesn't care.
Ahem:
INJURY REPORT – Tim Duncan (soreness, right knee) is out for tomorrow's Spurs-Warriors game.

— San Antonio Spurs (@spurs) January 24, 2016
This is totally expected, and not at all surprising. The real shock is that Coach Pop isn't sitting more people—though, admittedly, there is still time.
Resting Tim Duncan is not out of the ordinary for San Antonio. The Spurs do it for everyone, and Duncan in particular, at 39 years old, has been put on a stringent rest and maintenance program.
San Antonio's remaining group is talented enough to keep pace with Golden State anyway. The square dance loses part of its luster knowing that both squads aren't at full strength, and without Duncan, the Spurs' defensive anchor, there exists the possibility that the Warriors rattle off another blowout, but there are still enough healthy bodies and intrigue and potential drama to make this matchup, the first of its kind this season, must-see TV.