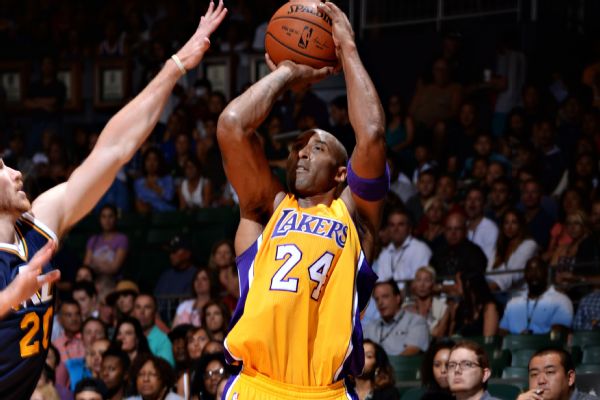 Kevin Durant has a problem with how the NBA media covers Kobe Bryant.
The Black Mamba himself, though, has no such issue.
Not known for his love of the media, the 2013-14 MVP took some shots at the how the end of Kobe's career was being improperly handled. Here's a snippet of his diatribe, courtesy of the Oklahoman's Anthony Slater:
I've been disappointed this year because you guys (media) treated him like s***. He's a legend and all I hear is about how bad he's playing, how bad he's shooting, time for him to hang it up. You guys treated one of our legends like s*** and I didn't really like it. Hopefully now you can start being nice to him now that he decided to retire after this year. It was sad the way he was getting treated.
Durant has something resembling a point. The coverage of Kobe has been tough and unforgiving this year. He keeps shooting even though he keeps missing, and his refusal to segue into a role player at this stage of his career is outright mystifying and, by now, absolutely damning.
Unlike Durant, Kobe doesn't care. He's long embraced the love-hate relationship between himself and the media, and that apparently hasn't changed, not even as he speeds toward retirement at the end of this season.
As he said, per ESPN.com's Baxter Holmes:
"Listen, I don't budge on that stuff," Bryant said Tuesday after his Los Angeles Lakers lost to the Philadelphia 76ers 103-91 at the Wells Fargo Center. "I appreciate the good stuff. I appreciate the bad stuff. I would never whine, 'Oh, you're being too hard on me, please stop.' That wouldn't even sound like me."

Bryant added, "I sincerely appreciate the bad as much as I do the good, and hopefully the players coming up now understand that — understand that it's a journey, it's a cycle, you can't take things personal. You've got to roll with it. It's all good."
Is Kobe basically giving you a license to continue with the pot shots and memes and unflattering Vines?
Well, yes. That's exactly what he's doing.
And that's exactly what he should do.
There should be a newfound respect for Kobe the player now that we know this is actually the end. Appreciate what he's done on the court in the past, even if the upside to his legacy can be misleading. Show some gratitude for what he helped do for the popularity of the game.
But there's no need to sugarcoat anything, not if you're a fan, not if you're a beat writer, not if you're a blogger.
Kobe wouldn't want to go out that way.