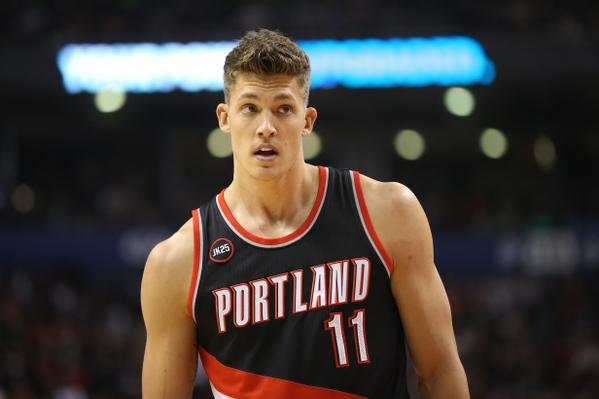 Meyers Leonard opted not to sign an extension with the Portland Trail Blazers.
And that makes up to 29 other teams really happy.
The sweet-shooting 7-footer, who is also a pretty damn good rim protector, has elected to pass on whatever the Blazers were offering and become a restricted free agent next summer. His reasoning, per CSNNW.com's Jason Quick, is simple:
Meyers Leonard and the Trail Blazers were unable to come to terms on a contract extension before Monday's deadline, as both sides agreed to revisit his future this summer when he becomes a restricted free agent.

"I'm betting on myself," Leonard said after passing on the Blazers' offer.

Terms of the Blazers' offer are unknown, but a source with knowledge of the discussions said Leonard passed on a "considerable" offer.
The Blazers dangled $70 million in front of Enes Kanter this past summer, a big man who can neither shoot particularly well nor pass particularly well nor defend particularly well. Just imagine what they might have, and should have, offered Leonard, who represents the future of the center position. His sample size isn't particularly vast, but he joined the 50/40/90 club last season, a relatively unheard of feat for a 7-footer (Dirk says "Hi" you guys).
But while the Blazers are lamenting the absences of an extension, even if only slightly, a bunch of other prospective suitors are jumping for joy, per Yahoo Sports' Marc J. Spears:
Several teams have been quietly rooting that Blazers wouldn't sign sharpshooting center Meyers Leonard to an extension, a source told Yahoo.

— Marc J. Spears (@SpearsNBAYahoo) November 3, 2015
Dallas is that you?
Leonard, it must be noted, is off to a slow start. He shot under 35 percent from the floor and under 20 percent from beyond the arc through his first three appearances in 2015-16. Though it's still early, he'll have to acclimate himself to increased defensive attention and his role as a starter, otherwise he'll battle efficiency warts all season, significantly dragging down his value, perhaps to the point where he regrets passing on Portland's initial offer.
Still, if he can build upon the groundwork he laid last season, Leonard is in line to make some serious cash—maybe not max-level cash, but hey, maybe max-level cash.