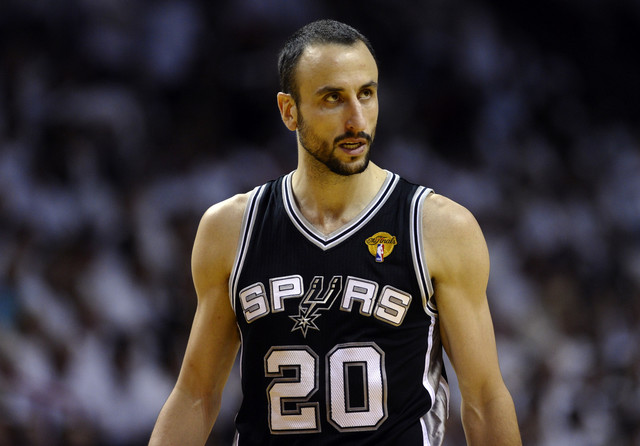 The San Antonio Spurs made the biggest move of the offseason, signing highly touted free agent LaMarcus Aldridge to held guide the franchise into the future alongside Kawhi Leonard. However, one of the veterans remains the key to the 2015-16's success. Manu Ginobili.
Leonard has reached a different level of performance while Aldridge continues to adapt the San Antonio philosophies, but the Spurs wouldn't have reached 8-2 without Manu Ginobili.
Through nine appearances, the 38-year-old has averaged a seemingly pedestrian 11.7 points, 3.7 assists, 3.3 rebounds and 1.3 steals. What's lost in those numbers, though, is Ginobili is only playing 20.6 minutes per game.
While player efficiency rating isn't a perfect metric, his 25.2 mark is merely four-tenths behind Leonard. That production was on display Monday night when the Spurs hosted Aldridge's former team.
The Portland Trail Blazers trailed by just three points with 3:48 remaining, Ginobili took over. Over a span of five possessions, the Argentinian shooting guard buried all four of his shot attempts, including the dagger-three that gave San Antonio a 10-point lead with slightly more than one minute remaining
He finished with a season-best 17 points—14 of which came in the fourth quarter—adding four rebounds and three assists.
"He does what Manu does," said Portland coach Terry Stotts, per ESPN's Michael C. Wright. "He made some good plays. He made his 3's. He was aggressive going to the basket, got to his strong hand a couple times. He has done that for years."
What makes this early-season stretch most impressive is the Spurs weren't sure Ginobili would return for another 10-month grind. He's contemplated retirement for a couple years, and though the suspicion was that Ginobili had one more season left, that was far from a certainty.
Shortly after announcing he would be back for 2015-16, per Argentinian newspaper La Nacion and via Pounding the Rock, Ginobili said:
I can't believe the team still wants me and thinks I can play at age 38. I'm not playing because they feel bad for me. I think I can still contribute a lot to the team.
So far this season, Ginobili has done exactly that.
He's provided a three-point threat, shooting 40.0 percent from long distance—which would be the third-best clip of his career. Perhaps most importantly, though, Ginobili has committed just 1.4 turnovers per outing, a 25 percent drop from each of his last seven seasons.
Small sample sizes can be manipulated, but that's a promising start from the veteran in a role that could've become the roster's biggest weakness had he not returned. Ginobili isn't the dominant player of 2007, but he's a sneaky key to the San Antonio's success.