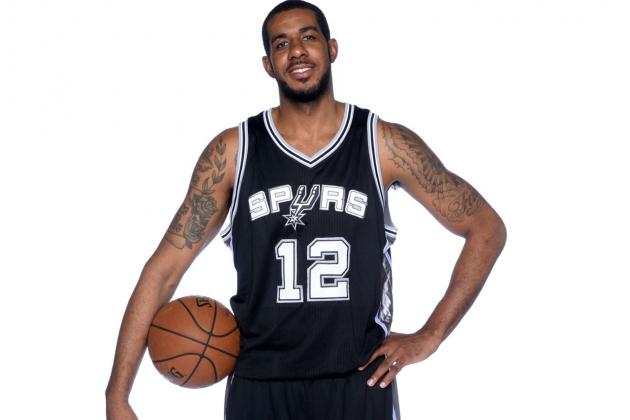 LaMarcus Aldridge is set in his ways—which is important, because his ways aren't yet the San Antonio Spurs' ways.
After nine years with the Portland Trail Blazers, Aldridge decided to journey elsewhere in free agency over the summer. It seemed like a no-brainer decision. The Blazers started stripping down their contention-ready roster and gearing up for an extensive rebuild. Aldridge, now 30, with a closing championship window, had little reason to endure another transition process, one that likely will not end until he's past his prime.
So, naturally, he moved on to greener pastures. Much greener pastures. The Spurs are the standard for greatness. Some don't consider their current core a dynasty (sup, Phil Jackson?), but they've won five championships since Tim Duncan entered the league, during which time they've posted the NBA's best-regular-season record, winning 130 more games than their closest rival (Dallas Mavericks).
And yet, just because something looks good on paper doesn't make it the right decision. More to the point, just because signing with the Spurs was and remains, by all appearances, the right decision doesn't mean Aldridge won't go through the motions and slog through some of the reinvention pangs he would have felt with the Blazers.
As Aldridge said, per Bleacher Report's Kevin Ding, that's exactly what's happening:
Now that LaMarcus Aldridge's free-agent leap is going from celebrated landing to first step, a little secret needs to be told.

"I don't really handle change well," Aldridge confided to Bleacher Report Thursday afternoon, ticking down the hours until his San Antonio Spurs debut.

So much rides on Aldridge's successful transition. He knows it. It's part of the deal after being the league's leading free agent and tying the legacies of all those Spurs icons to his own.

Aldridge is trying to jet through an opening chapter he is smart enough to know he can't really jet through.

"It's been weird because I was in Portland for so long, and I kind of know the ways," he said. "Things were a little bit tailored to me in a way. Wasn't too much to have to figure out."
There is indeed a lot at stake in San Antonio, putting even more pressure on Aldridge to succeed, not just immediately, but in extravagant fashion.
There's of course the matter of adapting to the Spurs' offensive system, one prided on ball movement and spacing and constant motion. Aldridge, who shot 3-of-10 from the floor in his preseason debut, will invariably struggle to get San Antonio's on-court culture down. There's also how things are handled in the locker room, how Gregg Popovich differs from any head coach Aldridge has had previously, and how Aldridge doesn't need to be the team's most important player.
Beyond that, and perhaps more importantly, Aldridge is charged with brightening the post-Duncan era. It's him to needs to become that combo forward-center who supplants Duncan and helps Kawhi Leonard keep the Spurs' title window open long after Duncan and Tony Parker and Manu Ginobili are gone.
Those expectations are a transition unto themselves. And though Aldridge readily admits that he doesn't handle change well, the Spurs are still betting, and betting big, that he'll eventually become one of their own.