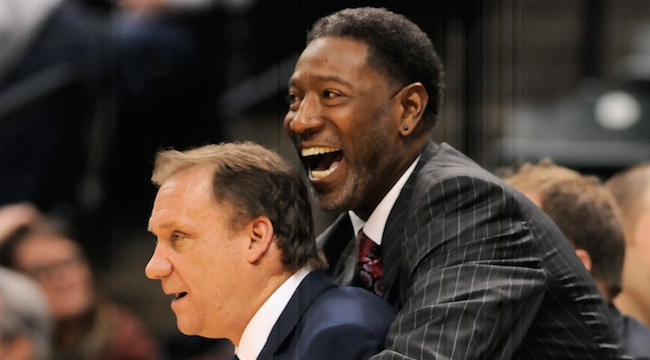 As Minnesota Timberwolves coach, president and part-owner Flip Saunders continues his battle with cancer, he will be stepping away from his sideline duties and handing the reins to Sam Mitchell.
Here's Yahoo Sports' Adrian Wojnarowski with the details:
Minnesota Timberwolves president and coach Flip Saunders will start the season focusing on his battle with cancer, clearing the way for the franchise to promote assistant Sam Mitchell to interim head coach, league sources told Yahoo Sports.

A formal announcement on the move is expected soon, league sources told Yahoo Sports.

Saunders was diagnosed with a treatable form of Hodgkin's Lymphoma this summer and has been undergoing chemotherapy. There's hope that Saunders can return to the bench this season, but Mitchell is expected to be the interim coach no less than half the season, league sources told Yahoo.
Mitchell has spent the last two seasons on the Timberwolves' coaching staff. In addition to two years as an assistant with the Milwaukee Bucks between 2002-03 and 2003-04, he served as head coach of the Toronto Raptors for more than four seasons, compiling a record of 156-189 and winning Coach of the Year honors in 2007.
Mitchell, per Wojnarowski, is also a favorite of Timberwolves owner Glen Taylor. His ties to the organization date back to his own NBA playing days. Ten of his 13 years in the league were spent as a member of the Timberwolves.
Saunders, meanwhile, is in his second go-round as Minnesota's head honcho. He coached the team for 10 seasons between 1995 and 2005, eight of which resulted in a playoff berth. Mitchell himself played for six of those eight playoff teams.
Saunders is just one season into his dual coach and presidency roles, a responsibility he assumed after it became clear that Kevin Love wouldn't be in Minnesota long term.