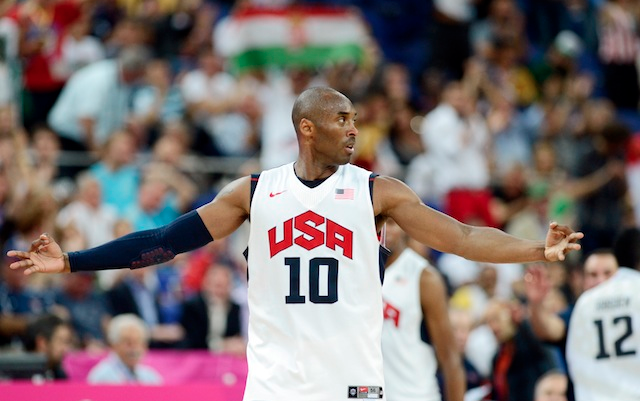 This is so going to happen.
Team USA held its usual scrimmage on Thursday night, which went off without a hitch. No one was injured. Every participant walked away healthy, proving, once again, that Paul George's broken leg in 2014, while tragic, was a freak anomaly.
But that's not why we're here. Nor are we here to make way-too-early predictions on the cosmetic makeup of next year's roster. We could hazard guesses, sure. It seems like Carmelo Anthony and LeBron James will be back for a third go-round, and of the 30-something players who took part in Team USA's minicamp, there are some other obvious choices, like Stephen Curry, the alien shooter himself.
Injuries, contract statuses, personal engagements and individual preferences make forecasting a definitive 12-man roster next to impossible right now, though. Life, in sum, will play a part in determining who makes the cut. But there is one possibility now looming large after Thursday's scrimmage, an option seldom, if ever, discussed before now.
Kobe Bryant returning to team USA for a shot at gold in the 2016 Olympics.
No, really, that's a thing, per ESPN.com's Dave McMenamin:
Colangelo says that Kobe told him he'd like to "ride out to the sunset" with a gold in Rio, but he wants to earn the spot, not be handed it

— Dave McMenamin (@mcten) August 14, 2015
Kobe will be pushing 38 years old next summer and has appeared in just 41 games over the last two seasons. He also wasn't present at Team USA's camp in Las Vegas, which was deemed mandatory for prospective participants, hence why LeBron made a brief cameo.
The latter issue is fungible. That camp edict can be manipulated and disregarded entirely. It's the health factor that could render this a moot point.
If Kobe plans on playing beyond next season, it ranks as foolish to participate in exhibition basketball and risk further injury. Especially because of all the setbacks he's suffered since April 2013, when he first tore his Achilles. But if he's going to retire next summer, as has been the loosely planned plan for some time, that changes things.
It almost makes the prospect of him playing in Rio inevitable.
Rio would be Kobe's last chance to play for something meaningful, his last opportunity to go out as a winner. The Los Angeles Lakers aren't going anywhere next season, and with the way free agency has unfolded over each of the last two summers, their return to title contention isn't nigh. And if it is, it most definitely won't come to pass before Kobe is 40. Believe that.
Gold medals don't mean as much as Larry O'Brien trophies, but they're still a form of winning. There's a lot you can say against Kobe. Questioning his will, his desire, his need to win isn't one of them.
Which, assuming health and imminent retirement, makes Rio the perfect place for Kobe to say goodbye.