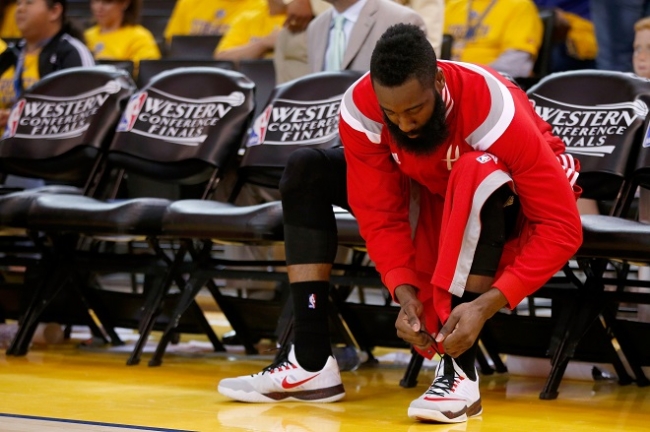 In their quest to chip away at Nike/Jordan Brand's 90% market share, adidas has their sights set on a big fish. Nike's contract with James Harden recently expired, essentially making him a restricted free agent, of sorts. adidas has swooped in and has offered the bearded one $200 million for his services, per Darren Rovell of ESPN. But, of course, Nike has the right to match that offer.
The company has submitted a bid of $200 million over 13 years to sign Houston Rockets guard James Harden, sources told ESPN.com. Nike, whose deal with Harden recently expired, has until the end of next week to match the deal or lose him.

A $200 million offer is huge, considering it represents half of what the brand paid for 11 seasons as the NBA's official uniform supplier. Earlier this year, Adidas announced that it would not fight to renew that deal, which will see its competitor Nike take over after the 2016-17 season.
Given Derrick Rose's knee woes over the past few seasons, Harden could step right in and be the premiere face on that roster, which is headlined by Rose, Damian Lillard and John Wall. His beard and fashion sense make him extremely marketable and I could see his shoe doing well.