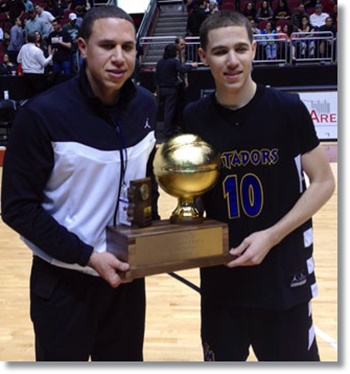 The Golden State Warriors backcourt of Stephen Curry and Klay Thompson has garnered the affectionate nickname "The Splash Brothers" for their impressive ability to shoot the rock, possessing jumpers so wet, they obliterate the nets.
They have already been touted as the best backcourt in the NBA, and with some time, could finish their careers as one of the all time best.
Their ability to scorch the nets has led to team success as the Warriors led the NBA with 65 wins this season and are just a handful of wins away from bringing Golden State their first NBA Title in 40 years.
Curry and Thompson are already seeing the fruits of their labors come full circle as Curry was named the 2015 NBA MVP and Thompson is an All Star and Team USA member. Their innate shooting ability has helped change the culture of the league as teams will surely be stocking up on perimeter talent in coming seasons in an attempt to copy Golden State's blueprint of having lights out 3 point threats that can go off at any given notice, with a solid team defensive scheme. The current "Splash Brothers" are just entering their prime as mid 20 year old talents, so the NBA should be on notice for years to come.
Not that Curry and Thompson are worried, but another sharpshooter (currently in the high school) with a famous NBA father is making a name for himself. Even as potentially being the 3rd member of the "Splash Brothers" in a few short seasons.
Mike Bibby Jr, a rising junior point guard is the spitting image of both his father, Mike Bibby Sr, who had a memorable 14 year career in the Association, and Stephen Curry, possessing some of the same bounciness, handles, and perimeter shooting that has made Steph arguably one of the game's best players right now.
Just like his famous father, Bibby Jr stars at Shadow Mountain High School in Arizona and started on varsity as early as his freshman season.
He already has numerous Division I offers from high majors like Memphis, USC, Oregon, and Arizona, where his dad once won a National Title back in 1997.
Recently, Steph Curry took in Mike Bibby Jr in person at a home game in Arizona….
https://www.youtube.com/watch?v=7yCrYYZfDt0
Allen Moll has been a lifelong NBA and NCAA College Basketball fan who watches and studies games religiously, and coaches youth basketball in his native Lehigh Valley region of Pennsylvania. Allen has also provided content to Bleacherreport.com, Upperdeckblog.com, Cleveland.com, CSN Philly.com, Buckets Magazine, Balltribe.com, in addition to being a tenured NBA and NCAA columnist for TheHoopDoctors.com.