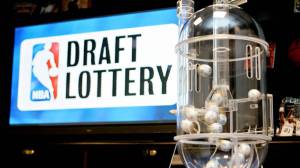 If you didn't know, this Tuesday, May 19th is the 2015 NBA Draft Lottery. For some teams like Philadelphia, Los Angeles, and New York, it is the culmination of a torrid season of tanking in hopes of landing an NBA superstar to build around.
For others like Oklahoma City, Miami, and Indiana, they will be hoping for a little luck in moving up and adding a fresh young stud to get them back into the Playoffs as early as next season.
The consensus top prizes in the 2015 NBA Draft this June are big men Karl Anthony Towns of Kentucky and Jahlil Okafor of Duke. Okafor may be the better of the two right now but Towns projects as potentially having the more upside.
Check out THD's latest 2015 NBA Mock Draft – Version 4.0
There are also a few instant impact players worth noting like D'Angelo Russell(Ohio State), Emmanuel Muduay(China), and Justise Winslow(Duke), that should round out the Top 5 selections.
As the regular season ends. The 14 non-playoff teams are ordered by final record – worst to best – and are allotted pre-determined lottery odds based upon that order.
If two teams finish the season with a same record, their odds are split evenly and a coin is flipped to determine which team is awarded an extra combination (if the total is an odd number) and is slotted higher in the case that neither is awarded one of the three top selections determined via the lottery system (the remaining 11 picks are awarded based upon regular season record).
Sounds confusing? There's more as one team, the Philadelphia 76ers hold not only their own pick for finishing with the 3rd worst record, but could potentially have 2 others, as they own the rights to both the LA Lakers(Top 5 Protected) and Miami Heat(Top 10 protected) picks due to trades during the season. So they are surely hoping the ping pong balls bounce their way on Tuesday.
Also, always of interest are who will represent each organization at the Lottery as former stars like Larry Bird(Indiana), Alonzo Mourning(Miami), and Vlade Divac(Sacramento), as well as current players Nerlens Noel(Philadelphia), Russell Westbrook(OKC), and Michael Kidd-Gilchrist(Charlotte) will be on display.
Here's a look at each team's odds of landing the #1 pick on Tuesday night…..
Minnesota Timberwolves 25 percent
New York Knicks 19.9 percent
Philadelphia 76ers 15.6 percent
Los Angeles Lakers 11.9 percent
Orlando Magic 8.8 percent
Sacramento Kings 6.3 percent
Denver Nuggets 4.3 percent
Detroit Pistons 2.8 percent
Charlotte Hornets 1.7 percent
Miami Heat 1.1 percent
Indiana Pacers 0.8 percent
Utah Jazz 0.7 percent
Phoenix Suns 0.6 percent
Oklahoma City Thunder 0.5 percent
The 2015 NBA Lottery will be live on ESPN on Tuesday, May 19th at 830PM.
Allen Moll has been a lifelong NBA and NCAA College Basketball fan who watches and studies games religiously, and coaches youth basketball in his native Lehigh Valley region of Pennsylvania. Allen has also provided content to Bleacherreport.com, Upperdeckblog.com, Cleveland.com, CSN Philly.com, Buckets Magazine, Balltribe.com, in addition to being a tenured NBA and NCAA columnist for TheHoopDoctors.com.