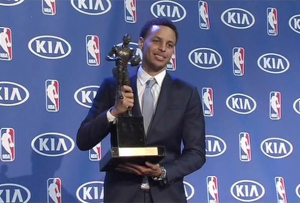 On Monday the NBA announced that Golden State Warriors guard Stephen Curry won the 2014-15 Kia NBA Most Valuable Player award. During the regular season, Curry set the single-season record for three-pointers made, beating his own record set last season — and led the league's best regular-season team in scoring, assists and steals. The 6-3 guard becomes the second Warriors player to win the award, joining Wilt Chamberlain, who was honored in 1959-60 when the franchise played in Philadelphia.
Here is a breakdown of how the voting works: players are awarded ten points for each first-place vote, seven points for each second-place vote, five points for each third-place vote, three points for each fourth-place vote and one point for each fifth-place vote. Curry totaled 1,198 points, including 100 of 130 first-place votes.
Twelve players are on the official ballot. Rounding out the top five behind Curry was the Houston Rockets' James Harden (936 points, 25 first-place votes), the Cleveland Cavaliers' LeBron James (552 points, five first-place votes), the Oklahoma City Thunder's Russell Westbrook (352 points) and the New Orleans Pelicans' Anthony Davis (203 points).
While that order may be how these players are perceived on the court, it's slightly different than how they're seen off it, at least according to their Thuzio 360 profiles (infographic after the jump). Thuzio creates a TPR (Thuzio's Projected Retail) for any athlete or sports personality in their database, over 20,000 total. This pricing reflects how much it costs to receive a two-hour appearance, a Twitter post or an Instagram post from the athlete.
For instance, LeBron James' TPR is higher than the other MVP candidates as he has an estimated $250,000 appearance fee, in addition to $75,000 for a Twitter post and $75,000 for an Instagram post. James' nearly 21 million followers on Twitter and 10 million followers on Instagram rank first in the NBA and rank fifth out of all active athletes.
Comparatively, the Oklahoma City Thunder's Russell Westbrook has a $50,000 estimated appearance fee, $15,000 Twitter post fee and $20,000 Instagram post fee. Westbrook ranks 13th in the NBA in Twitter followers (2.4M) and eighth for Instagram followers (2.1M). Westbrook ranks second in both categories when it comes to players on the Thunder, outshined by Kevin Durant, last year's NBA MVP.
The 2014-15 NBA MVP comes next, along with Anthony Davis of the New Orleans Pelicans, as far as TPR among MVP candidates. Curry has a $35,000 appearance fee to go along with a $15,000 fee for both Twitter and Instagram posts. Curry ranks 16th and 11th in the NBA in Twitter followers (2.1M) and Instagram followers (1.6M), respectively. The NBA's next big star, Davis, has a slightly higher appearance fee at $40,000, but has a smaller asking price for both Twitter and Instagram posts ($12,500 each).
Closing out the field is Harden, who ranks 12th in the NBA in both Twitter (2.7M) and Instagram followers league-wide, but ranks second on the Rockets for Twitter followers behind Dwight Howard. Harden does beat Howard in Instagram followers with over 1.58 million followers. Harden has a $30,000 appearance fee in conjunction with a $12,500 Instagram post fee and a $10,000 Twitter post fee.
While the rankings may differ slightly off the court, the easiest way for these players to continue moving up the list is to perform on it. It will be interesting to keep note of how the TPR and social figures for these players continue to change throughout the playoffs and into the offseason.