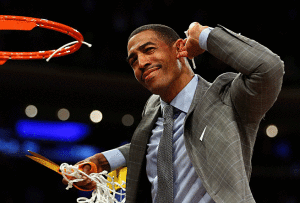 Scott Brooks may be on the outs in OKC; a move that has been rumored for years now. The Thunder missing the playoffs isn't Brooks' fault, but coaches have shelf lives.
UConn's Kevin Ollie is rumored to be of interest in OKC. If you recall, after winning a national championship last year, Ollie was rumored as a candidate for the Lakers job. But how attractive is the OKC job now? After all, this roster could be depleted in two years.
Connecticut coach Kevin Ollie is being "seriously considered" to replace Scott Brooks as coach of the NBA's Oklahoma City Thunder, according to a report from SNY.tv's Adam Zagoria.

Ollie, who led the Huskies to the NCAA championship in 2014 is a longtime NBA player who was a teammate of both Russell Westbrook and Kevin Durant with the Thunder and remains on good terms with GM Sam Presti.

Those relationships are thought to be key for Ollie's case, as he could perhaps sway Durant, a free agent after next season, to remain with the Thunder. Yahoo! Sports reported last week that Brooks' performance is being evaluated before the team commits to the coach for next season.
H/T: CBS sports