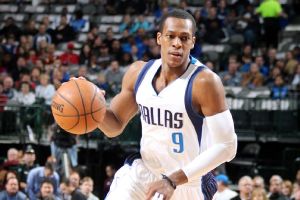 Rajon Rondo projects as one of the more interesting free-agency cases this summer.
Especially if he's looking to leave the Dallas Mavericks.
Which he might be.
From Basketball Insiders' Steve Kyler:
The narrative around Mavericks guard Rajon Rondo is that he is going to explore free agency. While Rondo has said several times that staying in Dallas long-term is a very serious option he'll consider, those around Rondo are saying the fit in Dallas has been less than stellar and that he'll explore his options. The Mavericks can and likely will offer more money on an annual basis, but there is a sense that Rondo will finish out the season and see what other options are available to him before making a decision. A return to Dallas isn't out of the question, but there is a sense that Rondo may have at least half a foot out the door.
The Mavericks knew the risks involved when they traded for Rondo. He's long been considered one of the biggest free-agent flight risks and that hasn't changed since he arrived in Dallas, where the Mavericks' offense has struggled to incorporate Rondo's ball-dominant stylings into their free-flowing model.
It doesn't help that Rondo is basically everything they don't need on the more glamorous end. He has no three-point range, his mid-range game goes from hot to cold to frozen and he's not a threat to score off the ball, making the Mavericks that much easier to defend when he defers to Chandler Parsons or Monta Ellis or Dirk Nowitzki.
Ellis specifically creates some long-term issues. His and Rondo's skill sets overlap. Though his offensive range is more expansive, he is neither an off-ball threat nor especially accustomed to playing off the ball. He made it work in Dallas when he was the only one of his kind, but Rondo is basically a more extreme version of himself, so their styles are going to clash no matter what clipboard sage Rick Carlisle comes up with—short of moving one of them to the second unit, of course.
More than stylistic fit, though, Rondo's future in Dallas may come down to price. He was initially seeking a max deal at the start of this season, but his inefficient performance, coupled with the fact he plays at an incredibly deep position, should lower his price tag significantly.
Yes, Rondo's reputation precedes him. But that's all it is—a reputation. He hasn't been selected to an All-Star game since 2012-13, and he hasn't appeared in one since 2011-12. He is a star by legend, not present-day function.
In the right situation, he would be worth more money. And yet, even then, his skill set would remain largely outdated at the point guard spot. Those who cannot shoot threes need to have a semi-consistent mid-range game or score at the rim at will. Think Russell Westbrook.
Rondo is not Westbrook. While he can be a good defender and remains a jaw-dropping passer, the league has spent the last nine years waiting for him to polish off his game—something he has yet to do, and something that may contribute to him having "half a foot," one foot or both feet out the door in Dallas.