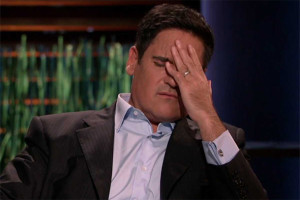 By now we've all heard about the realignment proposal brought forth by Dallas Mavericks owner Mark Cuban. After reading about his idea -which includes moving his team into the Eastern Conference-, I came to the realization that Mr. Cuban is somewhat crazy.
Lately Cuban has been a staunch critic of the NBA. When former Los Angeles Clippers owner Donald Sterling was forced out of the league over the summer for his racist comments which went viral (and ultimately forced him to sell the team), Cuban said that "people are allowed to be morons" referring to freedom of speech. Those comments didn't sit to well with a lot of people.
A couple of months later, Indiana Pacers forward Paul George suffered a broken leg in an exhibition game with Team USA in preparation for the FIBA World Cup. Cuban criticized both USA Basketball and the NBA in the aftermath and said that the league should ban it's players from international competition. Again this was not well received.
So now with his realignment idea; the billionaire says that it will balance out the competition in the league, and make the Western Conference relevant again. For some reason Cuban believes that the west has lost it's status within the game, I couldn't disagree more.
Cuban has owned the Mavericks since 2000. Under his watch the Mavs' went from being the NBA's doormat, to one of the leagues most respected franchises. Even though many league owners and executives don't personally care for the flamboyant owner, they respect what he's accomplished.
So considering that he's owned the team for nearly 15 years, it makes me wonder if there were times when he wasn't paying attention to what was actually happening on the court. Between 2000 and 2007, the Western Conference won six of eight NBA Championships (Los Angeles Lakers 2000-2002, San Antonio Spurs 2003, 2005 and 2007).
And since 2008, the Larry O'Brien Trophy has been won by the west on four occasions. The most recent team to do so was the San Antonio Spurs last season. The Lakers won back-to-backs in 2009 and 2010, then Cuban's own Mavericks took down the Miami Heat in 2011 to win the franchise's first title.
Perhaps Cuban's perception about the current state of the Western Conference could be in regards to his own team's short comings. Since their championship celebration in 2011, the Mavs' have sported a 138-109 regular season record with just two postseason appearances (2012 and 2014).
In their last two playoff runs the Mavericks were eliminated in the first round. They were swept by the Oklahoma City Thunder in 2012, and were out played by the Spurs in seven games last season. While there is no doubt that the Eastern Conference did upgrade it's talent pool in the offseason, it didn't exactly happen at the Mavs' expense.
Instead of proposing a radical change with the league as a whole, maybe Mark Cuban just needs to pay a little more attention to his franchise and find his way back to reality. Follow me on Twitter @GabeSalgado82