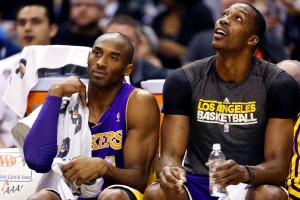 It's better to have admired and lost than to have never admired at all.
Remember that, Dwight Howard.
Too much has been made of Howard's decision to the leave the Lakers and, more pointedly, Kobe Bryant during free agency in 2013. The relationship between these two superstars has been painted as something either tenuous or nonexistent. They barely got along or they hated each other. Take your pick.
In a 72-minute documentary that will be released by EPIX, Howard sheds some light on what went down between him and Kobe. Here's ESPN Marc Stein (h/t Lakers Nation) with Howard's comments:
Dwight on joining forces with Kobe Bryant in Los Angeles and the rapid deterioration of their relationship after becoming teammates:

"Before I got to the Lakers, I would talk to him [and] he would really help me out on the [down] low about how to become everything that I said I wanted to be. And I looked up to him and I looked up to everything he, as a basketball player, stood for. … [By the end of that season] I just felt so hurt and disappointed in the fact that the guy that I was expecting to be somebody who was gonna pass the torch, somebody to say, 'Dwight, I'll take you under my wing and I'll show you how to get it done' … it was none of that."
Seems pretty legitimate, though you have to wonder what Howard was expecting. Kobe didn't repeatedly throw him under the bus to media members, so something must have been going on behind closed doors we don't know about. Or maybe it was the Lakers' free-agency pitch, during which Kobe apparently came off as crass and condescending—though multiple accounts depict that meeting as a formality that came well after Howard made up his mind.
Whatever it was about Kobe's mentorship that rubbed Howard the wrong way, it apparently helped drive him out of Los Angeles and into the arms of….James Harden…who is hardly a mentor. He's a fellow superstar who has been to the NBA Finals before, but he's three years Howard's junior. He's no mentor. Perhaps it was big man and head coach Kevin McHale or the Rockets' ties to Hakeem Olajuwon that drew him in. It had to be something, because, judging by those comments, Howard wasn't just looking to join a contender. He was searching for guidance—instruction and leadership that Kobe apparently didn't offer.
Who's really surprised, though? Kobe has never been the poster boy for mentoring players. He clashed with Shaquille O'Neal, Phil Jackson has openly acknowledged his polarizing demeanor in the past and Smush Parker would probably finance a Kobe Bryant voodoo doll company if he could. Pau Gasol and Derek Fisher have done just fine with him, so it's not impossible to make nice. But neither of those two arrived in Los Angeles looking for Kobe to be some selfless usher. That's not his style. He doesn't take people under his wing. He clips theirs and brazenly directs them until they're ready to fly on their own at best.
Had Kobe been warm and cuddly, perhaps Howard would have stayed. Who knows? There were other factors at play, like Mike D'Antoni. But it doesn't really matter now. Howard is in Houston and Kobe in Los Angeles, each competing for two very different things, traveling in two very different directions—the way, it seems, that it was always supposed to be.
Dan Favale is a firm believer in the three-pointer as well as the notion that defense doesn't always win championships. His musings can be found at Bleacherreport.com in addition to TheHoopDoctors.com.