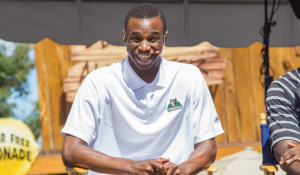 Don't sweat it, Minnesota Timberwolves fans. Andrew Wiggins has got this.
Simply knowing where he's going to begin his NBA career has done wonders for the rookie's confidence apparently. While speaking with media members on this upcoming season, the No. 1 overall pick—who the Cleveland Cavaliers used as bait to land Kevin Love—said he was comfortable in Minnesota and wasn't crumbling beneath anxiety-addled pressure.
From Jack Winter of Dime Magazine:
I think it's a great situation whenever I think about it. It gives me more freedom. I'm sure surrounded by young guys that have the same intentions and determinations as me – to really win and get better every day.

…

I don't really feel like it's too much pressure right now. I've been through being the number one player in high school, in college, all that stuff. So, pressure to me has really died down; I don't feel it as much as I used to.
It's almost like closure is a good thing.
Wiggins spent the first couple months of his NBA tenure in limbo, wondering whether he would remain with the Cavaliers or begin his professional snow-tubing career in Minnesota. That the situation is finally resolved has to be a boon for his confidence and comfort levels.
Though Wiggins repeatedly expressed faith in himself beforehand, this just feels right. He was criticized at Kansas for being too passive, and at a time when he had no idea which team he would be playing for, it was difficult to buy too much into his "I'm freaking awesome" mantra.
Now, not so much.
Not only does Wiggins have a team that wants him, he's in a completely different—and in this case—better situation for him. He would have been third fiddle in Cleveland, tasked with playing behind LeBron James and Kyrie Irving. That's no way for a potential superstar to develop.
The Cavaliers, Love or not, were also considered instant contenders in the Eastern Conference, diminishing the margin for error and erasing any and all patience that typically accompanies rebuilding projects and the young talent they carry.
Minnesota is under no such timeline. The Timberwolves haven't made the playoffs in 10 years, but away from LeBron, the pressure is different. Nonexistent, even. Wiggins is in line to become the cornerstone with this team and will be afforded a learning curve in the process. He's not playing alongside an all-powerful, championship-hungry superhuman. He's joining peers; he's starting his career the way No. 1 picks usually begin them: by playing for a team in transition that plans to build around him.
It doesn't get any better than this for Wiggins. He needs time, and the Timberwolves will give it to him in ways the Cavaliers neither could nor wanted to.
Dan Favale is a firm believer in the three-pointer as well as the notion that defense doesn't always win championships. His musings can be found at Bleacherreport.com in addition to TheHoopDoctors.com.