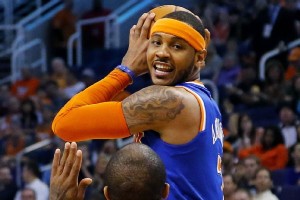 All this time we thought Carmelo Anthony was born to score.
We were wrong. He was really a point guard-hopeful trapped in the body of a forward, gifted with the offensive chops of an unabashed, inside-out, 20-plus-shots-per-night chucker. But after 11 years of shooting and scoring, more shooting and scoring, and more shooting and scoring still, Melo is ready for a change (another reason to add to this list).
The New York Knicks superstar has lost some weight, as we here at The Hoop Doctors already discussed. Apparently that weight loss is the direct result of Anthony's investment in Muggsy Bogues' unknown line of basketball DVD workshops entitle, So, You Think You Can Be An NBA Point Guard? desire to get in peak condition for the Knicks' newly implemented triangle offense.
From the New York Post's Marc Berman:
Carmelo Anthony took a $5 million pay cut on his new contract, but it appears he took a bigger cut in weight. According to an Anthony confidant, Anthony has done so in order to resemble his physique as a rookie with the Nuggets and to be more viable in Phil Jackson's triangle offense. …

"He wants to be as athletic as he was when he was a rookie,'' the confidant told The Post. "Plus he wants to be a facilitator in the triangle and speed will help that.''…

According to a source, the Harris camp was told Anthony was working out three times a day, doing basketball drills, agility drills, weights and yoga.

With regard to his diet, Anthony has followed LeBron James' lead in a mostly no-carb diet. …

Because former coach Mike Woodson played Anthony a lot at power forward the past two seasons, it would have been unwise to drop too much weight. However, team president Phil Jackson sees Anthony more as the starting small forward this season.
Trimming down is rarely considered a bad thing, no matter who you are. Eating disorders are freaking awful, but for most people, losing weight the right way, without any sort of addiction or methodological abuse, is a healthy choice.
In the NBA, it's different. You need to be strong. The guys you're playing are strong. Not everyone can look and move like the wiry Kevin Durant, who, while strong in his own way, sometimes looks like he can be snapped in half.
The triangle won't call for Anthony to bruise down low as much, especially if Phil Jackson sees him as more of a small forward. And if he, in fact, wants to become a point forward—something Mike D'Antoni was hoping he could become in 2011-12, by the way—there's a need for speed and end-to-end agility. Slimming down should help him there.
How will his new weight-loss results affect his play? Well, per Berman, shooting legend Reggie Miller says it will "prolong" his career. That's a good thing, since Anthony's past 30 and working on a five-year deal. But can he maintain his usual standard and expected level of offensive aptitude? Can he actually thrive within the triangle as a scorer and distributor?
Actual, meaningful basketball will tell.
Scales that inform Melo his carb avoidance is working will not.
Dan Favale is a firm believer in the three-pointer as well as the notion that defense doesn't always win championships. His musings can be found at Bleacherreport.com in addition to TheHoopDoctors.com.