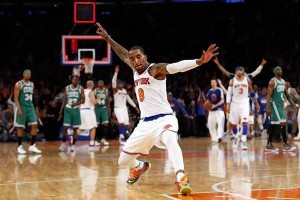 Never say J.R. Smith doesn't have goals.
Conventional goals, mind you. Not aspirations to open up his own chocolate factory that's managed by Willy Wonka and a platoon of Oompa Loompas. Not hopes of one day building and living in a house made of beef jerky, cheese and ranch dressing. Actual, basketball-related goals that demand he be someone more than he's been the last 10 years: a leader.
From ESPN New York's Ian Begley:
J.R. Smith has several goals entering the 2014-15 season.

He wants to help the Knicks make the playoffs and contend in the Eastern Conference. He wants to produce consistently on both ends of the floor.

All of these are normal goals for any NBA player.

But Smith has one goal that may surprise you:

"Be a leader," Smith said in an interview with ESPNNewYork.com on Thursday at his foundation's annual golf fundraiser. "We've got so many younger guys around. A lot of the older guys left within the last two years. So be more of a leader and help out."
This ought to be interesting.
When thinking about Smith and all he's capable of doing, leadership qualities don't spring to mind. Smith has spent the last decade building a reputation that drags him in the completely opposite direction, on an island, by himself, far away from being a leader, known more as an on- and off-court wildcard with mixed intentions and judgment beclouded by his own immaturity.
He is the one untying opponents' shoes. He is the one getting suspended for experimenting—or religiously using—marijuana. He is the one jacking up 22 three-pointers against LeBron James and the Miami Heat during a game that showed, without question, just how far away the New York Knicks were from being a team with hopes of contending.
And yet here's that same person, that same man-child is, sermonizing us about the importance of leadership and the gaping hole he hopes to fill using only his actions.
"Just 'show instead of say' and stuff like that," Smith told Begley. "'Sheed [Rasheed Wallace], J Kidd [Jason Kidd] –those guys led by example and that's what I'm going to try to do."
Leading by example demands Smith drastically alter his demeanor. Jokes are fine; blatant acts of everlasting pubescence are not. To have a hope charging ahead in a leadership role, Smith has to change almost everything. The Knicks aren't a team that will hand him the reins willingly and unconditionally, after all.
Although they've lost Tyson Chandler, Jason Kidd and Rasheed Wallace, they still have Phil Jackson lording over everything. They still have Carmelo Anthony. They still have Amar'e Stoudemire. They now have Jose Calderon. They also have Derek Fisher haunting their sidelines.
Is Smith capable of making the necessary adjustments? Only he knows. All we know is that for him to actualize his preseason goals, he has some work to do.
There are others—like the aforementioned—who will try to step up, those who are, at the moment, better suited to lead these Knicks physically and emotionally. Smith needs to play catch-up by reinventing himself as a player and teammate, shedding poisonous imputations that have dogged him for—and ultimately tainted his—entire career.
Dan Favale is a firm believer in the three-pointer as well as the notion that defense doesn't always win championships. His musings can be found at Bleacherreport.com in addition to TheHoopDoctors.com.