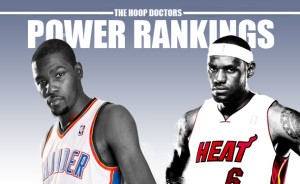 Things are getting tense in the NBA.
Months of playing and winning and losing and tanking and contending and injuries and comebacks and other stuff have come down to this: two-plus weeks of season-defining basketball.
Some teams are battling for postseason seeding. Others are fighting for playoff survival, looking to snag a last-minute berth. A select few are trying to figure out their identity before championship aspirations turn to lettuce. The San Antonio Spurs, meanwhile, are already being asked for their ring sizes.
Most of the season has been spent in the dark. This is one of the most turbulent campaigns in recent memory. Expensive powerhouses fell, allegedly playoff-bound teams faltered, supposed tank jobs played well—it's been a mess. Even the "consistent" teams have us up in arms. From the Oklahoma City Thunder and Houston Rockets to the Miami Heat and Indiana Pacers, no one—not even the Spurs—has done enough to escape the importance of this final stretch.
Now's the time when things should start to take shape. They have no other choice. The walls are closing in. The end is near. Playoff basketball and ping pong balls are on the way.
Until they get here, though, we're left to sort through this beautifully chaotic mess that is the NBA, power-rankings style.
**Welcome back to The Hoop Doctors' PG-13 NBA Power Rankings, where almost anything goes. Language may sometimes not be suitable for those reading at work, in which case I recommend you don't read these aloud or you get a new job. Like most PG-13 movies, we'll permit one F-bomb per post. Those devoid of a sense of humor need not proceed.
***For a week by week list of all our NBA Power Rankings this season, please visit this page.
NBA Power Rankings
| | |
| --- | --- |
| 1 | |

San Antonio Spurs

Spurs: A five-letter word for "Oh my god."

Spurs: Also a five-letter word "Fuck you, who's boring now?"

Last Week (1)

| | |
| --- | --- |
| 2 | |

Los Angeles Clippers

After watching Blake Griffin lead the Clippers without him, it's time for Chris Paul to return the favor.

Unrelated: Is it wrong that I see a potential first-round matchup with the Grizzlies or Warriors going horribly, horribly wrong for them?

Last Week (2)

| | |
| --- | --- |
| 3 | |

Oklahoma City Thunder

Must. Have. More. Kevin Durant.

That's a joke.

No, Scott Brooks, no. I was kidding.

More of Kevin Durant is bad.

He's going to break before the playoffs.

Please, Scotty, no.

Last Week (3)

| | |
| --- | --- |
| 4 | |

Miami Heat

All along, the Heat have made it clear they don't give two shits about finishing atop the Eastern Conference. So, naturally, they're now sitting atop the Eastern Conference.

Last Week (6)

| | |
| --- | --- |
| 5 | |

Memphis Grizzlies

This is the Grizzlies' third straight week appearing in the top six, and they may not even make the playoffs.

GOTDAMN WESTERN CONFERENCE.

Last Week (5)

| | |
| --- | --- |
| 6 | |

Golden State Warriors

The Warriors are an elite defensive team with a mediocre offense that frequently plays like a porous, indecisive and shit-for-brains defensive team with a net-shredding, opposition-eviscerating offense.

Mmmkay?

Last Week (7)

| | |
| --- | --- |
| 7 | |

Houston Rockets

James Harden and friends are getting a glimpse into their ceiling without Dwight Howard. Early returns show it is not good.

Last Week (4)

| | |
| --- | --- |
| 8 | |

Brooklyn Nets

Kevin Garnett? Injured.

Andrei Kirilenko? Injury-prone.

Paul Pierce? Sometimes on the bench during crunch time.

Jason Kidd? Not bald by choice.

The Nets? Seriously awesome.

Last Week (10)

| | |
| --- | --- |
| 9 | |

Dallas Mavericks

Whatever happens, the Mavericks aren't making it out of the first round of the playoffs. They may not even make the playoffs. But man, are they going to be fun as hell to watch if they get there.

Last Week (11)

| | |
| --- | --- |
| 10 | |

Chicago Bulls

Carlos Boozer is playing with the spirit of a man who knows the Bulls would rather be investing in modernized seat cushions for their bench than pay him.

Last Week (9)

| | |
| --- | --- |
| 11 | |

Phoenix Suns

One of the Suns, Grizzlies and Mavericks isn't going to make the playoffs. It's probably going to be the Suns, which is further proof that life sucks.

Last Week (12)

| | |
| --- | --- |
| 12 | |

Indiana Pacers

Watching the Pacers attempt to score on the Spurs' defense felt a lot like running toward a butter-thick swarm of killer bees while covered in honey.

Last Week (8)

| | |
| --- | --- |
| 13 | |

Portland Trail Blazers

Portland lives! Now it's time to find out if the team's new-found pulse is too little, too late or just enough, just in time.

Last Week (16)

| | |
| --- | --- |
| 14 | |

Toronto Raptors

Fingers crossed that Kyle Lowry's injury isn't serious. The Raptors aren't going anywhere without him. I mean, he's not Rudy Gay, you guys.

Last Week (13)

| | |
| --- | --- |
| 15 | |

Washington Wizards

Raise your hand if you find yourself wishing once a day—and twice on Sundays—that the Wizards' offense was better.

Last Week (14)

| | |
| --- | --- |
| 16 | |

Charlotte Bobcats

What. A. Season. Never mind that the Bobcats are still under .500, or that their ceiling with Al Jefferson is totally eh. Just look at the imminent playoff berth like it's something shiny and keep parroting "What. A. Season."

Last Week (15)

| | |
| --- | --- |
| 17 | |

New York Knicks

Hope is slowly, surely mounting in the Big Apple. So, in other words, it's only a matter time before the Knicks abruptly and crudely destroy it by Knick-ing around in total Knicks fashion.

Last Week (18)

| | |
| --- | --- |
| 18 | |

New Orleans Pelicans

Seeing Anthony Davis lead the Pelicans to respectability is awesome. It's also gut-wrenching. Imagine what they would be like next season if they were able to land a top-five pick and not have to send their first-rounder to Philly.

Last Week (17)

| | |
| --- | --- |
| 19 | |

Cleveland Cavaliers

If we keep on saying "Everything is going to be just fine in Cleveland," maybe it will actually become true.

Last Week (20)

| | |
| --- | --- |
| 20 | |

Minnesota Timberwolves

Kevin Love's beard is going to look weird in a Lakers jersey.

Last Week (19)

| | |
| --- | --- |
| 21 | |

Los Angeles Lakers

Wins over the Thunder, Suns and Knicks recently. But yeah, Mike D'Antoni sucks. Both this season and global warming are all his fault.

Last Week (24)

| | |
| --- | --- |
| 22 | |

Atlanta Hawks

Should the Hawks nab eighth place in the Eastern Conference, it won't be for a lack of trying to ensure they don't.


Last Week (20)

| | |
| --- | --- |
| 23 | |

Denver Nuggets

Describing the Nuggets' season is difficult. They're either a catastrophe, or a successful tank job.

Last Week (21)

| | |
| --- | --- |
| 24 | |

Boston Celtics

Rajon Rondo's color commentary is sooooooooo much better than his jump shot.

Last Week (26)

| | |
| --- | --- |
| 25 | |

Sacramento Kings

This is what happens when you run a string of April Fool's jokes that are the furthest thing from funny.

Last Week (23)

| | |
| --- | --- |
| 26 | |

Detroit Pistons

Self-Foisted Hell, thy name is Detroit Pistons.

Last Week (25)

| | |
| --- | --- |
| 27 | |

Orlando Magic

Best part about the Magic's season? Players read not-so-nice tweets directed at them.

Last Week (28)

| | |
| --- | --- |
| 28 | |

Utah Jazz

Remember when we were all worried the Jazz weren't tanking?

Yeah, me neither.

Last Week (26)

| | |
| --- | --- |
| 29 | |

Milwaukee Bucks

Philly has lost 27 of its last 28 games and still the Bucks have a two-game hold on the NBA's worst record. Tank on, Milwaukee.


Last Week (29)

| | |
| --- | --- |
| 30 | |

Philadelphia 76ers

In a best-of-seven series against the Pacers right now, the Sixers would have a legitimate chance of winning.

Last Week (30)