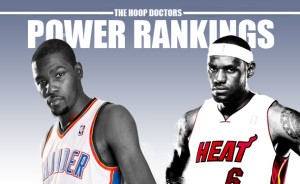 The NBA playoffs are almost here.
Someone please explain that to most of the Eastern Conference teams please. Even those atop the standings are struggling, playing like this isn't the most important time of the year.
In the Western Conference, you have four elite teams duking it out for the final three postseason slots. Really, it's three and two. Though the Golden State Warriors haven't locked up their playoff berth, it's going to happen. That leaves the Memphis Grizzlies, Dallas Mavericks and Phoenix Suns fighting like hell, lusting after the same territory. Doesn't matter which two teams make it. Each of them is so fun to watch, we all win. Except for the team that doesn't make it, though. They actually lose.
Out East, meanwhile, the Atlanta Hawks are attempting to give the New York Knicks a playoff berth they just don't want. The Indiana Pacers are losing like whoa, putting forth the type of listless offensive effort that is rivaled only by kids on the playground checking their new Jordans for signs of dog ejecta instead of actually playing.
So, yeah. Welcome to the most important time of the regular season, when teams with plenty to lose catch fire or fizzle and die.
**Welcome back to The Hoop Doctors' PG-13 NBA Power Rankings, where almost anything goes. Language may sometimes not be suitable for those reading at work, in which case I recommend you don't read these aloud or you get a new job. Like most PG-13 movies, we'll permit one F-bomb per post. Those devoid of a sense of humor need not proceed. 
***For a week by week list of all our NBA Power Rankings this season, please visit this page.
NBA Power Rankings
| | |
| --- | --- |
| 1 | |

San Antonio Spurs

Tim Duncan spits in the face of Father Time.

Manu Ginobili merely winks at him.

Gregg Popovich scowls at him like only Gregg Popovich can.

Tony Parker sleeps with his sister.

The Spurs are ageless and awesome.

Last Week (1)

| | |
| --- | --- |
| 2 | |

Los Angeles Clippers

Solemnly swear I'm not raining on their season. Promise. But at what point do we start asking: Where do the capped-out Clippers go from here if they don't win a title?

Last Week (2)

| | |
| --- | --- |
| 3 | |

Houston Rockets

Playing the Lakers every night would certainly be a boon for the Rockets' power rankings stock.

Last Week (7)

| | |
| --- | --- |
| 4 | |

Oklahoma City Thunder

Bring on the playoffs. No, seriously, bring them on. Now. Oklahoma City's offense looks uninventive and tired as ever.

Last Week (3)

| | |
| --- | --- |
| 5 | |

Golden State Warriors

Drama, drama, drama. Credit these Warriors for hanging tough through drama, injuries, drama, Mark Jackson's hyperbolic pre-, post- and mid-game pep talks and, most of all, drama.

Last Week (6)

| | |
| --- | --- |
| 6 | |

Miami Heat

Sound the alarm. Dwyane Wade's body has the structural stability of Jell-O that's been sitting on the blacktop in 107-degree weather for six hours.

Oh, you knew that? My bad.

Last Week (4)

| | |
| --- | --- |
| 7 | |

Brooklyn Nets

Nets now have more wins over the Heat this season (four) than 20 of the 28 other NBA teams do during entire LeBron James/Big Three era.

Last Week (8)

| | |
| --- | --- |
| 8 | |

Dallas Mavericks

Dirk Nowitzki is either an intergalactic, jump-shot-draining, time-impervious droid sent to Earth to, well, drain jump shots, or he's drinking from the same flask Coach Pop gives his Spurs.

Last Week (9)

| | |
| --- | --- |
| 9 | |

Chicago Bulls

Pacers players want rest, eh? Personally, I would love to see Joakim Noah's—or to a lesser extent, Jimmy Butler's—reaction if someone on the Bulls requested "rest" now.

Last Week (10)

| | |
| --- | --- |
| 10 | |

Phoenix Suns

Sometimes I forget how thick Goran Dragic's accent is. Never again, though. Never again.

Also, the Suns are Sunsing around and on the brink of proving this "Suns of a bitch" wrong about them missing the playoffs.

Last Week (11)

| | |
| --- | --- |
| 11 | |

Toronto Raptors

Every week, I feel like I'm underrating the Raptors. So, screw it. Nearly top-10 finish for a Toronto team that ranks top 10 in both offensive and defensive efficiency.

Last Week (14)

| | |
| --- | --- |
| 12 | |

Memphis Grizzlies

Have this sick, twisted feeling I'll be writing "R.I.P. Grizzlies playoff chances" this time next week.

Last Week (5)

| | |
| --- | --- |
| 13 | |

Portland Trail Blazers

LaMarcus Aldridge for MVP of all Portland basketball teams that cannot seem to function without him.

Last Week (13)

| | |
| --- | --- |
| 14 | |

Indiana Pacers

The more I watch the Pacers, the more I wonder if walking on broken glass pre-soaked in lethal fluid culled from a Poison Dart Frog is better for my well-being.

Last Week (12)

| | |
| --- | --- |
| 15 | |

Charlotte Bobcats

Pretty sure you have to bathe in the blood of Cuban Great Funnel-Eared Bats to have the low-post skills that Al Jefferson boasts this season. Not entirely sure, but pretty sure.

Last Week (16)

| | |
| --- | --- |
| 16 | |

Washington Wizards

Whenever I see Nene, I have the sudden urge to wear sandals. Don't ask me why.

Congratulations on the playoff berth, Washington.

Best of luck signing more newborn heads, Marcin Gortat.

Last Week (15)

| | |
| --- | --- |
| 17 | |

Minnesota Timberwolves

Only five games separate the Timberwolves from the most annoying offseason they've ever experienced.

Last Week (20)

| | |
| --- | --- |
| 18 | |

New York Knicks

They don't need an eighth-place finish to validate their talent because, fuck the playoffs. Who needs 'em? Championship teams finish inside the lottery only to send said lottery pick to another team as partial payment for a one-sided trade that went down three-plus years ago all the time.

Last Week (17)

| | |
| --- | --- |
| 19 | |

Cleveland Cavaliers

Biggest issue facing the Cavaliers for rest of this season: Are Kyrie Irving and Dion Waiters the kind of friends who take barefoot walks on the beach sipping identical-flavored slushies while donning matching v-neck shirts? Or are they the type of friends who tell everyone else they're friends when really, they're not friends?

Last Week (19)

| | |
| --- | --- |
| 20 | |

Atlanta Hawks

Whenever the Hawks enter "Two-pointers don't exist mode," you know it's going to be a good night…for whomever they're facing.

Last Week (22)

| | |
| --- | --- |
| 21 | |

New Orleans Pelicans

Love Anthony Davis, but still think Monty Williams should have sat him for the stretch run. Preventing Philly from landing that top-five protected pick would have been huge.

Last Week (18)

| | |
| --- | --- |
| 22 | |

Denver Nuggets

Ugly is the shitshow Denver's season has turned into.

Last Week (23)

| | |
| --- | --- |
| 23 | |

Sacramento Kings

If games ended at halftime, the Kings' point differential would be sooooooooooo much better than it is now. #Analysis

Last Week (25)

| | |
| --- | --- |
| 24 | |

Detroit Pisons

Beating the Hawks was good for the Pistons. Andre Drummond is a beast. Peyton Siva is having his moments.

Meanwhile, Greg Monroe's help defense exists only to those who believe in Santa Clause, the Easter Bunny and the monogamous side of John Mayer.

Last Week (26)

| | |
| --- | --- |
| 25 | |

Los Angeles Lakers

Still waiting on the Lakers to decide whether they're going to fire Mike D'Antoni, not fire Mike D'Antoni or continue waffling back and forth between firing and not firing Mike D'Antoni.

Last Week (21)

| | |
| --- | --- |
| 26 | |

Orlando Magic

Decided I'm going to watch the rest of the Magic's games while listening to "Brown Eyed Girl" on a loop.

Last Week (27)

| | |
| --- | --- |
| 27 | |

Utah Jazz

There are nights when the Jazz are unwatchable and then there are nights when you can stomach their performance. And then there are nights you wonder if you too, should try the Enes Kanter diet.

Last Week (28)

| | |
| --- | --- |
| 28 | |

Boston Celtics

Teams prepared to pay Rajon Rondo superstar money in 2015 should worry about the Celtics being this bad with him, right?

Last Week (24)

| | |
| --- | --- |
| 29 | |

Philadelphia 76ers

Careful, Philly. After all those weeks at No. 30, this sky-high jump to No. 29 may give y'all a nosebleed.


Last Week (30)

| | |
| --- | --- |
| 30 | |

Milwaukee Bucks

So, do you guys think Larry Sanders' agent explained his contract to him as four years, $44 million, or four years years, 4.4 million dime bags?

Unrelated: They're back…right where they belong…in last place…as kings of tankers.

Last Week (29)