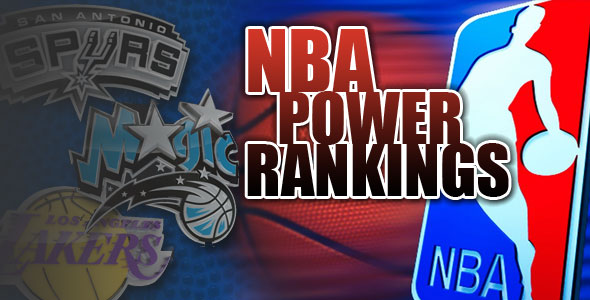 The NBA's Eastern Conference is good, man.
Just kidding.
It's awful. All kinds of awful. The most awfullest thing ever. Picture the worst meal you've ever ate. Then envision yourself eating said meal alongside your most insufferable ex. And then imagine what it would feel like if that meal and rendezvous took place in the middle of a shit-manufacturing conveyor belt, inside a room that checked in at 98 degrees fahrenheit , while nothing save for 98 Degrees songs played over the blown-out intercom.
That's what the Eastern Conference is like.
Now, as for the Western Conference, that's something special. The West has some special shit under its belt. Contenders galore. The West has possible contenders that might not even make the playoffs (Grizzlies). That's how good the West is.
If only the East were more like the West. Or, better yet, if only the West were willing to absorb the Knicks and Cavaliers to balance out the levels of awful. Life would be so much simpler.
But no, the West is amazing and the East is the crap that crap would crap if crap could actually crap.
On that note, onto the power rankings.
**Welcome back to The Hoop Doctors' PG-13 NBA Power Rankings, where almost anything goes. Language may sometimes not be suitable for those reading at work, in which case I recommend you don't read these aloud or you get a new job. Like most PG-13 movies, we'll permit one F-bomb per post. Those devoid of a sense of humor need not proceed. 
***For a week by week list of all our NBA Power Rankings this season, please visit this page.
NBA Power Rankings
| | |
| --- | --- |
| 1 | |

Miami Heat

What LeBron did against the Bobcats was incredible. What he did against the Rockets was less incredible. The Heat, meanwhile, are just incredible.

Last Week (1)

| | |
| --- | --- |
| 2 | |

Oklahoma City Thunder

"Trade Russell Westbrook!" shouted every harebrained basketball fan hopped up on acid and alcohol…up until four games ago.

Last Week (2)

| | |
| --- | --- |
| 3 | |

Los Angeles Clippers

Chris Paul made the Clippers a playoff team; Doc Rivers has put them in championship mode.

Last Week (4)

| | |
| --- | --- |
| 4 | |

Houston Rockets

How long until we admit Dwight Howard, not James Harden, is the best player on this team?

Last Week (5)

| | |
| --- | --- |
| 5 | |

Indiana Pacers

Where, in tarnation, is Indiana's offense? Seems like the Pacers left it in 2010.

Last Week (3)

| | |
| --- | --- |
| 6 | |

San Antonio Spurs

Old, consistent and predictable is the new sexy.

Last Week (8)

| | |
| --- | --- |
| 7 | |

Memphis Grizzlies

I mean, shit, it seems Dave Joerger is lacing Memphis' morning grits with lethal amounts of freakin' awesome.

Last Week (9)

| | |
| --- | --- |
| 8 | |

Golden State Warriors

The Warriors are the she loves me, she loves me nots of NBA teams.

Last Week (7)

| | |
| --- | --- |
| 9 | |

Phoenix Suns

Sad realization: Phoenix probably won't make the playoffs.

Subsequent realization: If only the Suns played in the Eastern Conference.

Last Week (10)

| | |
| --- | --- |
| 10 | |

Dallas Mavericks

Steady now, Dallas, or people are going to think Dirk Nowitzki's beard is running low on superpowers.

Last Week (6)

| | |
| --- | --- |
| 11 | |

Brooklyn Nets

Brooklyn has slowly, surely become both the NBA's most overrated team, and one higher seeds won't want to face in the playoffs. Go figure.

Last Week (15)

| | |
| --- | --- |
| 12 | |

Toronto Raptors

Would like to take this opportunity to remind everyone the Raptors rank in the top 10 of both offensive and defensive efficiency, because, well, in Canada we trust.

Last Week (11)

| | |
| --- | --- |
| 13 | |

Portland Trail Blazers

I trust this team about as much Elin Nordegren would a "reformed" sex addict.

Last Week (12)

| | |
| --- | --- |
| 14 | |

Washington Wizards

Washington is 1-5 against above.-500 teams since beating the Blazers in early February.

Last Week (17)

| | |
| --- | --- |
| 15 | |

Minnesota Timberwolves

The Timberwolves have the ninth-highest point differential in the NBA, and they're probably going to miss the playoffs. Wow.

Last Week (16)

| | |
| --- | --- |
| 16 | |

Chicago Bulls

If the Bulls don't keep Tom Thibodeau in Chicago beyond this season, does that warrant fan-fueled mutiny?

Last Week (14)

| | |
| --- | --- |
| 17 | |

Charlotte Bobcats

Charlotte is playing like the Bobcats we know, don't love and subsequently cannot believe in of late.

Last Week (13)

| | |
| --- | --- |
| 18 | |

Detroit Pistons

Was watching the Pistons the other night thinking, "Man, I need to watch more of Andre Drummond." Then, as the game went on and I watched the rest of the Pistons, I realized why I wasn't watching more of Andre Drummond.

Last Week (23)

| | |
| --- | --- |
| 19 | |

Cleveland Cavaliers

Some people think this team has figured it out. I'm not one of those people.

Last Week (22)

| | |
| --- | --- |
| 20 | |

Utah Jazz

Somehow, the Jazz are both bad and pleasantly surprising. You do the math.

No, seriously, do the math. Their lottery odds are weird.

Last Week (19)

| | |
| --- | --- |
| 21 | |

Los Angeles Lakers

Godspeed, Steve Nash.

Last Week (26)

| | |
| --- | --- |
| 22 | |

Sacramento Kings

This is what I get for putting them in the top 18 last week.

Last Week (18)

| | |
| --- | --- |
| 23 | |

Atlanta Hawks

Atlanta is doing everything in its power to ensure it doesn't make the playoffs, but the Knicks, Pistons and Cavaliers appear just as hell-bent on sucking as the Hawks do.

Last Week (20)

| | |
| --- | --- |
| 24 | |

Orlando Magic

Hoop Idea: Make the video tribute for Dwight Howard a spoof from an episode of Muppet Babies that has nothing to do with Dwight Howard.


Last Week (27)

| | |
| --- | --- |
| 25 | |

Boston Celtics

Boston's goal for the rest of this season? Out-tank the Knicks.

Last Week (28)

| | |
| --- | --- |
| 26 | |

New Orleans Pelicans

Without Anthony Davis, the Pelicans are both well groomed and unwatchable.

Last Week (21)

| | |
| --- | --- |
| 27 | |

Denver Nuggets

Holy hell this team is bad. Imagine how much better they would look, though, with two top-10 lottery picks.

Last Week (25)

| | |
| --- | --- |
| 28 | |

New York Knicks

"Fuuuuuuuuuuuuuuuuuck." -Every Knicks fans from here to Serbia to the fiery pits of hell.

Last Week (24)

| | |
| --- | --- |
| 29 | |

Milwaukee Bucks

It seems the more O.J. Mayo is paid, the worse he plays.

Last Week (29)

| | |
| --- | --- |
| 30 | |

Philadelphia 76ers

Will the Sixers win another game this season? Let's answer that question with another question: Do nude trips to the hot wax, bee and needle-tipped door knobs museum seem like a good idea?

Last Week (30)