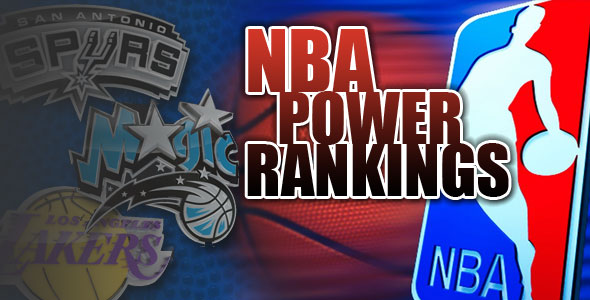 Happy (almost) NBA All-Star Weekend everyone.
Something is in the air, and it's not love. Well, maybe a little bit of love. Valentine's Day is just around the corner, after all. Most of what you're sensing, though, is more chaos.
Although the top-most teams remain relatively consistent in their performance, the mediocre and bottom-feeding outfits are waging a hellish battle of "Who can we confuse next?"
It's been that bad, or good, depending what your power-rankings fetish is. For me, it's maddening. While I typically enjoy tracking the progression and regression of various franchises, this year has been all kinds of holy-shit-what-the-hell-is-going-on?
In the Western Conference, you have your powerhouses, your contenders. Then there are 10 other teams confusing the heck out of us in different ways. Try not to get me started on the Eastern Conference, where we're lucky enough to say there is more than one contender. Every team other than the Heat and Pacers have been riding roller coasters—the kind with plenty of twists, turns, loops and faulty seat belts.
What has the continued/heightened disparity of inconsistency meant for this week's power structure? Plenty of change* and hair-pulling.
*Barf bag not included; proceed at your own risk.
**Welcome back to The Hoop Doctors' PG-13 NBA Power Rankings, where almost anything goes. Language may sometimes not be suitable for those reading at work, in which case I recommend you don't read these aloud or you get a new job. Like most PG-13 movies, we'll permit one F-bomb per post. Those devoid of a sense of humor need not proceed. 
***For a week by week list of all our NBA Power Rankings this season, please visit this page.
NBA Power Rankings
| | |
| --- | --- |
| 1 | |

Oklahoma City Thunder

Russell Westbrook's return should scare us, both because we shouldn't want him to mess with Kevin Durant's insane mojo and it's also possible the Thunder never lose again if it all works out.

Last Week (1)

| | |
| --- | --- |
| 2 | |

Indiana Pacers

Still trying to figure out how Indy loses to the Magic, only to beat the living hell out of the Nuggets.

Last Week (2)

| | |
| --- | --- |
| 3 | |

Los Angeles Clippers

Not only is Chris Paul healthy, but the vision of the Clippers nearly tripling Philly's score at one point during the third quarter is still fresh in our minds.

Last Week (8)

| | |
| --- | --- |
| 4 | |

Miami Heat

Top-three finish even though the Heat lost to the Jazz. You're welcome, Miami.

Last Week (4)

| | |
| --- | --- |
| 5 | |

Houston Rockets

Their six-game winning streak is headlined by victories over Dallas, San Antonio, Phoenix and Minnesota. Whoa.

Last Week (7)

| | |
| --- | --- |
| 6 | |

Memphis Grizzlies

Dropping one spot from last week isn't really an indictment on the Grizzlies. They're still grinding like only the Grizzlies can. Injuries to Mike Conley and Tony Allen are troublesome, though.

Last Week (5)

| | |
| --- | --- |
| 7 | |

Portland Trail Blazers

Defense? Anyone in Portland? Anyone at all? Pretty please? With Damian Lillard's hectic All-Star Weekend schedule on top?

Last Week (3)

| | |
| --- | --- |
| 8 | |

Phoenix Suns

Though the Suns aren't winning in volume at the moment, they're playing some tough basketball against tough teams. Also, let me go on record begging the Suns not to go after Rudy Gay. Please, for the love of all that makes sense, don't do it.

Last Week (6)

| | |
| --- | --- |
| 9 | |

Dallas Mavericks

Screw a lopsided loss to the Bobcats, this team is fun. Really fun. And Dirk Nowitzki is in baller mode right now, within striking distance of becoming the second player in NBA history, aged 35 or older, to register a 50/40/90 season.

Last Week (13)

| | |
| --- | --- |
| 10 | |

Golden State Warriors

This team can be so, so, so good. And yet, they're so, so, so inconsistent. And that's so, so, so maddening.


Last Week (10)

| | |
| --- | --- |
| 11 | |

Brooklyn Nets

Brooklyn is now quietly the league's most expensive shithole. Being within three games of the Atlantic Division lead is nice and all, but attempting to maybe, quite possibly, hopefully, if they're lucky win a footrace with the Raptors isn't what the Nets were built for.

Last Week (14)

| | |
| --- | --- |
| 12 | |

San Antonio Spurs

"Fuck you, injuries." -All of San Antonio

"Is 'We heart Patty Mills' a thing yet?" -Me

Last Week (10)

| | |
| --- | --- |
| 13 | |

Chicago Bulls

Turns out the Bulls really do have more than enough to win, which, if you think about it, proves what we've suspected flat-out known all along: The Eastern Conference is poo.

Last Week (18)

| | |
| --- | --- |
| 14 | |

Toronto Raptors

"Masai, whatcha want for Lowry?"

"Ummmmmm, Shump, MWP, Prig, Timmy Jr., 2018 1st-rounder & whatever's left of your dignity, Jimmy."

#WeHaveLowryAndYouCannotHaveHim #SuckItKnicks

Last Week (12)

| | |
| --- | --- |
| 15 | |

Charlotte Bobcats

Charlotte beat Dallas and Golden State, and almost beat San Antonio, in a span of seven days. This is what we—er, I mean, Bobcats fans—call "peaking."

Last Week (21)

| | |
| --- | --- |
| 16 | |

Washington Wizards

For some sick, twisted, inexplicable reason, I still believe in the Wizards. Maybe it's because of their defense. Maybe it's because John Wall could out-class the Road Runner in dead sprints. Maybe it's because the Eastern Conference blows like a girl who gives hand jobs with sand paper.

Or maybe I just realized we're all floating in space, lost my train of thought completely and have no idea what we're talking about right now.

Last Week (15)

| | |
| --- | --- |
| 17 | |

Atlanta Hawks

DO NOT TRADE FOR JEFF GREEN. YOU HAVE ONE JOB: BE MEDIOCRE WITHOUT SHOOTING YOURSELVES IN THE GODDAMN FOOT BY PAYING UP THE ASS FOR A PLAYER NOT LIVING UP TO HIS POTENTIAL.

So, in summation, DO NOT TRADE FOR JEFF GREEN.

Last Week (11)

| | |
| --- | --- |
| 18 | |

Minnesota Timberwolves

Four-game losing streaks never made so much sense.

Last Week (17)

| | |
| --- | --- |
| 19 | |

Detroit Pistons

Let's get this straight: Pistons beat Nets, fire Mo Cheeks and then take down Nuggets and (shorthanded) Spurs.

Okay then.

Last Week (22)

| | |
| --- | --- |
| 20 | |

New York Knicks

It appears the Knicks are interested in Kenneth Faried again, because they apparently hate the idea of floor spacing and winning. Also seems like they're interested in Kyle Lowry again, because why give up a first-round pick before, when you could just mortgage more of the farm on a modest point guard on an expiring contract later?
.

Last Week (18)

| | |
| --- | --- |
| 21 | |

Denver Nuggets

Here's hoping the Knicks keep losing so Denver can snag two lottery picks!

Last Week (17)

| | |
| --- | --- |
| 22 | |

New Orleans Pelicans

Thankfully Anthony Davis exists, otherwise Pellies fans would be bathing in vats of tears co-opted with Cavs fans.

Last Week (20)

| | |
| --- | --- |
| 23 | |

Utah Jazz

UTAH BEAT THE HEAT! UTAH BEAT THE HEAT! Not sure if you heard, but UTAH BEAT THE HEAT.

Last Week (23)

| | |
| --- | --- |
| 24 | |

Orlando Magic

Back-to-back victories over the Thunder and Pacers better have gotten Jacque Vaughn laid.

Last Week (29)

| | |
| --- | --- |
| 25 | |

Cleveland Cavaliers

Yahoo! Sports' Adrian Wojnarowski says now-departed general manager Chris Grant attempted to trade for Anthony Davis, LaMarcus Aldridge and Andre Drummond this season. Seriously. That kind of stupidity overshadows a quaint win streak.

Last Week (28)

| | |
| --- | --- |
| 26 | |

Boston Celtics

Really, really, really cannot wait for trade deadline to pass, this way we can stop talking about Rajon Rondo's future in Boston for, like, a second.

Last Week (25)

| | |
| --- | --- |
| 27 | |

Sacramento Kings

Believe me when I say I have no idea where this team is going, but for the first time, I'm excited about that.

Last Week (24)

| | |
| --- | --- |
| 28 | |

Los Angeles Lakers

Steve Nash's injuries are starting to get to me. I haven't cried this much since I found out cookie dough Oreos taste like maple syrup.

Last Week (27)

| | |
| --- | --- |
| 29 | |

Milwaukee Bucks

There's a possibility I may have grown bored of ranking Milwaukee dead last in everything ever talked about. What of it?

Last Week (29)

| | |
| --- | --- |
| 30 | |

Philadelphia 76ers

Consecutive 40-point losses will have this kind of effect; this seething, Bucks-level incompetence impact on your stock. Just so all teams know moving forward.

Last Week (26)