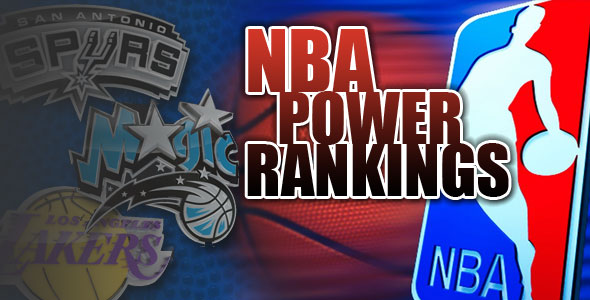 Happy hump week!
That's right, hump week, the time of year in January when the NBA has eclipsed the halfway point and is fast approaching meaningful basketball. Not that all previous games have been worthless. For anyone who isn't a fans of the Bucks, they haven't. But now they have more purpose.
With more than half the season gone, playoff races tighten up. Contenders are scrambling to hold off one another. Those last few postseason slots become a battle to the death, or lottery. The Eastern Conference continues its reign of disgusting.
Basically, we know what most teams are at this point.
Led by Kevin Durant, the Thunder are near-unstoppable juggernauts. Anchored by a top-ranked defense, the Pacers' offense needs work. Because the Lakers are put together using bubble gum, paper clips and silly putty, they're bad. Really bad.
Mysteries are being solved and identities established. Those that have fallen behind look to the Feb. 20 trade deadline to find resolutions many other teams already have. It's all very exciting. In some cases, it's sickening.
Where does your favorite team stand as they journey into the second half of 2013-14? Safe to say it's somewhere between exciting and sickening, thrilling and nauseating, promising and hopeless.
**Welcome back to The Hoop Doctors' PG-13 NBA Power Rankings, where almost anything goes. Language may sometimes not be suitable for those reading at work, in which case I recommend you don't read these aloud or you get a new job. Like most PG-13 movies, we'll permit one F-bomb per post. Those devoid of a sense of humor need not proceed. 
***For a week by week list of all our NBA Power Rankings this season, please visit this page.
NBA Power Rankings
| | |
| --- | --- |
| 1 | |

Oklahoma City Thunder

A new word needs to be invented if we're to accurately describe what Durant is doing. Something that combines incredible and sensational and magnificent and holy shit, he's good, all at once. Hit me with your suggestions.

Last Week (2)

| | |
| --- | --- |
| 2 | |

Indiana Pacers

Some nights, I'm wondering if there's any NBA teams capable of beating Indy in a seven-game series. Others, I'm left thinking about how much better they would be with a more consistent offense. Mostly, I'm just trying to figure out how to pick up girls under the alias "Luis Scola."

Last Week (1)

| | |
| --- | --- |
| 3 | |

Miami Heat

Enough about Dwyane Wade's knees. Let's talk about LeBron James' continued dominance. And Chris Bosh's superstar play. And Greg Oden's continued health. And yeah, Wade's knees, too.

Last Week (5)

| | |
| --- | --- |
| 4 | |

Portland Trail Blazers

We're beginning to see what happens when a team that cannot play defense relies too heavily on its predictable, albeit potent, offense: They start losing, just enough so you don't care. Until you do care, then all hell breaks loose.

Last Week (2)

| | |
| --- | --- |
| 5 | |

San Antonio Spurs

One of these days, the Spurs are going to be healthy, take down a fellow powerhouse and prove us all wrong. My guess is it happens sometime between the Western Conference Finals and NBA Finals.

#NeverDoubtTheSpurs

Last Week (3)

| | |
| --- | --- |
| 6 | |

Los Angeles Clippers

Blake Griffin has the Clips at 9-2 since Chris Paul went down. Who's the overrated superstar now?

Hint: Dwight Howard, Josh Smith, Jeff Green and Blake Griffin (still) are all acceptable answers.

Last Week (7)

| | |
| --- | --- |
| 7 | |

Memphis Grizzlies

I mean…It's just…The thing is…I don't even know. Just. Wow.

Last Week (10)

| | |
| --- | --- |
| 8 | |

Golden State Warriors

Losing to the Wizards is not okay. Also, what happened to their offense? Used to be that it was fun to watch. Now it's kind of like watching Nikola Pekovic go ice fishing in Kendrick Perkins' swimming pool, in that it's not fun.

Last Week (6)

| | |
| --- | --- |
| 9 | |

Phoenix Suns

Imagine what this team could do if Eric Bledsoe was healthy. Think of how good they would be. How amazing they would be. Are you picturing Katy Perry naked and willingly handcuffed to your bed, futon, couch or bean bag chair? Because that situation adequately describes how good/surprising the Suns would be/probably already are.

Last Week (12)

| | |
| --- | --- |
| 10 | |

Houston Rockets

This team isn't great. And it has nothing to do with the fact that Omer Asik is "injured," taking up a valuable roster spot when he could be flipped for the floor-spacing talent Houston actually needs.

Oh wait, that's right, yes it does.

Last Week (8)

| | |
| --- | --- |
| 11 | |

Dallas Mavericks

Keep swimming, Dallas. Your offense is everything Golden State's should be, Dirk Nowitzki better be an All-Star and I'm pretty sure Jose Calderon needs a license to kill that frequently from beyond the arc.

Last Week (9)

| | |
| --- | --- |
| 12 | |

Denver Nuggets

I still believe in the Nuggets, even without Danilo Gallinari coming back this season. And no, it's not because I'm hopped up or sedated on downtown Denver's finest dime bags.

Last Week (11)

| | |
| --- | --- |
| 13 | |

Toronto Raptors

General manager Masai Ujiri wants to tank. I can see it. Smell it. But the Raptors aren't giving him an opportunity to. They're mediocre in an Eastern Conference where middling teams devour the majority, the majority being heaping piles of shit shows that barely deserve to be playing in the NBA.

Last Week (16)

| | |
| --- | --- |
| 14 | |

Atlanta Hawks

Atlanta should probably be lower, but it's still above .500 without Al Horford, so that's something. Not to mention I feel bad that the Hawks thought triple-teaming Durant would actually stop him.

Last Week (13)

| | |
| --- | --- |
| 15 | |

Brooklyn Nets

Look, the Nets are better. Much better. But that craptastic convocation we saw before 2014 is still here in some ways, and revealed itself in an underwhelming performance in Boston and inexplicable late-game collapse against Toronto.

Allow your optimism to proceed with caution.

Last Week (16)

| | |
| --- | --- |
| 16 | |

Chicago Bulls

"Thibs, you've got to stop playing guys like Jimmy (Butler) and Joakim (Noah) so many minutes," general manager Gar Forman could be heard saying over the cheers of another victory.

"Why?" a perplexed and defiant Tom Thibodeau asked.

"BECAUSE WE'RE TRYING TO TANK YOU SADISTIC SONUVA BITCH! DON'T MAKE ME TRADE NOAH TO DETROIT FOR JOSH SMITH, BECAUSE I'LL DO IT."

Last Week (14)

| | |
| --- | --- |
| 17 | |

Minnesota Timberwolves

Minnesota ranks in the top eight of offensive and defensive efficiency, yet is still three games off the Western Conference's final playoff spot. Go. Fucking. Figure.

Last Week (18)

| | |
| --- | --- |
| 18 | |

New York Knicks

These Knicks are mean. First, you're hopeful. Then, you're hopeless. Not long after, you're waxing optimism. Soon after that, you've written this team's obituary. Now, after three straight wins, you're left asking one thing and one thing only: When will Air Bargs be hitting Blu Ray?

Last Week (20)

| | |
| --- | --- |
| 19 | |

Washington Wizards

WE BEAT THE WARRIORS! WE BEAT THE WARRIORS. We're still one game under .500, playing terrible basketball at home and destined for a first-round playoff exit, but it doesn't matter. All is well. Because WE BEAT THE WARRIORS.

Last Week (18)

| | |
| --- | --- |
| 20 | |

New Orleans Pelicans

Another team that should be lower, but I just couldn't bring myself to do it. Anthony Davis is a top-10 superstar, and I really mean that. Not just because I fear the wrath of The Brow, either.
.

Last Week (26)

| | |
| --- | --- |
| 21 | |

Charlotte Bobcats

Sixth ranked defense my ass. Carmelo Anthony dropped 62 points on you guys. Where's the honor?

What's that? Kemba Walker took it with him, you say? And playing defense is against Al Jefferson's religion?

Alriiiiiighty then.

Last Week (19)

| | |
| --- | --- |
| 22 | |

Detroit Pistons

Really shouldn't laugh, but remember when Pistons handed $80(ish) million to Smoove and Brandon Jennings and thought they were going to be a good team? LOL

Last Week (19)

| | |
| --- | --- |
| 23 | |

Cleveland Cavaliers

Cleveland's perpetually dysfunctional locker room makes Charlie Sheen's breakfast—eight ball of cocaine mixed into Fruity Pebbles—seem tame.

Last Week (24)

| | |
| --- | --- |
| 24 | |

Utah Jazz

Gordon Hayward makes me smile. Not because I'm particularly impressed with his play, because I'm not. Don't get me wrong, he's good, but inconsistent. No, I'm all giggles and smirks because something tells me he'll be sporting Celtics green before long.

Last Week (27)

| | |
| --- | --- |
| 25 | |

Los Angeles Lakers

Even after seeing them lose Howard and knowing the injury risks involved with Kobe Bryant, how many people thought the Lakers would rank behind the Jazz more than halfway into the season?

Last Week (21)

| | |
| --- | --- |
| 26 | |

Cleveland Cavaliers

Injuries are unfair. The Kings were fun to watch again. Still are fun, actually. Just not as fun.

I hate injuries.

Last Week (23)

| | |
| --- | --- |
| 27 | |

Boston Celtics

Well, general manager Danny Ainge said making the playoffs wasn't a goal of the then-Atlantic Division-leading Celtics. So, you know, mission accomplished.

Last Week (25)

| | |
| --- | --- |
| 28 | |

Philadelphia 76ers

Watch Michael Carter-Williams rebound. It's fun. Really fun. And it helps take your mind off his poor shooting and the Sixers' poor everything.

Last Week (28)

| | |
| --- | --- |
| 29 | |

Orlando Magic

TRADE ANDREW NICHOLSON TO A TEAM THAT ACTUALLY WANT TO PLAY HIM!

That is all.

Last Week (29)

| | |
| --- | --- |
| 30 | |

Milwaukee Bucks

Out of sheer pity, the NBA shouldn't force Milwaukee to go through the formality of playing teams above .500, against which the Bucks are 2-21.

Last Week (30)