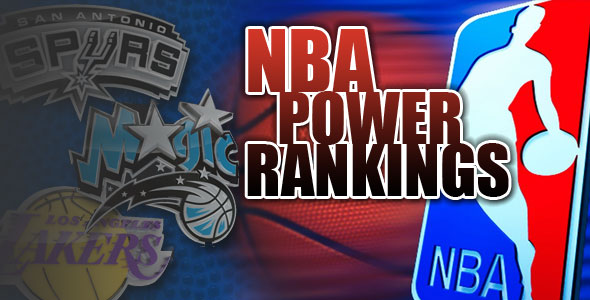 Addition by subtraction. Depletion by addition.
That's been the NBA's prevailing theme this season. So many teams aren't where they're supposed to be. And I mean so many.
Can anyone explain the Phoenix Suns, lottery-dwellers of 2012-13? Though they added Eric Bledsoe, they traded away Marcin Gortat and Jared Dudley. Now they're among the Western Conference's juggernauts. Or how about the Toronto Raptors, who cannot tank fast enough? They're 3-1 since the Rudy Gay trade. To lesser extents, you have the Los Angeles Lakers. They've spent much of the season without Kobe Bryant, have struggled upon his return and still, they remain within postseason striking distance.
Our theory works both ways, too. James Dolan's New York Knicks became younger and presumably deeper over the offseason, looking to build upon a 54-win season. Instead, they're awful, never ceasing to amaze as they continue to find new ways to lose and explore innovative lows. Those Brooklyn Nets have put forth some special shit as well. Those $100 million Brooklyn Nets. Their stock is trending up for just about the first time all year, but they're still bad.
Other teams are right where they're supposed to be—the San Antonio Spurs, Oklahoma City Thunder, Miami Heat, Los Angeles Clippers, Philadelphia 76ers, Utah Jazz, etc. But the Portland Trail Blazers are not one of those teams. Rip City can't lose. They really can't lose. All they do is win. Hit game-winners. Stage comebacks. Put forth blowouts.
Madness. The NBA's power structure has been bonkers this season, fluctuating between predictable, unpredictable and shit we simply cannot fathom, moreso than any other campaign in recent memory.
**Welcome back to The Hoop Doctors' PG-13 NBA Power Rankings, where almost anything goes. Language may sometimes not be suitable for those reading at work, in which case I recommend you don't read these aloud or you get a new job. Like most PG-13 movies, we'll permit one F-bomb per post. Those devoid of a sense of humor need not proceed. 
***For a week by week list of all our NBA Power Rankings this season, please visit this page.
NBA Power Rankings
| | |
| --- | --- |
| 1 | |

Portland Trail Blazers

Damian Lillard is cold-blooded. Makes-me-want-to-streak-through-streets-buck-naked-banging-pots-and-pans cold-blooded.

Last Week (1)

| | |
| --- | --- |
| 2 | |

Oklahoma City Thunder

This is by far the most balanced team in the NBA. What with their defense and offense and general awesomeness and superstar duo. Sorry, San Antonio.

Last Week (4)

| | |
| --- | --- |
| 3 | |

Indiana Pacers

Indy lost at home. INDY LOST AT HOME. Frauds. Scoundrels. Did the Pacers really think they could fool us? POSERS.

No, seriously, this team is still really good.

Last Week (2)

| | |
| --- | --- |
| 4 | |

Miami Heat

LeBron James hurt his ankle. If he misses time, I'm quitting. And dying my hair purple. And getting an "I heart durability" tattoo across my ass cheeks. Seriously, this cannot be happening. Deep breaths.

On the bright side, if he does miss any time, the Heat will probably look like shit, thereby ensuring LeBron takes home his third straight, and fifth overall, MVP award.

Last Week (5)

| | |
| --- | --- |
| 5 | |

San Antonio Spurs

Try as I might to fight it, I'm pessimistic. Tony Parker is down. That's bad. He's the only Spur averaging more than 15 points per game. San Antonio is also 0-4 against top-five conference teams.

Last Week (3)

| | |
| --- | --- |
| 6 | |

Los Angeles Clippers

They're still a pretender, but they're a pretender that's playing well on both ends of the floor. Chris Paul is an animal and Doc Rivers' voice is still raspy. Case in point: Clips are doing just fine.

Last Week (7)

| | |
| --- | --- |
| 7 | |

Phoenix Suns

Absurd. Inexplicable. Miraculous. Mesmerizing. "What the fuck" worthy. That's how I'd describe Phoenix's season to date.

Last Week (12)

| | |
| --- | --- |
| 8 | |

Houston Rockets

Interested to see who Omer Asik is traded for. (Please let it be Spencer Hawes. Please let it be Spencer Hawes. Please let it be Spencer Hawes.) Also, James Harden isn't as pretty as he used to be.

Last Week (6)

| | |
| --- | --- |
| 9 | |

Golden State Warriors

Tell me I overrated them; I don't care. Andre Iguodala is back and all is right with the Warriors.

Last Week (11)

| | |
| --- | --- |
| 10 | |

Dallas Mavericks

Dallas is both awesome and screwed. Explain that to me, because I've got (almost) nothing.

Last Week (9)

| | |
| --- | --- |
| 11 | |

Denver Nuggets

Denver has lost two of its last three, including a letdown against the Jazz. Maybe Brian Shaw should permit pizza and nachos in the locker room again.

Last Week (8)

| | |
| --- | --- |
| 12 | |

Atlanta Hawks

Repeat after me, Danny Ferry: I will not trade Paul Millsap for Asik. I will not trade Paul Millsap for Asik. I will not trade Paul Millsap for Asik.

Last Week (13)

| | |
| --- | --- |
| 13 | |

Minnesota Timberwolves

Know that feeling you get whenever your balls are trapped in a Mila Kunis-shaped vice? That's what watching Minny is like.

Last Week (14)

| | |
| --- | --- |
| 14 | |

Los Angeles Lakers

Patience, Hollywood. Patience. All problems will work themselves out. Just remain calm and—WHAT'S THAT??? KOBE BRYANT FELL DOWN AGAINST THE GRIZZLIES??? CALL THE POLICE. TELL THEM TO HURRY. CALL GOD. ASK HIM FOR A BIONIC ACHILLES.

Last Week (12)

| | |
| --- | --- |
| 15 | |

New Orleans Pelicans

These Pellies have been halfway decent since Anthony Davis went down. Then they played the Dubs, Iggy and all. Still, a top 10 offense is enough to make you one part giddy, two parts in love with Ryan Anderson.

Last Week (17)

| | |
| --- | --- |
| 16 | |

Boston Celtics

Once Rajon Rondo returns, Boston could be a top-three Eastern Conference team. TRADE EVERYONE. Or TRADE FOR SOMEONE. Just get out of the middle.

Oh, rookie head coach Brad Stevens has the Celtics ranked ninth in defensive efficiency too. Without a center. Long live [Vitor] Faverani Fever. And Kris Humphries.

Last Week (19)

| | |
| --- | --- |
| 17 | |

Detroit Pistons

Detroit isn't just attracted to the middle, it's dry-humping the middle while humming along to Jimmy Eat World's "The Middle" and sipping on mediocre-flavored cola.

Last Week (16)

| | |
| --- | --- |
| 18 | |

Memphis Grizzlies

Remember when the Grizzlies were an elite defensive team?

Last Week (15)

| | |
| --- | --- |
| 19 | |

Toronto Raptors

Let's set the over/under on the number of trades Masai Ujiri must still make to ensure Toronto doesn't win 35 games at three, shall we?.

Last Week (24)

| | |
| --- | --- |
| 20 | |

Washington Wizards

Bradley Beal is dirty. And John Wall is fast. And Martell Webster streaky. And Marcin Gortat bi-polar. And the Wizards confusing.

Last Week (21)

| | |
| --- | --- |
| 21 | |

Cleveland Cavaliers

Official: Kyrie Irving is good as basketball.

Equally as official: Lillard is better.

Last Week (22)

| | |
| --- | --- |
| 22 | |

Brooklyn Nets

Deron Williams has saved the Nets! For now. Sort of. At least, we know they're not the Knicks. 

Last Week (28)

| | |
| --- | --- |
| 23 | |

Charlotte Bobcats

The Bobcats are back! For those who don't know much about the Bobcats, that's a bad thing. A really, really bad thing.

Last Week (23)

| | |
| --- | --- |
| 24 | |

Chicago Bulls

TANK, Chicago. TANK. Do it. Who cares what Derrick Rose says? Trade Luol Deng. Try to trade Carlos Boozer. Trade Taj Gibson. Hit free agency running. The draft, too. Just TANK. For Pete's sake, just TANK.

Last Week (18)

| | |
| --- | --- |
| 25 | |

Sacramento Kings

Sactown is still really bad. But Rudy Gay has been efficient. I'll take it.

Last Week (26)

| | |
| --- | --- |
| 26 | |

Orlando Magic

Don't worry, the Magic are still fun to watch, largely thanks to Arron Afflalo and Victor Oladipo.

Last Week (25)

| | |
| --- | --- |
| 27 | |

New York Knickss

Do you know how to call timeouts? Good, then you're fit to coach the Knicks.

Last Week (27)

| | |
| --- | --- |
| 28 | |

Philadelphia 76ers

Now this is more like it. Tanking. Finally.

Take note, Chicago.

Last Week (23)

| | |
| --- | --- |
| 29 | |

Utah Jazz

Utah has had a really, really, really, ridiculously good looking tough schedule. Not to say they don't suck or aren't tanking because they do and they are. Just thought you ought to know.

Last Week (30)

| | |
| --- | --- |
| 30 | |

Milwaukee Bucks

Last week I wondered aloud whether the Bucks could finish with a sorrier record than the Jazz. Guess I have my answer.

Last Week (29)