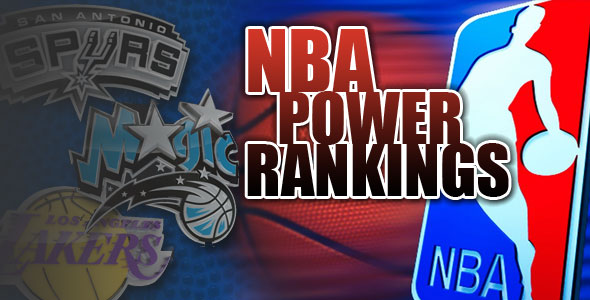 We meet again.
One of these times, it won't be under such dire circumstances. I'll come to you, wrapped in multi-colored robes and fluorescent glitter, talking about health, durability and how uncommon fragility has become. There will be no mention of a Derrick Rose injury. Or Marc Gasol catastrophe. Or Anthony Davis fracture. Or Paul Pierce's mortality. Butterflies, unicorns and gold-plated frisbees will soar above your head, letting you know that this is a safe place. A happy place. One of these times, everything will be just ducky.
But not this time.
Injuries have taken the NBA storm, showing no mercy as they rip through some of the league's most promising prospects and beloved superstars. Shorthanded teams have become the unsettling norm, making a mockery of the Eastern Conference and battle royal out of the Western Conference. Championship hopes have been dashed right before our eyes, less than a quarter of the way through a season teeming with promise and peril.
Chaos is the new status quo. And at the top of it all is the Miami Heat, winners of 10 straight and symbol for practicality. They're dominant again. Seemingly unstoppable again. Where injuries have surfaced, Cinderella stories like the Philadelphia 76ers and Boston Celtics have faded, and riches-to-richier-riches like the Heat have gained steam.
Not far behind the Heat are those ageless San Antonio Spurs. Those damn Spurs. Winners, who know not how to lose. After them, seismic shifts are afoot. Surprises abound. The Portland Trail Blazers are still doing things while the Indiana Pacers appear human. Mike D'Antoni's Los Angeles Lakers are wonderfully faceless and outplaying contingents far more talented then themselves. And the Los Angeles Clippers continue to slip, nearly riding the coattails of a poor defense and J.J. Redick's absence outside of the top 10.
Order, in certain instances, has been restored. Everywhere else, lawlessness reigns supreme, leaving us with an NBA power sphere severely shaken by events, by losses beyond control.
**Welcome back to The Hoop Doctor's PG-13 NBA Power Rankings, where almost anything goes. Language may sometimes not be suitable for those reading at work, in which case I recommend you don't read these aloud or you get a new job. Like most PG-13 movies, we'll permit one F-bomb per post. Those devoid of a sense of humor need not proceed. 
***For a week by week list of all our NBA Power Rankings this season, please visit this page.
NBA Power Rankings
| | |
| --- | --- |
| 1 | |

Miami Heat

Their schedule has been eh, but LeBron James has been wow. Also, notching 10 straight victories is no joke.

Last Week (4)

| | |
| --- | --- |
| 2 | |

San Antonio Spurs

Top to bottom, this team scares me. Even with Tim Duncan and Manu Ginobili's fluctuating stat lines, they're unbelievably dangerous. And Gregg Popovich remains scary when he's angry. That's the stuff contenders are made of.

Last Week (1)

| | |
| --- | --- |
| 3 | |

Portland Trail Blazers

Blazers fans have every reason to spit in my face. I was so hard on this team over the offseason; a Debbie Downer, if you will. But their offense has proved unflappable and their schedule isn't particularly easy. This team is for real.

Last Week (2)

| | |
| --- | --- |
| 4 | |

Indiana Pacers

Sixteen wins, two losses and a top-rated defense later, I'm still not sold on the Pacers.

Last Week (2)

| | |
| --- | --- |
| 5 | |

Oklahoma City Thunder

Oklahoma City's offense ranks 11th in efficiency. Meanwhile, its defense ranks fifth. What is the world coming to?

Last Week (5)

| | |
| --- | --- |
| 6 | |

Denver Nuggets

Hell on earth was short-lived. The Nuggets have risen from early season ashes, clad with an explosive offense and okay defense. All this without JaVale McGee and Danilo Gallinari. Go figure.

Last Week (10)

| | |
| --- | --- |
| 7 | |

Houston Rockets

Christmas has come early for the Rockets. Losses to the Jazz would normally be punishable by a top-10 exodus, but the Scrooge in me was overpowered by the true meaning of the holiday season—charity for Western Conference pretenders

Last Week (9)

| | |
| --- | --- |
| 8 | |

Los Angeles Clippers

Redick's absence is going to hurt this team more than we realize. They're suddenly not as dangerous from downtown, a major problem for a squad that cannot defend.

Last Week (6)

| | |
| --- | --- |
| 9 | |

Golden State Warriors

Defenses are beginning to stifle their offense. This team is also far from healthy and clearly misses Andre Iguodala. At full strength, though, they may just be the second- or third-best faction out west.

Last Week (7)

| | |
| --- | --- |
| 10 | |

Dallas Mavericks

Proposed motto for the rest of the season: Still here.

Last Week (8)

| | |
| --- | --- |
| 11 | |

Los Angeles Lakers

Los Angeles' superstars are either injured or yeah, they're just injured. Still, the Lakers are in the thick of the Western Conference playoff race, despite boasting a mediocre offense and defense. Imagine what their ceiling will be with a presumably healthy Kobe Bryant…

Last Week (12)

| | |
| --- | --- |
| 12 | |

Phoenix Suns

The rebuilding Suns sure know how to remain entertaining, but they're still figuring out how to tank properly.

Last Week (14)

| | |
| --- | --- |
| 13 | |

Minnesota Timberwolves

Is it wrong that I still believe in this team? Or has the time come for Kevin Love to shave and me to jump ship?

Last Week (11)

| | |
| --- | --- |
| 14 | |

New Orleans Pelicans

Tis the season for giving. New Orleans has been impressive in its first two (really, 1.75) games without Anthony Davis. Don't expect this to last.

Last Week (16)

| | |
| --- | --- |
| 15 | |

Memphis Grizzlies

Winning 40 games could suddenly become a chore for a Marc Gasol-less Grizzlies team finding out they can neither defend nor score.

Last Week (11)

| | |
| --- | --- |
| 16 | |

Washington Wizards

STOP THE PRESSES: Washington is at .500 for the first time since 2009. Normally, that's cause for nothing. Out east, the Wizards are currently thinking Conference Finals berth.

Last Week (21)

| | |
| --- | --- |
| 17 | |

Atlanta Hawks

For awhile, the Hawks were the third-best team in the Eastern Conference. Oh how the not-so-mighty have fallen. Although, in all fairness, being the third-best team in the East is a lot like nailing Jell-O to a tree.

Last Week (13)

| | |
| --- | --- |
| 18 | |

Charlotte Bobcats

Charlotte's defense ranks third in efficiency. Its offense ranks 28th. If the playoffs started today, they'd be in. So. Much. Weird.

Last Week (17)

| | |
| --- | --- |
| 19 | |

Chicago Bulls

When do we start talking about Chicago potentially missing the playoffs without Rose?

Last Week (20)

| | |
| --- | --- |
| 20 | |

Detroit Pistons

How would I describe the Pistons? Harmonically dysfunctional.

Last Week (19)

| | |
| --- | --- |
| 21 | |

Toronto Raptors

Give it up for the Atlantic Division-leading Raptors. Who are also 6-10. And have no chance at remaining atop the division. Woo-hoo!

Last Week (18)

| | |
| --- | --- |
| 22 | |

Orlando Magic

Someone should really ask the Magic about Arron Afflalo.

Last Week (25)

| | |
| --- | --- |
| 23 | |

Philadelphia 76ers

Now this more like it. Michael Carter-Williams is balling and the Sixers are losing. Just the way general manager Sam Hinkie likes his blatant tank jobs.

Last Week (22)

| | |
| --- | --- |
| 24 | |

Boston Celtics

Jared Sullinger is worried Boston might fall out of playoff contention. Meanwhile, I imagine Danny Ainge is worried Rajon Rondo will return soon, prompting the Celtics to win their division.

Last Week (23)

| | |
| --- | --- |
| 25 | |

Sacramento Kings

Congratulations, Sactown. The Kings have succeeded in being fun to watch without sacrificing their promising lottery odds.

Last Week (24)

| | |
| --- | --- |
| 26 | |

Brooklyn Nets

Spilled soda is the least of Brooklyn's problems.

Last Week (28)

| | |
| --- | --- |
| 27 | |

Cleveland Cavaliers

Good thing free agency doesn't start for another seven months(ish). Not sure LeBron could entertain Cleveland's pitch without laughing so hard he shits his pants at the moment.

Last Week (22)

| | |
| --- | --- |
| 28 | |

New York Knicks

Explanations elude me. New York has no identity, can't buy a win and it's only a matter of time before James Dolan messes shit up even more.

Last Week (24)

| | |
| --- | --- |
| 29 | |

Milwaukee Bucks

Bucks fans better hope the Knicks and Nets turn their season around, otherwise they'll have competition for last place in the conference.

Last Week (29)

| | |
| --- | --- |
| 30 | |

Utah Jazz

Starting to wonder if Tyrone Corbin should put his players through a grueling obstacle course each time they fail to lose to a team above .500.

Last Week (30)