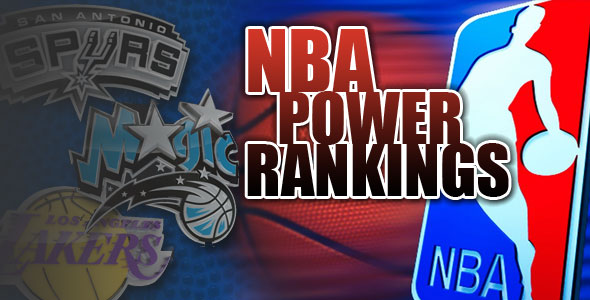 This isn't fair.
What else can we say? Injuries have taken their toll on the NBA early, and it hasn't been pretty.
If we're not anxiously awaiting the returns of Kobe Bryant and Rajon Rondo, we're watching Andre Iguodala go down. Marc Gasol go down. Derrick Rose go down. For the season. Again.
Put simply, this sucks. It's awful. But the show must go on. There are plenty of other teams coping with injuries and the Association's current sphere is an absolute mess as a result.
The New York Knicks and Brooklyn Nets still blow, while the San Antonio Spurs are kicking ass and taking names, and blood-pressure medication. Those Indiana Pacers are still doing things, but the Miami Heat aren't scared. Doc Rivers' Los Angeles Clippers are still scoring; I'd prefer not to comment on their defense (or lack thereof).
All this, and more. So much more.
It's still early, and things are crazy, but they're also taking shape. Follow me as we explore the intricacies of an NBA season in infancy, quickly going awry for far too many teams.
**Welcome back to The Hoop Doctor's PG-13 NBA Power Rankings, where almost anything goes. Language may sometimes not be suitable for those reading at work, in which case I recommend you don't read these aloud or you get a new job. Like most PG-13 movies, we'll permit one F-bomb per post. Those devoid of a sense of humor need not proceed. 
***For a week by week list of all our NBA Power Rankings this season, please visit this page.
NBA Power Rankings
| | |
| --- | --- |
| 1 | |

San Antonio Spurs

There are no words to describe the San Antonio Spurs, other than amazing. And awesome. And incredible. And superb.

Last Week (1)

| | |
| --- | --- |
| 2 | |

Indiana Pacers

So, I still don't believe in the Pacers. Can't tell you why, either. Their defense scares me, but their offense is obnoxiously inconsistent. How long before I board the bandwagon? I just don't know.

Last Week (2)

| | |
| --- | --- |
| 3 | |

Portland Trail Blazers

Three words: I'm an idiot. Six more words: Blazers have mad two-way game. Two final words: Holy. Shit.

Last Week (7)

| | |
| --- | --- |
| 4 | |

Miami Heat

Well, the Heat are near-unbeatable again and Dwyane Wade has yet to completely succumb to a nasty case of hemorrhoids. All is right in Miami.

Last Week (4)

| | |
| --- | --- |
| 5 | |

Oklahoma City Thunder

OKC's offense is surprisingly middling. Meanwhile, their defense has been outstanding. Something's wrong here, and it's generating results that feel so right.

Last Week (5)

| | |
| --- | --- |
| 6 | |

Los Angeles Clippers

At the beginning of the season, I cited the Clippers, Nets, Rockets and Pacers as the most overrated teams in the NBA. Indy is making me look like a fool, Houston is undecided and Brooklyn makes me think I'm a genius. As for the Clippers, I cannot get a definitive read on them. They look like a contender and score like a contender, but they defend like a team comprised of strictly Blake Griffins.

Last Week (8)

| | |
| --- | --- |
| 7 | |

Golden State Warriors

Injuries suck. This team is so good on both ends when healthy. So good. Title contenders for sure. But that injury bug is damning. Let's hope it's reign of annoying terror stops here.

Last Week (3)

| | |
| --- | --- |
| 8 | |

Dallas Mavericks

Dirk Nowitzki. Monta Ellis. Immediate hope. Six words I never thought I'd pen in succession.

Last Week (9)

| | |
| --- | --- |
| 9 | |

Houston Rockets

Dwight Howard is playing center again and the Rockets are winning. Hmm…

Last Week (12)

| | |
| --- | --- |
| 10 | |

Denver Nuggets

After falling as low as 28th on our sacred list, the Nuggets are setting the world on fire. Think of what they'll be able to do once Danilo Gallinari comes back.

Last Week (16)

| | |
| --- | --- |
| 11 | |

Minnesota Timberwolves

Minny is really good. I think. Trading Derrick Williams for Luc Mbah a Moute should make the T-Wolves even better. I think.

Last Week (6)

| | |
| --- | --- |
| 12 | |

Los Angeles Lakers

So we're clear, the Lakers are coached by Mike D'Antoni, built to score like a team coached by Mike D'Antoni and currently defending like they've never heard of Mike D'Antoni. Okay then.

Last Week (15)

| | |
| --- | --- |
| 13 | |

Atlanta Hawks

Middle, meet the Hawks; Atlanta meet the—what's that? You two already met? And are married? With 12 kids? And a pet giraffe? My bad.

Last Week (15)

| | |
| --- | --- |
| 14 | |

Phoenix Suns

Anyone else think the Suns would still be well above .500 if Eric Bledsoe went down?

Last Week (11)

| | |
| --- | --- |
| 15 | |

Memphis Grizzlies

I miss Gasol. Not merely because of his defense, or his Pau Gasol-like offensive talents. But because his beard represented the Grizzlies to a T—awkward, fuzzy and somehow functional.

Last Week (14)

| | |
| --- | --- |
| 16 | |

New Orleans Pelicans

Turns out the Pellies live! Though I'm sad to say it, Gasol's injury should allow New Orleans to slowly, surely move up in the Southwest Division standings.

Last Week (19)

| | |
| --- | --- |
| 17 | |

Charlotte Bobcats

If the playoffs began today, the 'Cats would be in them. Pigs are also flying and Cobie Smulders informed me she's crushing on yours truly.

Last Week (18)

| | |
| --- | --- |
| 18 | |

Toronto Raptors

Sitting atop the Atlantic Division is not where the Raptors are supposed to be. And there's no way they stay there. Seriously, at what point does Masai Ujiri blow shit up?

Last Week (21)

| | |
| --- | --- |
| 19 | |

Detroit Pistons

Apparently, Brandon Jennings isn't confident in his jump-shooting abilities. Which means he's been fooling us all for almost five years.

Last Week (23)

| | |
| --- | --- |
| 20 | |

Chicago Bulls

Fuck this. There's nothing else to say. I feel bad for Rose, knowing he's out again. I feel even worse for the fading Bulls, who must now come to grips with the fact they need another superstar to pair with their wildly unreliable, oft-injured point man.

Last Week (10)

| | |
| --- | --- |
| 21 | |

Washington Wizards

Bradley Beal's latest injury, however minor, sets the Wiz back. How far back, we cannot be sure. But there is no guarantee this team makes the playoffs in a dismal Eastern Conference.

Last Week (28)

| | |
| --- | --- |
| 22 | |

Philadelphia 76ers

Shall we set the over/under on the number of All-Star selections Michael Carter-Williams earns at five?

Last Week (17)

| | |
| --- | --- |
| 23 | |

Boston Celtics

Stop trending up, Boston. STOP IT. Rajon Rondo is getting healthy, so you're going to get better. Unless you trade him, which I think you should.

Last Week (25)

| | |
| --- | --- |
| 24 | |

Sacramento Kings

Derrick Williams on the Kings makes so much sense I'm not entirely convinced Sactown actually made this deal.

Last Week (26)

| | |
| --- | --- |
| 25 | |

Orlando Magic

Tobias Harris is healthy! Sorta. Anyway, I'm interested to see what the Magic have in this core. They're somewhere between mediocre and tanking, and I'm wondering if they'll keep it that way.

Last Week (20)

| | |
| --- | --- |
| 26 | |

New York Knicks

Yeah, they suck. For some reason, I still believe their offense will figure out they don't have to use all 24 seconds on the shot clock.

Last Week (24)

| | |
| --- | --- |
| 27 | |

Cleveland Cavaliers

Admit it: you're disappointed. The Cavs were supposed to be good enough to lure LeBron James home. Currently, they're making the decision to remain in Miami too easy.

Last Week (22)

| | |
| --- | --- |
| 28 | |

Brooklyn Nets

Cheer up Knicks, fans. When it comes to the shittiest teams in New York, the Nets are the shittiest of the shittiest.

Last Week (27)

| | |
| --- | --- |
| 29 | |

Milwaukee Bucks

What makes this so funny is that the Bucks weren't trying to be bad. And yet, here they are.

Last Week (29)

| | |
| --- | --- |
| 30 | |

Utah Jazz

Them Jazz know how to tank. Unless they're playing a listless and Rose-less Bulls team. Then, they win. Someone needs to teach them how to lose better; lose even more. Paging reinforcements in the form of Isiah Thomas.

Last Week (30)