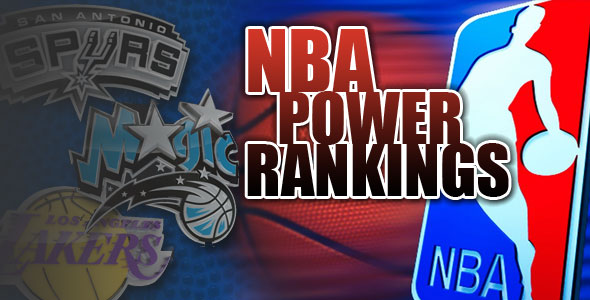 It's over. You made it. No need to send reinforcements. The battle is over and the war has been won—the NBA offseason, preseason and all the crap that comes with it is over.
Finally.
You spent months wading through all the proverbial and, if you're team is tanking, literal bull shit. Now you'll be rewarded, as the regular season is about to tip off.
Can you feel it? That tingling sensation around your midsection? That's the subliminal nude photos of Katy Perry I've provided reaching your libido. That feeling of relief, like you've just dropped a deuce, or as I like to call it, a massive New Jersey, that's the aroma of meaningful action kicking in.
Finally, your favorite team's slate is wiped clean. Every team is at 0-0, except for the Philadelphia 76ers, who I've decided will start 0-10, just so there's no confusion as to what they're trying to do this season. Everyone else though, they're ready to begin fresh. To start anew.
On the eve of a regular season teeming with promise, excitement and LeBron James' battle against male pattern baldness, we're here to take a look at where each franchise stands. And this is the last time "potential" rules the day. Pointless preseason matchups and on-paper rosters won't carry as much weight moving forward.
Because basketball has a purpose again. Finally. We're free from the shackles that became the offseason and preseason. Finally.
Your moods will change for the better, your girlfriends become prettier, your abs flatter, your wallet fatter and your smile whiter, because the regular season is about to get underway.
Finally.
**Welcome back to The Hoop Doctor's PG-13 NBA Power Rankings, where almost anything goes. Language may sometimes not be suitable for those reading at work, in which case I recommend you don't read these aloud or you get a new job. Like most PG-13 movies, we'll permit one F-bomb per post. Those devoid of a sense of humor need not proceed. 
***For a week by week list of all our NBA Power Rankings this season, please visit this page.
NBA Power Rankings
| | |
| --- | --- |
| 1 | |

Miami Heat (0-0)

Ask not why the Heat are No. 1. Instead, ask is there anything anyone can do to make sure they're not No. 1. The answer? A resounding helllll no.

Last Week (1)

| | |
| --- | --- |
| 2 | |

San Antonio Spurs (0-0)

Part of me thought the Spurs had earned a trip down the latter. That part was quickly and belligerently beaten by every other fiber in my body.

Last Week (2)

| | |
| --- | --- |
| 3 | |

Chicago Bulls (0-0)

Two words: Preseason perfection. Four more words: Derrick Rose is insane. Six more words after that: Joakim Noah needs a new foot.

Last Week (3)

| | |
| --- | --- |
| 4 | |

Oklahoma City Thunder (0-0)

At some point, someone is going to drop Thor's hammer on the Russell Westbrook-less Thunder. Somebody. Anybody. Not me.

Last Week (4)

| | |
| --- | --- |
| 5 | |

Los Angeles Clippers (0-0)

These Clippers aren't fooling anybody. Except for me. And you. And all of Los Angeles. Screw it, let's allow them to be good before everyone realizes they can't win a title.

Last Week (5)

| | |
| --- | --- |
| 6 | |

Indiana Pacers (0-0)

Their abysmal preseason still concerns me. As does Danny Granger's lingering injuries. The fact that Paul George has become OVERRATED doesn't bode well for them, either. But they won three in a row. And look good on paper. I'm also a sucker for defense and Luis Scola's he-she hair.

Last Week (7)

| | |
| --- | --- |
| 7 | |

Golden State Warriors (0-0)

I don't care how incentivized Andrew Bogut's new deal is, the Warriors had no business re-signing the injury-prone center this soon. No matter how sexy his Australian accent is.

Last Week (5)

| | |
| --- | --- |
| 8 | |

New York Knicks (0-0)

All along, I've rolled with the Knicks at No. 8; I'm not going to change now. They have enough pieces to win. Problem is, they have enough "what ifs" to lose. Color me cautiously, if drunkenly, optimistic.

Last Week (8)

| | |
| --- | --- |
| 9 | |

Brooklyn Nets (0-0)

This is me, asserting that the Nets are a top-10 team. Ten seconds from now, you'll see me, running naked throughout Times Square shouting "They got sand in the potato salad!" Make of all that what you will.

Last Week (11)

| | |
| --- | --- |
| 10 | |

Memphis Grizzlies (0-0)

So this is awkward. Most of me believes the Grizzlies will deal Zach Randolph. More of me believes this is the year their grit n' grind style of basketball betrays them. Yet here they are, sitting pretty at No. 10. So. Awkward.

Last Week (10)

| | |
| --- | --- |
| 11 | |

Houston Rockets (0-0)

The regular season is upon us and while Marcus Camby is no longer with the Rockets, Omer Asik still is. I guess Dwight Howard will be playing power forward then. For real. Which means the Rockets signed the NBA's best center to play power forward. In other news, hahahahahaha.

Last Week (9)

| | |
| --- | --- |
| 12 | |

Denver Nuggets (0-0)

Saw something about the Nuggets potentially trading Kenneth Faried. Same day, co-authored, er, I mean saw a book entitled The Nuggets May or May Not Be Fuckin' Stupid.

Last Week (12)

| | |
| --- | --- |
| 13 | |

Minnesota Timberwolves (0-0)

Enjoy your time in the middle, Minnesota. Something tells me it won't be long before we find out you're either wildly overrated or better than the Nets.

Last Week (13)

| | |
| --- | --- |
| 14 | |

Washington Wizards (0-0)

"Dan, stop," you'll all say. "Dan, no. Please, Dan. We beg of you: Don't do this. It's only Marcin Gortat. It's only Marcin Gortat. Don't do this."

Too late.

Last Week (18)

| | |
| --- | --- |
| 15 | |

Atlanta Hawks (0-0)

Atlanta is both deceptively good and evidently confused at the same time. What do I mean? Not even I'm sure. Ultimately, this all ends with us saying the Hawks are still mediocre.

Last Week (14)

| | |
| --- | --- |
| 16 | |

New Orleans Pelicans (0-0)

I'm probably still overrating them. More than half of everything nice about them is preceded by the word "potentially." Let's give them their extended moment in the sun now though, before they get burned like a hooker who didn't collect the money first. Or Austin Rivers at the free-throw line.

Last Week (15)

| | |
| --- | --- |
| 17 | |

Cleveland Cavaliers (0-0)

There's no figuring the Cavs out right now. So much of their potential is predicated on them remaining healthy and Andrew Bynum actually playing. Naturally, I have my doubts about that last part.

Last Week (21)

| | |
| --- | --- |
| 18 | |

Dallas Mavericks (0-0)

Dirk Nowitzki isn't done. Whether he's sold on the Mavs as contenders or is already plotting his free-agency escape in 2014, I'm not sure.

Last Week (19)

| | |
| --- | --- |
| 19 | |

Los Angeles Lakers (0-0)

Kobe Bryant has been ruled out of opening night, but I haven't ruled out the possibility of him rising up from center court to save the day. I'm also not on hallucinogens, either. If he can't play soon, this is going to be bad.

Last Week (16)

| | |
| --- | --- |
| 20 | |

Portland Trail Blazers (0-0)

LaMarcus Aldridge thinks his Blazers can be the seventh seed in the Western Conference. Slow down, LaMarcus, wouldn't want to kill us with all that optimism, would you?

Last Week (20)

| | |
| --- | --- |
| 21 | |

Detroit Pistons (0-0)

Never thought I'd say this, but the Pistons need Brandon Jennings. Tayshaun Prince in his prime wouldn't hurt, either.

Last Week (17)

| | |
| --- | --- |
| 22 | |

Toronto Raptors (0-0)

Imagine a team led by an efficient Rudy Gay. Picture a squad with a healthy Kyle Lowry. Think of what the Raptors could do if Masai Ujiri wasn't secretly looking for reasons to tank. Then wake up.

Last Week (22)

| | |
| --- | --- |
| 23 | |

Milwaukee Bucks (0-0)

How long before John Hammond comes to his senses and deals Ersan Ilyasova?

Last Week (23)

| | |
| --- | --- |
| 24 | |

Boston Celtics (0-0)

Tobias Harris, Victor Oladipo and Nikola Vucevic are going to shit on a few contending parades this season. I  can't wait to watch.

Last Week (25)

| | |
| --- | --- |
| 25 | |

Sacramento Kings (0-0)

Just tank already. For the love of God, just do it.

Last Week (29)

| | |
| --- | --- |
| 26 | |

Utah Jazz (0-0)

Don't let Derrick Favors' contract fool you. This team is still tanking. They're actually one failed Gordon Hayward extension away from being all in for Andrew Wiggins.

Last Week (26)

| | |
| --- | --- |
| 27 | |

Boston Celtics (0-0)

Rajon Rondo is saying all the right things while Gerald Wallace calls out his teammates. This can only mean one thing: Rondo is going to be traded and Danny Ainge has not informed Crash that the Celtics are tanking. Or that his haircut reminds me of Medusa.

Last Week (24)

| | |
| --- | --- |
| 28 | |

Charlotte Bobcats (0-0)

This team is still going to be bad. On the bright side, they're not going to be the worst. What's that? This is the one year it would have paid to be the worst? I'll be damned. Michael Jordan really does hate his team.

Last Week (28)

| | |
| --- | --- |
| 29 | |

Phoenix Suns

Phoenix is one Goran Dragic for Jeremy Lin swap away from being King of the Tankers.

Last Week (27)

| | |
| --- | --- |
| 30 | |

Philadelphia 76ers (0-0)

Rest easy, Philly. The Suns haven't stolen your tanking crown just yet. Better trade Thaddeus Young and Evan Turner for a couple of subway tickets soon, though. Just to be safe…

Last Week (30)