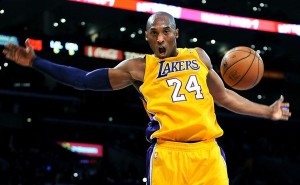 Well that's that.
Kobe Bryant wants to retire as a member of the Los Angeles Lakers and according to Mitch Kupchak, the feeling is mutual.
Talking with members of the media in anticipation of training camp, Kupchak conceded that Kobe made it clear he doesn't want to play anywhere else. He also confirmed that the Lakers organization shares those same sentiments.
"Kobe's made it clear that he intends to retire (as a Laker) and we feel same way," he said.
Since Kobe wants to retire with the Lakers, and the Lakers want him to retire as a Laker, the case should be closed, right? Well, not entirely.
Kobe will become an unrestricted free agent next summer, at which point the Lakers can re-sign him, or they can allow his $30-plus million salary to come off the books and throw that money at another superstar (or two). Like LeBron James. Or Carmelo Anthony. Or Rudy Gay (probably not Rudy Gay).
Although it seems unrealistic to believe Kobe and the Lakers would part ways after this season, it is possible. Returning from a ruptured Achilles could be too exhausting, causing Kobe to retire. Almost two decades into his career, he doesn't seem like the type who will hang around if he isn't able to play at a high level. Failure to regain his previous swagger following a career-threatening injury could drive him out of the game for good.
But Kobe also doesn't seem like one to go out like this. If he doesn't have a successful campaign, there's always the possibility he gives it one more go, trying once more to evade Father Time and the mortal limits the rest of us are a slave to. Should he close out the 2014-15 crusade and still not be himself, then he would retire.
Also possible is Kobe pricing himself out of the Los Angeles' spending. Sans the Black Mamba, the Lakers will have money to burn next summer. More than $46.4 million after cap and future draft-pick holds, in fact. But again, that's without Kobe.
The Mamba can demand close to $32 million in the first year of his next contract if he pleases. That's the maximum he could receive. Doesn't mean the Lakers have to pay him, but it's a salary Kobe could ask for. He previously said he wouldn't accept a paycut, and though that could change (and his words be taken out of context), his potential refusal to make less must be in the back of the Lakers' collective mind.
Despite what Kobe has said and how proud he is known to be, bank on him taking that paycut. He wants to win that sixth ring. The same ring he's not going to get next season. Dangle the prospect of a sixth (and potentially seventh) championship in front of him, and he'll bite.
How much of a salary dip will he embrace? Ten million? Fifteen? Twenty? More? We don't know. And we likely won't until next summer when free agency presents itself. Only then will we find out what Kobe's asking for, what the Lakers are willing to pay and whether or not he will officially end his career where it began.
Dan Favale is a firm believer in the three-pointer as well as the notion that defense doesn't always win championships. His musings can be found at Bleacherreport.com in addition to TheHoopDoctors.com. Follow @danfavale on Twitter for his latest posts and all things NBA.