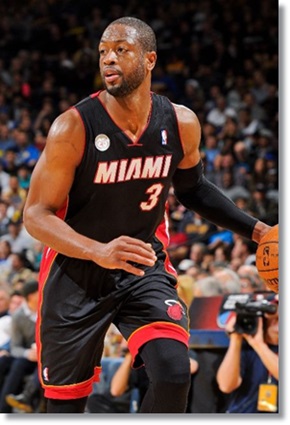 While most sites and publications have been focused on when and if Lebron James will opt out of the final year of his contract with Miami next offseason, Heat fans probably just got a lump in their throat after an interview with longtime franchise star Dwyane Wade revealed that he has not ruled out, opting out of the final year of his own deal next Summer.
In an interview with the Miami Herald a few days ago, Wade said he is all in with how the Miami Heat roster is currently constructed but also was non-committal about his future past the upcoming season.
Wade is due more than $20 million in '14-'15 and $21.5 million in '15-'16, if he chooses not to opt out either Summer.  That's a high price for a player with a widely acknowledged diminishing skill set, that averaged only 15.9 ppg during last season, mostly due to bone bruises.
This offseason, Wade has worked with famed personal trainer Tim Grover and has pledged to get back to being the hard-charging, all-out type of player that has earned him 9 All Star appearances in his 10 seasons.  Despite rumors that Wade may have his minutes monitored by the Heat coaching staff next season, Wade promises to return better than ever after receiving the equivalent of shock treatments to his knee this Summer.
Remember, Lebron, Wade, and Chris Bosh all have an opt out beginning next Summer, meaning that minimally this could be the last hurrah for the Heat as presently constructed.  The core trio has made 3 consecutive trips to the NBA Finals, winning back-to-back crowns in 2012 and 2013.
More rumors going around are that Lebron could decide to return to Cleveland to join an already stellar roster with young and talented players like Kyrie Irving, Andrew Bynum, Dion Waiters, and #1 pick Anthony Bennett, or in an even more remote scenario, going to Los Angeles to play alongside Kobe Bryant during his waning years.  After finding a 2nd home in Miami, I would be shocked if Lebron goes anywhere.
But if Lebron does decide to opt out after this season in an attempt to catch his idol Michael Jordan, and match or best his 6 NBA Championships, would Wade consider doing the same?  It would be shocking considering Wade has been the face of the Miami Heat franchise for a decade, helping to bring Miami their only 3 NBA crowns in their existence.
Despite the re-occuring injuries and dwindling production on a consistent basis, D. Wade is an institution to the Miami heat fanbase, but remember, he will be 32 years old by the end of next season, and may also look to win more titles and further etch his mark into the pantheon of some of the greatest players of his era.
Here's to hoping Wade does opt out and take less money to keep the Heat dynasty intact and remain in Miami for his entire career…….
Dwyane Wade's 2013 Mixtape:
Allen Moll has been a lifelong NBA and NCAA College Basketball fan who watches and studies games religiously, and coaches youth basketball in his native Lehigh Valley region of Pennsylvania. Allen has also provided content to Bleacherreport.com, Upperdeckblog.com, Cleveland.com, CSN Philly.com, Buckets Magazine, in addition to being a tenured NBA and NCAA columnist for TheHoopDoctors.com.