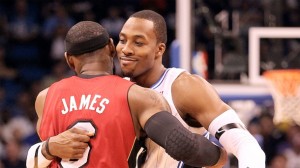 Rick Barry can help LeBron James and Dwight Howard.
Speaking with Chris Tomasson of Fox Sports Florida, Barry recommended that LeBron get someone to help him work on his free-throw shooting technique if he wished to improve.
Don't worry, though, he doesn't think LeBron should start tossing them granny style. That method is reserved for Dwight Howard:
"If he was interested in getting my opinion, I would show him," the Hall of Famer, who shot 90 percent in his NBA career using the underhanded style, said in an interview with FOX Sports Florida. "I'm not going to show him the underhanded free throw. He doesn't need that because he's not that far away from being an 80-percent shooter. Dwight Howard (a 57.7 percent career marksman) needs to shoot underhanded. But there are some things I could show LeBron to refine his shooting."
First off, please, please, please get Dwight to shoot underhanded free throws. That would just be excellent; the absolute best. It might even be necessary.
Dwight is shooting 57.7 percent from the foul line for his career, and is coming off a 2012-13 campaign that saw him knockdown just 49.2 percent, the second-worst mark of his career. His foul-line attempts have become seriously ugly, and Hack-a-Howard is getting old. If shooting like everyone's grandma could help him connect on more than half his freebies, then by all means, underhand it up.
LeBron is different. Barry notes that LeBron wouldn't have to shoot it underhanded, because his free-throw shooting isn't as ridiculously bad as Dwight's. But he still needs help.
The Chosen One converted on 75.3 percent of his free throws last season, and is shooting just 74.7 percent for his career. Far from terrible, yes, but not great either.
Keep in mind, LeBron said he could shoot 50/40/90 if he wanted to. After watching Kevin Durant do just that this past season, I'm inclined to believe he wants to.
Per Tomasson, LeBron doesn't believe he needs a shooting coach to show him the ropes. Barry thinks otherwise:
"The worst thing you can do is go out there and practice inappropriately," said Barry, who starred at the University of Miami and then in the NBA and ABA from 1965 to 1980. "Then you're practicing inappropriately and grooming bad habits. … LeBron needs to be much more fluid (with his stroke). He needs to have somebody watching him to analyze him to make sure what he is doing is the absolute right thing because what is is doing right now is not the correct thing. He's doing a disservice to himself if he's just grooving what he's doing now."
Was that another self-endorsed sales pitch? Perhaps, but it's also true.
Working with someone on free throws seems so trivial, and for a forward like LeBron, who shot over 40 percent from beyond the arc last season, it kind of his. Players who can knock down a high percentage of their jumpers are normally good free-throw shooters, like teammate Ray Allen, for instance. Theoretically, LeBron should be a dominant charity-stripe shooter as well. But he's not.
If he is serious about wanting to hit the 50/40/90, getting a coach would be a smart idea. He worked with Hakeem Olajuwon on his post moves, so why not get someone to help him from the line? And who better than Barry, who seems to be offering?
Over the course of his NBA (not ABA) career, Barry hit on 90 percent of his free throws. The dude can straight up shoot. By contrast, LeBron has never shot better than 78 percent for an entire season, and never better than 77.7 percent in the postseason.
Next year, should he chase a 90-percent conversion rate, he'll be seeking to nail 15.3 percent more of his free throws than he has over the last decade. That's a monstrous task to do alone, especially if you don't have someone to steer you in the right direction.
Forget about pride or anything like that, LeBron should seek help (if 90 percent of his goal). It doesn't have to Barry either. Hell, it could be Allen himself. It just has to be someone.
Same goes for Dwight. He needs it bad. And if Barry is unavailable, he could just pick someone right out of senior swim to show him the intricacies of shooting underhanded.
Dan Favale is an avid basketball analyst and firm believer in the three-pointer as well as the notion that defense doesn't always win championships. His work can be found at Bleacherreport.com in addition to TheHoopDoctors.com. Follow @danfavale on Twitter for his latest posts and all things NBA.