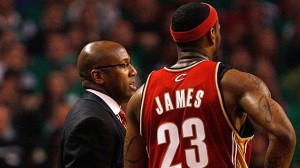 Mike Brown has no advice to offer Miami Heat head coach Erik Spoelstra on LeBron James.
Surprise, surprise.
Brown coached LeBron between 2005 and 2010, the latter of which was LeBron's last season with the Cleveland Cavaliers. Like Spo inevitably will, Brown had to endure 82 games worth of speculative banter about where LeBron was headed next. Mikey B then knows what it's like to coach through The Chosen One's impending free-agent nuptials.
But when asked by Shandel Richardson of the Sun Sentinel if he had any pointers for Spo, Brown admitted that he did not:
"I have no advice for Spoelstra," Brown said, with a laugh.

"He's won two championships. I should be calling him for advice. He's a great coach. They've got a great chance to win a third one. They've got a great team, and they've done a terrific job of putting the team together."
Well, duh.
The question had to be asked, because Brown previously coached through a similar ordeal, sans the two championships LeBron has won with the Heat. Yet Brown really isn't the person to answer that question.
He coached through the free-agency rumors, sure, but how did that that work out for him? The Cavaliers lost in the second round of the NBA playoffs, Brown eventually lost his job and LeBron went on to sign with the Heatles. And win championships.
If I was to commend Brown for anything, it would be his refusal to offer advice. There's nothing he could say that wouldn't sound hypocritical and/or stupid. Except what he said.
Tons of people forget that Spoelstra is a good coach. Juggling the egos of three superstars, two of which are LeBron and Dwyane Wade, isn't an easy task. Essentially every decision he makes is crucial. It's put under a microscope and dissected to no end. Plenty of coaches would have already lost their jobs.
Spo didn't.
Three years into the Big Three era, Spo has guided the team to three NBA Finals appearances, and two championships. The importance of next season doesn't need to be stressed on him. He knows what's at stake, what the failure of winning a third title could mean for LeBron's free agency. And he'll figure out how to handle it accordingly.
To be clear, there is no magical antidote that will make LeBron stay in South Beach. If he wants out of Miami, he's going to leave. He has that power, that freedom to make such a decision.
Can things be done that will help sway his thought process one way or the other? Absolutely. "Those things" consist of winning, and almost nothing else. And Spo knows how to win. More importantly, he knows how to win with LeBron, something Brown never did.
Once again, even if he had, it wouldn't matter. What's going to happen is going to happen. All Spo can do is his job and hope that's enough.
Everything else is up to LeBron. Just like it was in 2010, and just like it will be in 2014.
Dan Favale is a firm believer in the three-pointer as well as the notion that defense doesn't always win championships. His musings can be found at Bleacherreport.com in addition to TheHoopDoctors.com. Follow @danfavale on Twitter for his latest posts and all things NBA.