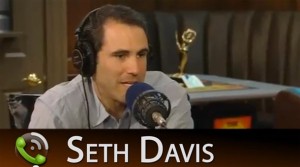 Seth Davis is a fixture on the college basketball scene and has been there all along during this NCAA Tournament run to provide his in-depth analysis. In the spirit of teamwork, Seth has teamed up with SUBWAY to provide a very powerful message.
While in Atlanta for the Final Four, Seth and Jared, the SUBWAY Guy, surprised local fans with $3 six-inch selects. In celebration of March Madness, SUBWAY will be donating 3,333 $3 six-inch select sandwiches to the food bank in the market of the team that hits the most three-pointers in the tournament.
On behalf of The Hoop Doctors, I had the chance to chat with Seth about his partnership with SUBWAY. We also chatted about he thoughts on this year's tournaments, Kevin Ware's meaning to Louisville and Mike Rice's firing at Rutgers.
Kevin Burke of The Kevin Burke Project brings provocative, thought provoking content about basketball as only he can. Kevin also hosts The Hoop Doctors weekly podcast show, which you can subscribe to for free on iTunes. Follow Kevin on Twitter and Facebook