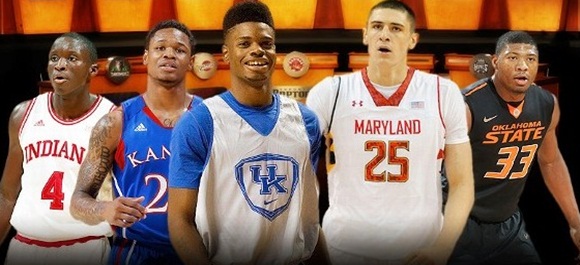 In our initial Mock Draft, the Top 10 picks were dominated by big men like Cody Zeller, Nerlens Noel, and Mason Plumlee.  But since then several other position players have played their way to the top of most draftboards like freshmen Ben McLemore and Anthony Bennett as well as junior swingman Victor Oladipo from Indiana.
Unlike many other years, the 2013 NBA Draft has been described by many experts as being a notoriously weak crop of prospects with only a select few potential draftees being projected as future All Stars or even starting players.  As a result, how players produce and how far they lead their teams in the NCAA Tournament will go along way towards improving their draft stocks.
As such, these Mock Draft rankings are based on potential with this year's Draft order based on current team records from the NBA regular season and outstanding trades, without taking into consideration for team needs as of yet. These are only my choices and not the consensus picks of all of The Hoop Doctors writers, with that said here is my 2013 Mock Draft:Version 2.0.
Draft Order
College Team
Player
Position
Physical

1.

Cha


Kentucky
Nerlens Noel

Center
6'11     225lbs    Freshman

Despite the devastating knee injury, Noel still has the most potential of any player at the next level.  Possessing in insane wingspan, elite leaping ability, and a developing offensive skill set, most NBA scouts agree that the still only 18 year old big man is well worth the risk at #1 in such a weak draft.

2.

Orl


 Kansas
Ben McLemore

Guard
6'5    195lbs     Freshman

The redshirt freshman has been a tad inconsistent but his talent as an elite shooter and scorer are obviously there.  The comparisons to Ray Allen and Brad Beal are real as this year's most technically sound shooter in this year's Draft.

3. 

Cle


Georgetown
Otto Porter Jr

 Forward
6'8     215lbs     Sophomore

One of the fastest risers in this year's class, Porter is the nation's most versatile player.  Many compare him to a more offensive minded Andre Iguodala, as a do-it-all game changer as one of the finalists for National Player of the Year.

4.

Pho


UCLA

Shabazz Muhammed

SF
6'6     225lbs     Freshman

Although he started a bit slow during his first season at UCLA, Muhammed has adjusted nicely, leading the Bruins in scoring, showing an especially elite touch from behind the arc, once a supposed weakness.  I think the early comparisons to Kobe are a bit steep but along with Noel, Shabazz has elite potential.  Recent admissions he lied about his age bring character issues into question.

5.

Det


OK State
Marcus Smart

PG
6'4     225lbs     Freshman

Although initially seen as a combo guard, Smart has molded nicely into one of the best playmaking lead guards in the NCAA.  He possesses elite passing ability, has great instincts, and outstanding size at the PG position at the next level.  Poor man's James Harden.

6.

Sac


UNLV
Anthony Bennett

PF
6'7     240lbs     Freshman

For most of the season, Bennett was regarded as the nation's best freshman until Marcus Smart narrowed the gap.  Anthony is a physically imposing, yet a bit undersized power forward that reminds many of a vintage Larry Johnson before the injuries, but with better range from behind the arc.

7.

Min


 Indiana
Victor Oladipo

SG
6'4     215lbs     Junior

As arguably the most improved player in the nation, Oladipo is an athletic freak that excels on the defensive side of the ball.  His offensive game has improved dramatically and uses grit and determination to finish at the rim as well as any player in the country.

8.

NO


Maryland

Alex Len

C
7'1     250lbs     Sophomore

The former Ukrainian native has excelled in his sophomore season with the Terps.  He has above average athletic ability for a 7 footer, sets amazing screens, and has shooting range out to 18 feet.  Alex has a very high ceiling as a natural shot-blocker.

9.

OKC


Michigan

Trey Burke

PG
6'0     190lbs     Sophomore

Universally regarded as the nation's best PG, Burke has proven his worth on the collegiate level as a pinpoint passer and tough as nails defender, true leader, and has a heart bigger than his stature.  Trey is one of the fastest risers as of late and remind many of a poor man's Allen Iverson.

10.

Was


Syracuse
Michael Carter-Williams

PG
6'6     185lbs     Sophomore

Possessing incredible size for the point guard position, Carter-Williams has both excelled and been erratic as the Orange's starting PG.  He is an elite passer, is a stout defender, but is still raw as a jumpshooter.  Character and age may come into question.

11.

Phi


Baylor
Isaiah Austin

 PF/C
7'0     205lbs     Freshman

The definition of raw talent in a still growing and developing 7 foot plus frame.  Austin uses his immense size and length to block shots with ease but remains rather thin and loses post position far too easily on the collegiate level.  With that being said, he has offensive range to beyond the 3 point arc and has immense potential once he is a finished product.

12.

Por


Michigan
Glenn Robinson III

SF
6'6     210lbs     Freshman

As the son of former NCAA POY and NBA All Star Glenn "Big Dog" Robinson, GR3 is a smooth, above the rim athlete with star potential.  Although not yet the elite shooter as his father, he has elite leaping ability, an NBA ready body, and shows a nack for scoring from nearly anywhere on the court.

13.

Dal


Indiana
Cody Zeller

C
6'11    240lbs     Sophomore

Easily this season's most all around talented big man, Zeller has all of the tools to be a very good pro prospect.  He runs the floor better than any other big and has a through the roof basketball IQ.  The only concern is lack of toughness and willingness to bang in the post.  Zeller was clearly outplayed by the Syracuse big men in March Madness, and his stock is dropping.

14.

Utah


Duke
Mason Plumlee

C
6'11     240lbs     Senior

He's rarity as a near 7 footer with elite athleticism, regularly playing above the rim.  He has finally started to put his all around game together in his senior season at Duke and is a huge reason the Blue Devils are in the hunt for another National Championship.  He's an above average rebounder and shot-blocker but still remains rather raw offensively.

15.

Mil


Kentucky

Willie Cauley-Stein

C
7'0     245lbs     Freshman

When #1 HS prospect Nerlens Noel went down for the season, fellow 7 footer, yet less heralded freshman big man, Cauley-Stein has taken advantage of the increased playing time.  He has NBA size and while he may not jump out of the gym, has decent athleticism as a former HS football star.  While he may not be ready yet for the next level, his stock will likely drop next season with the next star Kentucky class coming in.

16.

Cle


France
Rudy Gobert

 C
7'1     230lbs     International

As this year's version of the top rated International prospect, the still only 21 year old Gobert has struggled this season in the French Leagues.  But he has an insane 7'9 wingspan and above average mobility but remains a project.  Is he the next Shawn Bradley or Yao Ming?

17.

Bos


Lehigh
CJ McCollum

G
6'3     190lbs     Senior

Prior to his season ending foot injury early this season, McCollum was a potential Lottery selection as one of the nation's premier scorers.  At 6'3, he's a tweaner, but has the skill set to excel at either guard position.  He may be the first senior taken and has big game experience, like when his smallish Lehigh team upset Duke in the 2012 NCAA Tournament.

18.

Atl


Kentucky

Alex Poythress

SF
6'7     230lbs     Freshman

At this point, Poythress is more athlete than ball player.  he has insane abilities and natural instincts that can't be taught but has lacked the determination and drive to put it all together.  If he ever does, he has potential as and elite, hardnosed SF in the mold of Thaddeus Young.  He would benefit greatly from another year in college.

19.

Bos


Gonzaga
Kelly Olynyk

C
7'0     240lbs     Junior

Despite a few subpar years with the Zags, Olynyk had emerged as the leader of the nation's #1 ranked Gonzaga Bulldogs entering the Tourney.  And even after his team was eliminated early in March Madness, Olynyk played well, averaging 24 points and 10 boards.  He's only average athletically and doesn't blow you away with his physique but has shown the footspeed to be a great pick-and-roll defender in the pros.

20.

Atl


Ohio State
DeShaun Thomas

 SF
6'7     225lbs     Junior

Despite only average athleticism, Thomas is one of the premier scorers in the nation.  He can fill it up from anywhere on the court and is one of the few players in the nation to put up 20 ppg for the season.  He was measured with a 6'9 wingspan, helping the notion that he is too small for PF, and too slow for SF at the next level.  Has potential as an elite 6th man.

21.

Utah


Creighton

Doug McDermott

 SF
6'7     225lbs     Junior

As one of the finalists for this season's NCAA POY Award, McDermott has excelled as a scorer and rebounder in a small conference.  Many are concerned about his lack of competition despite finishing 2nd in the nation in scoring but he shot over 50% both from the field and from behind the arc.  Comparisons have ranged from anywhere from the next Larry Bird to Adam Morrison.

22.

BK


UNC
James Michael-McAdoo

 PF
6'9     240lbs     Freshman

If he would have come out last year, McAdoo would have been a bonafide Lottery pick but has seen his game show some weaknesses in his sophomore season.  While he has a chiseled, NBA ready physique, tends to play too much on the perimeter rather than use his elite athleticism and 7'1 wingspan to block shots.  He has unreal potential as a rebounder, scorer, and shot-blocker but has yet to put it all together.

23.

Ind


Murray St
Isaiah Canaan

PG
6'1     205lbs     Senior

While his team had a better run last season, Canaan is a tough, strong, well rounded guard that projects well as an instant offense 6th man at the next level.  He's a combo guard, making him even more valuable.  Although he's a bit small, Isaiah has been the go-to-guy for his squad the past 2 seasons, making a NCAA Tourney run in 2012 and losing in the Ohio Valley Conf title game this year.  Best case scenario……Jameer Nelson.

24.

NY


Kansas

Jeff Withey

C
7'0     235lbs     Senior

As one of the nation's top shot-blockers, legit 7 footers, and coming from a Top 5 program, Withey will be in high demand on draft day.  Although he possesses only average athleticism, he makes up for those deficiencies with a high basketball IQ and extreme effort.  Since he is a senior, he may be a finished product but could help a club immediately as a defender and rim protector.

25.

Min


Kentucky
Archie Goodwin

SG
6'4     200lbs     Freshman

The initial comparison for Goodwin was to that of Russell Westbrook because of some unreal athleticism from the guard position, but those expectations have grown tepid over his uneven play despite leading the Cats in scoring.  His inconsistencies have dropped him off of most 1st Round Mocks and he has hinted at returning to UK for his sophomore campaign.

26.

LAC


Michigan

Tim Hardaway Jr

 SG
6'6     210lbs     Junior

Possessing prototypical size and natural instincts from his NBA All Star father, Hardaway Jr can light up the scoreboard with any player in the nation.  He's especially deft in the midrange, a lost art in the NBA and can take over a game with his NBA range perimeter shooting.  He's still rather thin for the next level and must improve defensively.

27.

Den


South Dakota St

Nate Wolters

PG
6'4     195lbs     Senior

The nation's leading scorer reminds many of Luke Ridnour and with the recent success of players emerging from small schools like Damian Lillard and Norris Cole, some GM will take a flyer on the high scoring lead guard.  He did score 53 points in a single game this year, the most in the past 3 seasons.

28.

OKC


Miami

Shane Larkin

 PG
5'11     180lbs     Sophomore

Behind a spectacular sophomore season that saw him take his game and his team to an elite level, Larkin has emerged as one of the top PG prospects in this year's draft.  Although slight in stature, he's well put together and has shown elite athleticism, leadership, and an ability to score the basketball.  Being the son of HOF shortstop Barry Larkin can only help his character.

29.

SA


Michigan State

Adrien Payne

 PF
6'10     240lbs     Junior

With an unbelievable combination of height, length, and above the rim athleticism, Payne has taken longer than anticipated to develop from an elite HS prospect to star collegiate player.  He has tremendous potential and has an at times unstoppable motor but has been inconsistent and has squabbled with teammates.  His stock is on the rise after leading the Spartans on another deep NCAA Tourney run and his recent development of an outside shot.

30.

Pho


Texas
Myck Kabongo

PG
6'1     180lbs     Sophomore

Even though he was forced to miss a majority of his sophomore season, the once promising HS recruit has added some bulk and explosion to his game upon his return to the Longhorns.  He's an extremely quick guard, and really excels on the move, with an innate gift of floor vision.  He tends to lean a bit too much towards the highlight reel play rather than the easy ones but as a best case scenario, some see him as a Top 10 selection if he returns next season.
Allen Moll has been a lifelong NBA and NCAA College Basketball fan who watches and studies games religiously, and coaches youth basketball in his native Lehigh Valley region of Pennsylvania. Allen has also provided content to Bleacherreport.com, Upperdeckblog.com, Cleveland.com, CSN Philly.com, Buckets Magazine, in addition to being a tenured NBA and NCAA columnist for TheHoopDoctors.com.