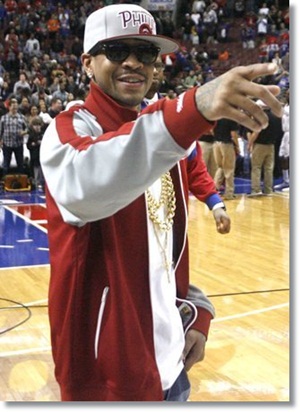 While things haven't gone quite as expected in Philadelphia this season, when we all thought that Andrew Bynum would help make the Sixers relavent once again, even possibly a Top 4 team in the East, one thing you can always count on is a sell-out crowd when Allen Iverson makes an appearance in Philly.
Even though "A.I." is a Virginia native, the "City of Brotherly Love" has always embraced Iverson as one of their own from day one back in 1996 when he was the #1 overall NBA Draft pick.
Speaking from first hand knowledge and experience, Allen may not be the perfect role model for your kids considering his legendary late nights following games and of course, the now unforgettable press conference "We Talkin Bout Practice", but any hoops fan had to respect Iverson as a player, playing every game like his last and leaving everything on the floor.
Through all of the ups and downs, ranging from 4 scoring titles and the 2001 MVP Award to rumors that he has ran through all of his money and is ultimately bankrupt, Allen Iverson is undeniably one of the NBA's all time greats and will be a Hall of Famer when and if he ever officially announces his retirement.
Check out a video of Iverson this weekend making a a special appearance in Philly on the Iverson Bobblehead give-away night.  It makes you wonder, even at age 37, I think he could still break a few ankles in the league, considering the 76ers back-up PG's are Jeremy Pargo and Royal Ivey……..
Allen Iverson Return To Philly(2013):
Allen Iverson Interview:
Allen Iverson Top 10 Plays:
Allen Moll has been a lifelong NBA and NCAA College Basketball fan who watches and studies games religiously, and coaches youth basketball in his native Lehigh Valley region of Pennsylvania. Allen has also provided content to Bleacherreport.com, Upperdeckblog.com, Cleveland.com, CSN Philly.com, Buckets Magazine, in addition to being a tenured NBA and NCAA columnist for TheHoopDoctors.com.