July 26, 2012 – Kevin Burke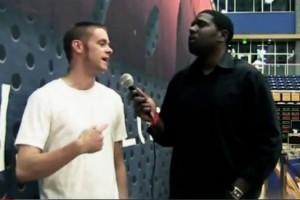 Ball Up, Presented by Simple Mobile, is the hottest thing going on the street-ball circuit these days, and they just wrapped up the portion of their tour that made its way to the east coast. They made stops in New York, Boston and Baltimore. But things are about to get even bigger for Ball Up.
Ball Up Season 2 is set to premiere on Fox Sports this Sunday, July 29 at 9pm (check you local listings), and will air ever Sunday thereafter.
While they were in Baltimore, The Hoop Doctors stopped by to take in the game as Ball Up beat the Baltimore select team. After the game, THD's Kevin Burke had the chance to catch up with The Professor, Air Up There and Pat The Roc:
Kevin Burke of The Kevin Burke Project brings provocative, thought provoking content about basketball as only he can. Kevin also hosts The Hoop Doctors weekly podcast show, which you can subscribe to for free on iTunes. Follow Kevin on Twitter and Facebook