June 28, 2011 – The Hoop Doctors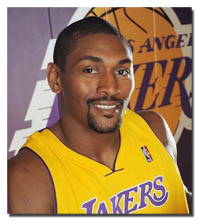 News is breaking from multiple sources this morning that Ron Artest has agreed to play in Finland in September of 2011 for a 'few games'. This is not a joke, as shortly after Ron Artest has announced changing his name to "Metta World Peace" he's now negotiating with a Finnish league team to play for them this fall. The reports so far are discussing the three years left on his contract with the Lakers, so it is unclear if he is only going to play for a short stint as a promotional thing, or if he is planning to leave the NBA for Europe. I know it seems unconventional and a bit crazy at this point, but it is Ron Artest people. Anything is possible.
Via Ballin' in Europe today:
"Finland's top league Korisliiga will witness some serious NBA talent in September 2011, when Los Angeles Lakers forward/multipersonality Ron Artest will join league newcomer LoKoKo Loimaa.

"The 31-year old Artest has three years left in his Lakers contract, but that doesn't seem to bother LoKoKo sports director Aleksi Valavuori, who backs up the rumor in Tuesday's Ilta-Sanomat newspaper.

"We have sorted things out and I can happily confirm that Artest will arrive in Finland," Valavuori states in the Ilta-Sanomat interview.

Valavuori has been making noise with his antics in Finland earlier, too. In November 2005, 7,420 spectators witnessed Dennis Rodman's 17-point, 6-rebound performance in Helsinki, and in November 2008, Scottie Pippen played for ToPo in two Korisliiga games.