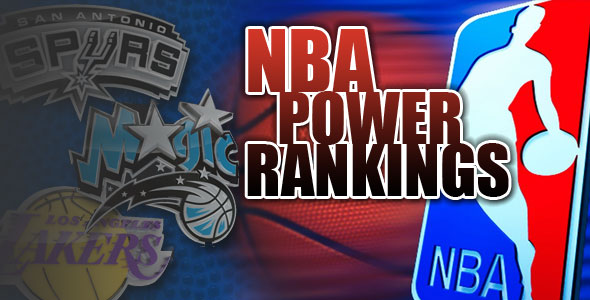 NBA Power Rankings
| | |
| --- | --- |
| 1 | |

San Antonio Spurs

The Spurs are just simply outscoring and outplaying everyone in the league right now. The Spurs almost lost a big piece of their success when Tim Duncan went down against New Orleans in the first half, clutching his left knee in a heap on the floor. The fact that they lost the game means little to San Antonio fans, who were far too relieved to see Duncan return to the game after halftime.

| | |
| --- | --- |
| 2 | |

Boston Celtics

With the exception of Saturday's loss to Washington, it's hard to be unsatisfied with the position the Celtics are in right now. Kendrick Perkins is back earlier than expected, and he will be tested early with a four game road trip that includes a stop at the Staples against the defending champs. If the Celtics can stay healthy win at least three of their next four, they will set themselves up to create some distance from the rest of the conference in the standings.

| | |
| --- | --- |
| 3 | |

Los Angeles Lakers

You can see Los Angeles' offense start to click again with the rise in efficiency and higher shooting percentages. It's happening just in time, too. The champs will host Boston on Sunday and then San Antonio a week from tomorrow.

| | |
| --- | --- |
| 4 | |

Chicago Bulls

Someone please help Derrick Rose's back. He has been carrying the team on his back metaphorically, and now his back can't take it anymore. Thankfully he has almost an entire week off to rest and rehab before a meeting with Orlando and then a five game West Coast swing.

| | |
| --- | --- |
| 5 | |

New Orleans Hornets

The Hornets broadcast team will not stop talking about the attendance at each game. As the city of New Orleans fights to keep their NBA team, the ones in the authentic jerseys are doing their part as well. A sell-out crowd rose to their feet on Monday as David West buried the Thunder with a 19-foot fadeaway that left only 0.5 seconds on the clock. The count is currently at nine in a row, and it is the longest running win streak in the league.

| | |
| --- | --- |
| 6 | |

Miami Heat

Well the "karma tweet" curse is finally over, and the Heat losing streak was stopped at four thanks to a 120-103 victory over the Raptors. Obviously health has been a big issue in Miami's recent struggles, not to mention the back end of a road trip. Miami will be tested again this weekend, playing four games in five days – concluding with another matchup against Cleveland on Monday.

| | |
| --- | --- |
| 7 | |

Atlanta Hawks

The Hawks looked awfully embarrassed walking off their home court having been held to a season-low 59 points. It was the worst offensive performance since the franchise moved to Atlanta, but they were able to get back on track with a win in Charlotte. They are still one of the hotter teams in the East, but Hawks fans better hope that the New Orleans game was not a sign of struggles to come.

| | |
| --- | --- |
| 8 | |

Dallas Mavericks

Throughout all of the different obstacles that Dallas has faced this year, they have always gotten two things. A surprising performance from someone on the bench, and incredible fourth quarter play from Jason Terry. Now with Peja on board, the Mavs will set their sights on the top of the conference.

| | |
| --- | --- |
| 9 | |

Orlando Magic

The competition is so tight near the top of the Eastern Conference, every loss seems to matter even more than usual. That makes losses like Monday's stumble against Detroit at home sting even more. The Magic have picked up a few extra L's recently, but they have all been close games and this team is still play good ball – except for Monday.

| | |
| --- | --- |
| 10 | |

Oklahoma City Thunder

The Thunder have lost three of their last four, but the losses have been by a combined 14 points. Had Durant been able to make anything drop in the fourth quarter against New Orleans, we might be singing a different tune. But right now it seems like Oklahoma City is cooling off for the moment. Look ahead, they'll have a chance to bounce back. We'll see what happens when a banged-up Heat squad comes to town on Sunday.

| | |
| --- | --- |
| 11 | |

Denver Nuggets

The team may be trying to ship Melo behind clothes doors now, but Anthony is still smiling and putting up big numbers on the court. The Nuggets are one of the league's best offenses, and Denver's success if giving him no reason to rush trade discussion. Now the Nuggets will have to consider how much they value this season at some point. That discussion will become pretty difficult if the Nuggets keep winning.

| | |
| --- | --- |
| 12 | |

Portland Trail Blazers

LaMarcus Aldridge has played fantastic basketball with Marcus Camby out of the lineup, but even his efforts will fall short on some nights like Monday's loss to the Kings. The Trailblazers needed that energy and spark early in the game, and Brandon Roy was stuck guest commentating for the local broadcast. Wesley Matthews will be tossed the scoring responsibility if Aldridge begins to get bothered by his hip. More injuries for Portland? Guh.

| | |
| --- | --- |
| 13 | |

Utah Jazz

I've been trying to put my finger on what is wrong with the Jazz, and I think it is that they are just softer. Deron Williams when he shared the floor with the likes of Carlos Boozer, Ronnie Brewer, and Wesley Matthews. This new team may have more talent, but the pieces aren't meshing quite as well as they did a year ago.

| | |
| --- | --- |
| 14 | |

New York Knicks

The Knicks finally snapped their losing streak at six with the same thing any team would want: a home game against the Wizards. New York will get to rest up before welcoming the Heat to Madison Square Garden. LeBron went for 30 points, 11 rebounds, and 10 assists last time Miami came to town, and the Knicks will need a full team effort to overcome what will likely be a repeat performance from James.

| | |
| --- | --- |
| 15 | |

Memphis Grizzlies

The Grizzlies are right in the middle of a nice six game swing against sub-.500 teams that should give Memphis the opportunity to climb above that same mark. With three straight wins, they can take care of that on Wednesday against the Nets. The Grizzlies need to avoid falling back to predictable unpredictability, and pick up some big wins on either side of the All Star break.

| | |
| --- | --- |
| 16 | |

Houston Rockets

Contrary to Rockets teams of recent history, this squad gets absolutely shredded on defense. They are giving up an average of 119.3 points in the last week, and have held only two opponents under 100 in 2011. The Rockets tried to make the Carmelo situation interesting, but even without an extension demand it is hard to imagine Anthony wanting to go to a team that is last place in their own division.

| | |
| --- | --- |
| 17 | |

Phoenix Suns

The Suns went sour at the end of their road trip after a extending their winning streak to five games. It was the closest the Suns had gotten to .500 since December 20, and now it will be back to blaming poor team chemistry for the Suns falters. If they don't figure each other out soon, they will find themselves out of the playoff picture.

| | |
| --- | --- |
| 18 | |

Golden State Warriors

The Warriors came close to kicking off their homestand with a bang against the Spurs, but there will be plenty of opportunities to enjoy the comforts of Oracle Arena in the next month. With 11 of their next 13 games at home, Golden State will welcome some of the league's best teams to the Bay Area. They will have plenty of opportunities to make statements, and if Golden State is going to be a playoff team in 2011, they will need to make them now.

| | |
| --- | --- |
| 19 | |

Philadelphia 76ers

Philadelphia has been an awfully streaky team this year, going on long spurts of losing and short bursts of winning. But right now things are looking pretty good for Doug Collins' squad. Their 19-25 record is good enough for seventh in the conference. Unfortunately, there are five streaky teams all competing to make their claim for that same position.

| | |
| --- | --- |
| 20 | |

Los Angeles Clippers

TERRIBLE loss for the Clippers, finding out that Eric Gordon will miss 3-4 weeks with a sprained wrist. Los Angeles was just heating up, and Gordon was their leading scorer. Blake Griffin will now see even more double teams, as opponents will not be forced to respect the deep ball like they do with Gordon on the floor.

| | |
| --- | --- |
| 21 | |

Charlotte Bobcats

Paul Silas is 9-6 as a head coach this season, and Kwame Brown scored 13 points and 18 rebounds on Tuesday night. I know, it really does feel like some kind of crazy NBA Twilight Zone episode. The Bobcats took a blow losing Tyrus Thomas for two months to a knee injury. But if Kwame Brown can continue what he did against the Kings, the Bobcats might be playoff contenders again.

| | |
| --- | --- |
| 22 | |

Detroit Pistons

The Pistons have actually started to turn things around in the last few days, or so it seems. Even with Rip Hamilton's beef taking most the headlines, Detroit rolled off victories against the Suns and Magic. They have been getting some nice contributions from the young (Austin Daye) and the old (Tayshaun Prince, Tracy McGrady), and are suddenly 1.5 games from the 8th spot in the East.

| | |
| --- | --- |
| 23 | |

Milwaukee Bucks

Carlos Delfino returned finally to the Bucks lineup after a lengthy 32-game absence. The Bucks have missed his scoring terribly, currently ranking last in the league in points per game and assists per game. Both categories would also be helped with a healthy Brandon Jennings, or a healthy John Salmons, or a…well, you get the idea.

| | |
| --- | --- |
| 24 | |

Indiana Pacers

The Pacers have let the wheels come off the wagon in Indianapolis. Losing 8 of their last 10, the Pacers are entering the All Star break in a far different way than they started the season. They were a playoff team a month ago, and now find themselves slipping farther and farther away from the top eight.

| | |
| --- | --- |
| 25 | |

Washington Wizards

The Wizards put up a good fight against the Knicks on Monday. But unfortunately they still have not won a road game all season. They will have plenty of chances in the coming weeks, with four straight road games ahead on the schedule.

| | |
| --- | --- |
| 26 | |

New Jersey Nets

It took a Brook Lopez game-winner to avoid losing to the league's worst team, but every win counts big when you are the Nets. New Jersey has currently rattled off three wins in their last four outings, only falling 87-86 to the Mavericks. I'm sure that the front office is still keeping the Melo-drama going on the sneak, but the team has moved clearly moved on from the issue.

| | |
| --- | --- |
| 27 | |

Sacramento Kings

Impressive performance by the Kings to stun Portland by 15 at home. It was an odd victory, similar to the 10 point win against the Knicks in Madison Square Garden. Sacramento is not very good, but they clearly have the power to do some damage and should not be taken lightly.

| | |
| --- | --- |
| 28 | |

Toronto Raptors

The one thing that the Raptors really had on their side so far this year was their three point shooting. Not even that was falling on Monday, with a 986-game streak of games with a three pointer was broken by 0-13 outing for Toronto. Their defense is still terrible, and if they can't make the deep ball they have no chance to even keep most of their games competitive.

| | |
| --- | --- |
| 29 | |

Minnesota Timberwolves

The Timberwolves would be struggling to avoid the league's bottom spot if the Cavs weren't so incredibly bad. But here's a fun fact: Kevin Love has gotten less than 10 rebounds only five times all season. The last time it happened was November 19 against the Lakers. Try to explain why that guy doesn't deserve serious All Star consideration.

| | |
| --- | --- |
| 30 | |

Cleveland Cavaliers

Not even against the lowly Nets could the Cavaliers break the now 18-game losing streak. With Denver, Orlando, and Cleveland ahead on the schedule, it is not unlikely that the Cavs will go the entire month of January without winning a single game.
Chip Patterson writes for CBSSports.com's College Football Blog and contributes at TheHoopDoctors.com.