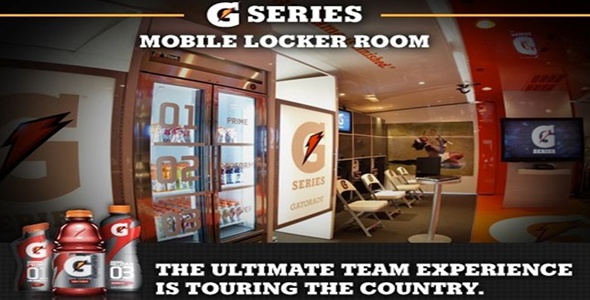 April 5th, 2010 – Allen Moll
We here at The Hoop Doctors, have got the inside scoop on a new contest from Gatorade, where they are looking for the ultimate high school locker room ritual. The new contest is in conjunction with Gatorade's new line of G Series drinks. We all are fans of Gatorade, which has provided athletes with nutrient and carbohydrate replenishment drinks for more than 40 years.
The Gatorade Mobile Locker Room Tour will be traveling to eight hand-picked high schools nationwide between now and May. Students from those participating schools will be some of the first athletes to test out some of the newest G Series products, which were designed by Gatorade scientists in collaboration with the world's greatest athletes to provide fuel, fluids, and nutrients before, during, and after workouts, practices, or games.
Gatorade is looking for the ultimate high school locker room ritual with the launch of their G Series Mobile Locker Room Contest on Facebook. They are opening this contest up for everyone to enter for a chance to have the G Series Mobile Locker Room to be the 9th stop on the G Series Locker Room Tour and to win a $500 gift card for themselves.
All you have to do is become a friend of Gatorade on Facebook, submit a photo and tell the fine folks at Gatorade about your team's favorite pre-game locker ritual by Sunday, April 11th, 2010 to earn a chance at the ultimate locker room experience for your school and a $500 gift card for yourself.
The winning school will get the use of the mobile state-of-the-art touring locker room before, during, and after all games and practices while also getting exclusive access to new G Series products. Also, you will get personalized tips from certified sports and fitness experts and get insight and advice from elite professional athletes.
So head on over to Gatorade on Facebook to enter today!