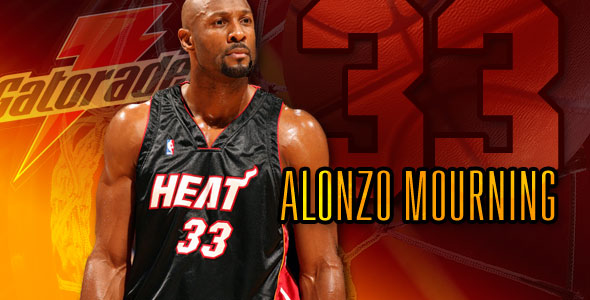 March 25, 2010 – Kevin Burke
Each year Gatorade honors America's elite high school student-athletes on the principles of athletic achievement, academic excellence, and exemplary character in the sports of football, volleyball, baseball, softball, and boys & girls cross country, basketball, soccer, and track & field. Past winners include many of today's top professional athletes, such as Peyton Manning, Lisa Leslie, Kevin Garnett, Candace Parker, Kerri Walsh, Derek Jeter, and Emmitt Smith.
As part of the 25th anniversary of the Gatorade Player of the Year program, former Miami Heat Center Alonzo Mourning (1987-88 Gatorade National Basketball Player of the Year) surprised this year's winner for basketball (Brandon Knight of Pine Crest School in Fort Lauderdale) with the award while he was in class this week. Knight has won the award twice now and joins Lebron James and Greg Oden as the only other two-time Gatorade POY Award winner's in the 25 year history of the award itself.
Right after the presentation to Brandon Knight, The Hoop Doctors Kevin Burke caught up with NBA legend Alonzo Mourning for a quick chat about the award, hoops, and life in general:
Kevin: Hey Zo. Kevin Burke here from TheHoopDoctors.com. Thanks for sparing a few minutes. I can call you Zo, can't I? (laughs)
Zo: Yeah, you can call me Zo.
Kevin: Ok good. Alright, I'd be remiss if I first didn't start by asking you the obligatory. I'm sure you've heard this question a bunch over the past week. Your Hoyas took an early and unexpected exit from the tournament this year by losing to an Ohio University team that not many thought they would lose to. What was your take on them going down to them, and by 14 points?
Zo: Well, it's typical for March Madness. That's why they play the game. Anybody can beat anybody else on a given night. This tournament has the 64 best teams in the country so you know that everyone can play. When I was a freshman, we played Princeton early in the tournament and almost lost to them if I didn't come over and block a shot late in the game.
Kevin: Do you think you guys played down to the competition because Princeton isn't a typical powerhouse program?
Zo: No. Not at all. We were prepared, but like I said anybody can get beat in this tournament because you have the best teams in the country going after one goal. But sometimes, teams get beat because they don't come ready to play and maybe underestimate their opponent and then get beat, but that wasn't the case with us because we played hard the entire game.The smaller-named schools come out to play with a different mentality. They come hungry and sometime sneak up on teams that may take them lightly.

Kevin:

Especially since we saw Kansas go down to Northern Iowa in a game that Northern Iowa controlled the majority of the time.
Zo: Exactly
Kevin: Now, there are talks of expanding the tournament to 96 teams. How do you think that will impact the tournament?
Zo: I couldn't really tell you. It will be interesting to see if it does happen, but I think you would still have the best teams in country making the tournament so at the end of day, the teams left standing should still be the best teams.

Kevin:

And a whole lot of money to be made for some people if it is expanded (laughs)
Zo: Maybe
Kevin: Ok, so who do you think will win the tournament this year? Did you pick Kansas?
Zo: Yeah I picked Kansas. Everybody picked Kansas. Umm. Who's going to win? I don't know, but I will say this, I'm rooting for West Virginia to do well. I like that team. They have some good player on that team. Those guys play hard and I hope they do well.

Kevin:

Switching to the NBA now, and talking specifically about the Center position which you played, there does not seem to be as many dominant big men now as there were when you played. There's Andrew Bynum and Dwight Howard among a few others, but Shaq is on the downside and Yao has been injured of late. When you played there was yourself, Ewing, Olajuwon, Robinson…
Zo: (interjects) Rik Smits, Vlade, Kevin Duckworth

Kevin

: Right. There were many. Is the day of the dominant big man over?
Zo: Yeah, It's done for now anyway.
Kevin: Why is that?
Zo: Fundamentals aren't as important as they used to be. They're not being taught anymore. Most big men are perimeter players now and want to hang out there shooting jumpers. People have to realize that dynasties are won from the inside-out. Not the other way around. Look at Houston, Detroit, Boston…
Kevin: (interjects) San Antonio and the Lakers of this past decade
Zo: Exactly. That's how championships are won. Those teams had a solid core down low. The only exception to that was Jordan and Bulls. But even so, they had a handful of 7-footer that played valuable roles. Phil did a good job of balancing that.
Kevin: On to the reason you are where you are today, which is in Fort Lauderdale where you surprised Brandon Knight of Pine Crest School and presented him with this year's Gatorade Player of the Year Award.. An award that you won for the 1987-1988 season. What was Brandon's reaction to seeing you, and what does this award mean to you?
Zo: He was extremely excited and very shocked to see me. He wasn't expecting that at all. It was cleverly planned and went over very well. It could not have gone to a better kid. His off the court accomplishments make him even more worthy of this honor for sure. And that's the beauty behind this award. It really is an amazing honor. I was very honored to receive it myself and it still means a lot to me. I feel like I'm an ambassador for this award and it feels good to hand down the torch to a very deserving young man.
Kevin: Lastly Zo, your selfless charitable contributions have been well documented, as well as you having a high school named in your honor for your hard work. At the end of the day, what will mean more to you – your accomplishments on the basketball court or your philanthropy?
Zo: Basketball is temporary. It doesn't last forever, although I'm very proud of everything I've done on the court. But I am able to touch lives off the court by giving. That is something I truly love to do. Giving is contagious. When others see you do it, it encourages them to do so as well and many can ultimately benefit from that. It allows you to share feelings with others and it really makes people feel good about themselves. After all I've been through physically, for me, it goes further than just dribbling a ball, so my contributions off the court are what I'm proud of.
Kevin: Well said, Zo. Thanks so much for a couple of minutes. Hopefully we'll get a chance to talk again down the road. Best of luck with everything.
Zo: Alright man. Take care.