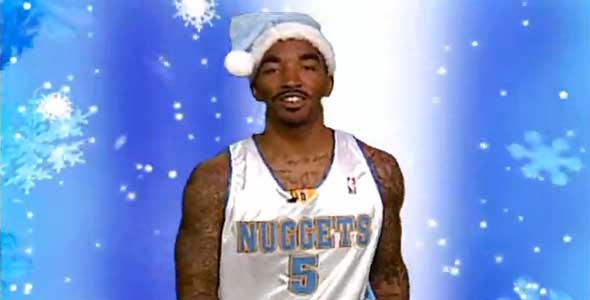 December 24, 2009 – Allen Moll
Allen Moll is an avid NBA and College Basketball fan who watches and studies games religiously and coaches youth basketball in his native Lehigh Valley region of Pennsylvania.  Allen is a regular columnist for thehoopdoctors.com, Bleacherreport.com, UpperDeckblog.com, and his own site, Hoops Haven.
Before watching 5 consecutive NBA games on Christmas Day, we've made it easy for you to surf the web during the biggest holiday of the year, as the The Hoop Doctors brings you a month long round-up of Christmas greetings and funny yuletide moments from around the NBA. I hope you remember to leave out the milk and cookies for Santa! Have a Merry Christmas from the The Hoop Doctors.
Amare' Stoudemire is one of the NBA's greatest entertainers besides being one of the game's best froncourt players on the planet. Check out his Christmas video we first saw last year as he wished everyone a Merry Christmas through this hilarious cartoon video of himself dressed as Santa and dancing to "Jingle Bells." It's one of my all-time favorites.
Check out this funny video of NBA players like Tim Duncan, Steve Nash, Chris Paul, and even Spurs coach, Greg Popovich in a snowball fight outside Santa's home in the North Pole.
Watch as the this year's version of the Houston Rockets attempt to sing you "Rudolph the Red Nosed Reindeer." Louis Scola's comment at the end is hilarious and Shane Battier may be the worst singer in history. Thank god these guys have a day job!
In Denver, watch as a number of Nuggets players like Melo, JR, Smith, and Ty Lawson are enlisted to sing their version of "Winter Wonderland" for all their fans. George Karl is hilarious because he proves that white men can't dance, or apparently sing either. Check out the blooper video immediately following the "good" version.  Watch for Carmelo at the end putting his own spin on the Christmas jingle.