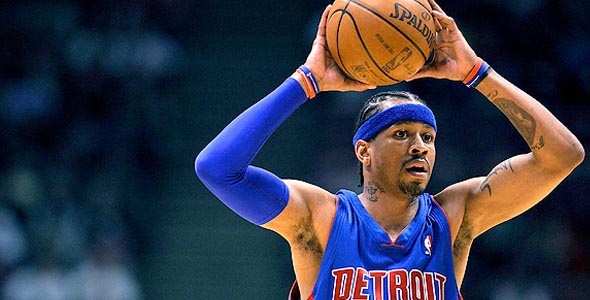 August 4, 2009 – Dr. J-Water
I'm so very confused. Mind blowing. Entering Twilight Zone.
What the hell is going on in the NBA these days, when a player just half a season removed from being one of the Top 5 Scorers in this league cannot find a decent offer from an NBA franchise? So what if Allen Iverson had a terrible finish to the season with the Pistons last year. Does half a season negate all of the hustle this man has put in for the past decade plus? This guy is still one of the top talents in this league and can score buckets with the best of 'em.
Sure Allen Iverson cheats off his man to play the passing lanes. He IS a liability as an on the ball defender, but he takes off some of that edge with the huge amount of steals this man turns up game after game. So the guy isn't the greatest defender in the league any more. There is no question in my mind that Allen Iverson, in the right system, is still one of the top offensive threats in this league.
Are you telling me that of the 30 NBA teams, not one of them figures they need some help offensively? How about Charlotte, Memphis, LA Clippers, Washington, Miami? All of which are bottom dwellers each of the past few years in the offensive categories. Then again those teams have some weak defense as well so they may not want to give up a lot in the other department with Iverson. I'm not buying it.
But what about the San Antonio Spurs? They are notoriously strong defensively, and almost as notoriously weak offensively. Wouldn't Allen Iverson be the perfect fit for the Spurs? Especially this late stage in his career where Popovich seems get the most out of his aging superstars. The Spurs biggest weakness has always been offense, and when Manu Ginobili goes down as we saw last season, they may as well just throw in the towel on the offensive end of the floor.
Ah well, enough with the rant. The big news out of Europe this week is that the Greece Olympiacos are prepared to offer Allen Iverson a two year $10 million contract to come play for them. More and more these European teams seem ready to pounce on players that clearly but butts in seats that NBA franchises fail to sign in a timely manner.
So now the question is, will Allen Iverson take the $10 million and head overseas, or wait around hoping for an adequate NBA offer?