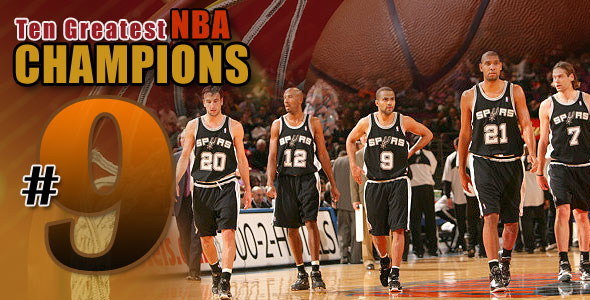 July 14, 2009 – Allen Moll
Allen Moll is an avid NBA and College Basketball fan who watches and studies games religiously and coaches youth basketball in his native Lehigh Valley region of Pennsylvania.
With this season's NBA Finals behind us, I decided to take a look back and rank the greatest NBA Championship teams in the modern era (post 1980). This will be a ten part series with a new entry each week. Which teams had the most dominating seasons and playoff runs in the last 30 years? How would they stack up against each other? Which teams had the most Hall of Fame players or coaches? The rankings were limited to two teams per franchise in the top ten. Let the debate begin.
Starting Lineup – Bruce Bowen, Tim Duncan, Manu Ginobili, R. Nesterovic, Tony Parker
Reg Season Record – 59-23 Playoffs – 16-7 Finals – beat Pistons 4-3
Individual Awards – Tim Duncan – All NBA 1st Team, All Defensive 1st Team, Finals MVP Bruce Bowen – All NBA 2nd Team
Although the 04′-05′ NBA season's most memorable moment will forever be the infamous brawl between the Pistons and Pacers, the Spurs ran through the NBA with the perfect mix of efficient offense and absolute shut down defense. In the regular season, the Spurs breezed through a tough Western Conference with a record of 59-23, finishing 2nd overall behind the NBA's highest scoring team, the Phoenix Suns. San Antonio was led by future Hall of Famer Tim Duncan who averaged a workmanlike 20.3 points, 11.1 rebounds, and 2.6 blocks. The coming of age of a pair of 2nd and 3rd year players named Ginobili(16ppg) and Parker(16.6ppg and 6.1apg), along with Duncan, and an experienced mix of veterans off the bench like Robert Horry, Brent Barry, and Glenn Robinson was the perfect mix to roll through the playoffs as well. The Spurs allowed only a stingy 88.4 points per game ranking 1st in many defensive categories. They held teams to under 70 points a record 8 times.
Led by defense, the Spurs rolled past the Nuggets (4-1), Sonics(4-2), and in a show of defensive intensity, dominated regular season MVP Steve Nash and the Phoenix Suns(4-1) setting up a showdown between the previous two NBA Champions, Spurs(03′) and defending champion Pistons(04′). In terms of competitiveness, it was regarded by many as one of the best NBA Finals match-ups in recent history by going the full 7 games. The Spurs set a NBA Finals record by holding the Pistons to under 80 points in 3 of their 4 wins in the series. In Game 5, Robert Horry hit another of his patented game winning shots which shifted momentum towards San Antonio for good. The win gave Horry his 6th NBA title tying Jordan and Pippen. It was the third time that Tim Duncan won his 3rd Finals MVP.
The trio of Duncan, Ginobili, and Parker is still one of the best trios of players to win titles in recent history by winning another in 2007. This team is considered the best of a Spurs dynasty which would go on to win 4 titles over a 9 years span(99′, 03′, 05′, and 07′) and still challenge for more titles through 2010 and beyond.