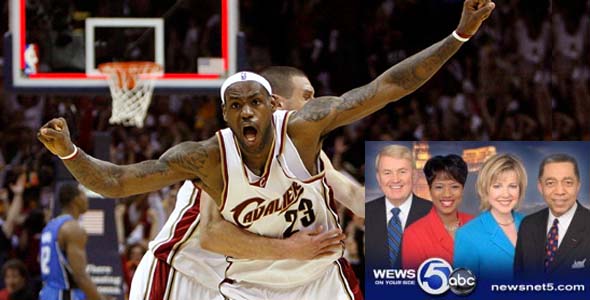 May 24, 2009 – Dr. J-Water
In case you weren't aware of the level of excitement in Ohio right now surrounding the Cleveland Cavaliers and their championship hopes, then you should probably check out this live reaction caught on tape of the Channel 5 News Team as Lebron James hit the game winning buzzer beater in Game 2 of the Eastern Conference Finals on Friday night.
It's been a long time since Cleveland has had much to cheer about in the way of pro sports championships, so the hopes of many are riding on the shoulders of Lebron 'King' James and these Cavaliers who sported the league's best record coming into the post-season. Although they breezed through the first two rounds of the playoffs, the Orlando Magic took Game 1 of the East Finals in Cleveland, meaning it was critical that the Cavaliers salvage their home trip with at least one win in Game 1 on Friday. Lebron shocked the world with his buzzer beater with only 1.0 second left on the clock to tie the series.
You will get a kick out of the Cleveland Channel 5 News Team's reaction to the play live and on film. It seems the pessimistic news team just assumed the Cavaliers had lost being down 2 points with only 1.0 second to play in the 4th. But Lebron sure proved them wrong, and boy were they happy to see it: