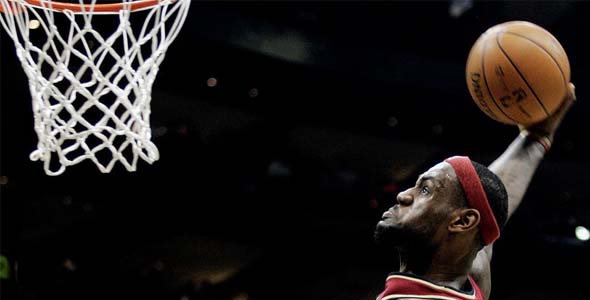 May 23, 2009 – Dr. Dime
Lebron James and the Cleveland Cavaliers tonight were willing to do just about anything to avoid losing both games on their home court to the Orlando Magic in the Eastern Conference Finals. After a tough loss in Game 1, the Cavs came out strong and built a 23 point lead at one point in the first half. But just like in Game 1 the Cavaliers let the Magic back into the game and saw their big lead get whittled down to nothing near the end of the 4th quarter.
Tie game, 13 seconds left, enter the new Mr. Clutch, Hedo Turkoglu of the Orlando Magic. Turkoglu drove hard into the paint and scored on a tough jumper from 12 feet with a hand in his face, oh yeah, and just one second remaining on the clock. Game over right?
Wrong.
The Cleveland Cavaliers have a little known Mr. Clutch themselves. Some call him Lebron James, but most just call him "The King". Lebron lived up to the hype tonight when it mattered most. With only a mere 1 second left in the game. Lebron caught the inbound pass and through up a tough fade away three pointer from deep, with a defender right in his face. All of Cleveland was holding their breath. In one of the highest arcing shots of his career, possibly for extra effect, Lebron hit a three pointer to win the game at the buzzer by one point.
This is the stuff of legends. It's the type of shot that reminds me of another master of his sport, Tiger Woods, when that Nike logo on the golf ball was showing to the camera in the Masters a couple years ago right before his ball finally dropped for the birdie completing his comeback run on the final day.
Just like Tiger, you knew Lebron was somehow, someway going to make this shot. Cavaliers win, series tied 1-1, heading to Orlando. What a series, enjoy the replay: