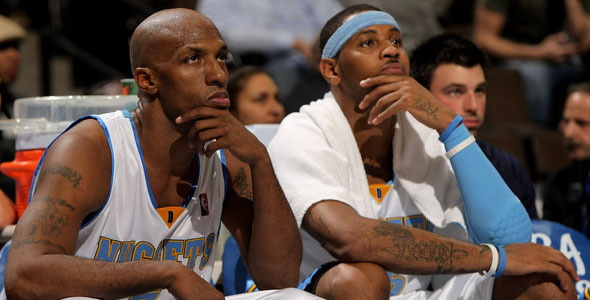 April 4, 2009 – Dr. Casper
'Dr. Casper' a.k.a. Ben York from Phoenix's Fanster.com fame, is also the founder of Ben's Suns Blog.
At 50-26, the Denver Nuggets are quietly making a case for a legitimate playoff run.
They are a full game ahead of San Antonio for the #2 seed in the Western Conference which, more than likely, would pin them against the Jazz or Mavericks. Having lost only 8 games at home all year, coupled with the poise of new leader Chauncey Billups, look for Denver to be an extremely difficult team to face in the playoffs.
Usually known for their amazing offensive capabilities, Denver is currently making more noise on the defensive end while keeping their play at a fast pace. While still having the 6th fastest offensive pace in the NBA, their defensive rating is a solid 10th out of the 30 teams. Typically, the faster a team plays, the more liability they give up on the defensive end.
This isn't the case for Denver who still maintains an offensive rating of 110 (6th in the league). They're also in the top 10 in several key categories defensively including opponent turnover percentage, opponent field goal percentage, and point differential.
However, their focus on defense hasn't inhibited their offense by any means. They are 5th in the league in FG% at 47%, 1st in free throws made, 1st in free throws attempted, 5th in total assists, and 5th in total points. Plus, they have several players that could go for 20-30 points on any given night.
It seems this Denver team has somewhat matured this year. Though Carmelo Anthony is close to the league leaders in technicals, the Nuggets play is reflective of it's stone-faced leader in Chauncey Billups. There is no doubt anymore that this team could go on a winning streak at the right time to advance over anyone in the West. They'll need some help from their stars in Carmelo Anthony, Chauncey Billups, and J.R. Smith; players who have gelled extremely well together despite not playing together for an entire season.
Though, role players have also played an important part to Denver's success this season. Chris Andersen, quickly becoming a fan favorite, has provided a huge defensively spark off the bench to rival Kenyon Martin's accolades defensively as well. Nene has been an enforcer in the paint and Anthony Carter has been a solid back-up to Chauncey. In addition, Linus Kleiza,
Johan Petro, and Renaldo Balkman have played significant minutes for head coach George Karl.
Seemingly, Denver has found it's stride at the right time. With only 2 of their remaining 6 games against winning teams, look for Denver to get over 55 wins heading into the playoffs, and solidifying the #2 seed.
They'll be a scary team come playoff time.