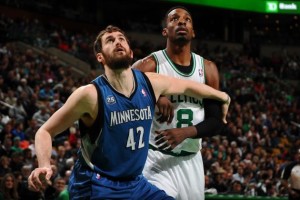 June is here and you know what that means: unfounded NBA rumors are in the air.
Disgruntled Minnesota Timberwolves superstar Kevin Love—who has basically requested a trade even though he really hasn't—was in Boston recently, so naturally that means he's poised to join the Boston Celtics by way of trade or 2015 free agency.
Love was at Fenway Park for a Boston Red Sox game on Sunday, as the Boston Globe's Baxter Holmes was kind enough to point out:
Kevin Love had a quite a weekend in Boston. My @BostonGlobe story: http://t.co/CeMDFAgTmg pic.twitter.com/xXOzVV4eMv

— Baxter Holmes (@BaxterHolmes) June 2, 2014
Fairly innocent weekend-ing, right?
Wrong.
The stretch forward also caught up with Rajon Rondo:
Here's @kevinlove & @RajonRondo meeting up at Fenway Park today #boston pic.twitter.com/d83MwOCaTZ

— Baxter Holmes (@BaxterHolmes) June 1, 2014
Conspiracy!
Or, you know, nothing at all.
No, let's roll with conspiracy. It must be that. His agent was with him, after all.
Have also heard that Kevin Love's agent is with him at Fenway.

— Baxter Holmes (@BaxterHolmes) June 1, 2014
ESPN Boston's Chris Forsberg offered further context on the matter:
Hames said Rondo dropped his bag, then went over to greet Love. Rondo joked Monday that the meeting lasted "about 39 seconds" and that he didn't put a hard sales pitch on Love.

"No, the only pitch that was thrown, I think, was [Red Sox pitcher] Jon Lester — he threw out a couple pitches," Rondo joked. "I didn't pitch anything. I just told [Love] to enjoy his time here."

Later, Boston's point guard was told that the photo had caught fire on social media.

"Did it make TMZ? It's all over the web?" he asked. "We do work together. We play against each other. We compete. So when I saw Kevin, I spoke to him. I wished him good luck here. He spent a couple days here in Boston. I told him I was spending a couple months here in Boston."
Conspiracy again!
There's more to delve into. Forsberg's piece is worth a read, as is Holmes'. But for now, you know what you need to know: Love was in Boston over the weekend, and it was a really big deal.
A really, really, ridiculously fabricated, not-at-all-factually-supported big deal.
Make no mistake, the Celtics have the requisite assets to construct a respectable trade proposal. If they build their deal around the No. 6 pick, Jared Sullinger, Jeff Green and perhaps one of their other future first-rounders, they really have something. They also have cap space in 2015, when Love is expected to hit free agency, so no, we cannot rule out the idea of him playing for the Celtics.
But let's be real for a minute. This meant nothing. If Love was in Boston to feel it out after the Timberwolves told him they were planning to accept a trade from the Celtics or something, we would have heard about it. Adrian Wojnarowski of Yahoo Sports would have dropped a trademark Woj bomb. This mission would have not been covert by any means.
Let us, then, in the interest of common sense, not fall into the trap of thinking this was anything other than a random weekend trip. Love is a west coast guy. Perhaps he had the sudden urge to journey eastward and watch a crappy baseball team. Maybe he was in town hoping to sample excessive amounts of New England clam chowder and fish 'n chips. There's also the possibility that one of his lifelong dreams has been to shake hands with the starting point guard of the Celtics at Fenway. There are so many plausible explanations for Love's Boston excursion.
None of them point to him sporting Celtics green and paying for portraits that depict him as an oversized leprechaun anytime soon.
Dan Favale is a firm believer in the three-pointer as well as the notion that defense doesn't always win championships. His musings can be found at Bleacherreport.com in addition to TheHoopDoctors.com.