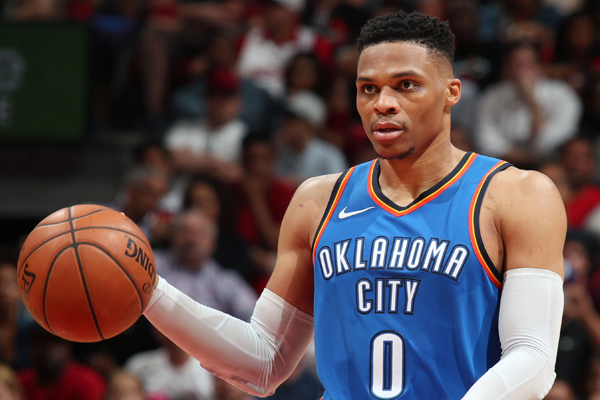 Russell Westbrook has struggled in December and after Sunday nights game against the Mavs he did not attempt to sugarcoat anything. This was the least efficient offensive performance of his career.
"I've just got to do a better job, man," Westbrook said according to ESPN after scoring only nine points on 4-of-22 shooting in a 105-103 loss Sunday to the Dallas Mavericks. "It's really on me. I've been s— the last month or so. I've just got to get focused in and locked back in on what I need to do. I've got to help my guys out. I've been letting them down, man, just not being consistent on the offensive end.

"Defensively, I'm fine, but just being more consistent, because I pride myself on being the most consistent player in the league. I come out every night and compete, play hard and all that stuff. Missing and making shots is a part of the game, but I've got to do a better job, and that's on me. I'm going to definitely do that, so I'm not really worried. We play tomorrow, and I'll be better from then on. It's on me."
Sunday's game, the Thunder's third loss in their past four, marked the first time that Westbrook, a seven-time All-Star and the 2016-17 NBA MVP, has failed to score in double figures when he attempted at least 20 shots from the floor.
Westbrook acknowledged that he had open looks and was bothered by his inconsistent play on the offensive end. But the 2016-2017 league MVP isn't about to let his recent funk change his approach.
"Nah, nah, nah," said Westbrook, who had nine rebounds, eight assists and six steals. "I've been in worse positions, man. It's not the worst thing. We're third in the West. We're winning games. It's not about me. My job is to make sure we win games. I bring so much more to the game of basketball than offense. I defend at a high level, rebound, pass, whatever. I'll do whatever for us to win games.

"So for me, I'm a basketball player. I'm very, very hard on myself because I'm able to do everything on the floor. And I don't really think there's many other guys in the league that play the game the way I do every night, so I pride myself on doing everything at a high level every night. If it's scoring one night, then it's assists and rebounding, whatever it is, defending — I pride myself on doing everything at a high level every single night. I'm going to be tougher on myself than anybody, so I'm not worried one bit."
Paul George, who scored a game-high 36 points for the Thunder, had only one piece of advice for his co-star: "Stay aggressive."
While Westbrook accepted accountability for his offensive struggles he made it clear that his confidence hasn't been shaken.
"My approach never changes. Like I said, scoring the basketball is not the only thing I can do. I'm the best rebounder at my position, the best passer at my position, the best defender at my position. I can do everything, and I pride myself on doing that. And every night, I put a lot of pressure on myself to do it every single night. If the scoring ain't it that night, then I'll give it to somebody else to do it. I have no problem. My teammates have confidence in what I'm able to do, and I have confidence in them. So I just read the game, and the game will tell you what to do.

"Every year, I try to come back and find ways to be a better leader and impact the game. This year, we have a better team. Guys are better, so I don't have to do as much. I don't have to score 30 to impact the game, but I guarantee you I impact the game and teams know when I'm on the floor I can do whatever I need to do to make sure that we have a chance to win the game."
The Thunder currently sit third in the Western Conference, 1.5 games back of the top-seeded Denver Nuggets.